Camera Strap for a 70D
Need a camera strap for a 70D?  
One of the visitors to the Canon Camera Geek web site recently bought a professional shoulder strap for their camera.
If you've noticed some annoying pressure on your neck or you're going to carry you 70D for extended periods of time, it will be worth the money to upgrade to a nicer camera strap.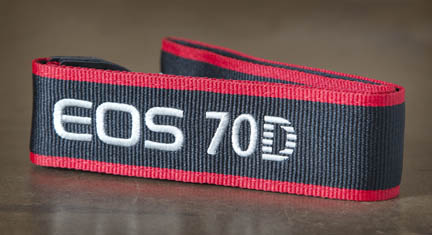 This is the standard 70D strap that came with my EOS 70D
The standard strap is suitable for medium sized Canon cameras like the EOS 70D, the 6D, and the T3i, but there's nothing worse than having to wear an uncomfortable camera strap around your neck.
The skinny standard straps that come with DSLR cameras are adequate for short periods of time. If you're just using your camera strap to briefly free up your hands, or as protection from dropping your camera, they will do you fine.
If you are carrying your camera around for a few hours, your whole shooting experience is a lot more enjoyable with a comfortable strap.
WARNING:  There are alternative choices out there.  Use caution with them.  The biggest complaint, by far, is the failure of the caribiner.  It is critical that you buy a strap with a high quality carabiner assembly.
If you get a cheap one you put your camera and lens at risk to fall and break.  No matter how good the strap feels, if it gives way and you damage you lens or camera, it's not worth buying.
Read the camera strap reviews carefully.
Best Features of The Focus F-1 Strap 
It's comfortable to wear. The padding is thick.
It gets the weight off of your neck and onto your shoulder.
It keep's your camera safe and secure.
It's affordable.
Shortcomings of This Camera Strap for a 70D
It cannot be adjusted for extra large people.
It's not intended for full-sized DSLR cameras combined with long heavy lenses.
The feature I like most is the ability to slide your camera upward.  Traditional straps require you to move the entire strap, including the neck section in order to get the camera up to your face to shoot.
The F-1 strap has a sliding feature. It lets you bring the camera to your face without having to move the shoulder strap at all.
Photos of the Focus F-1 70D Camera Strap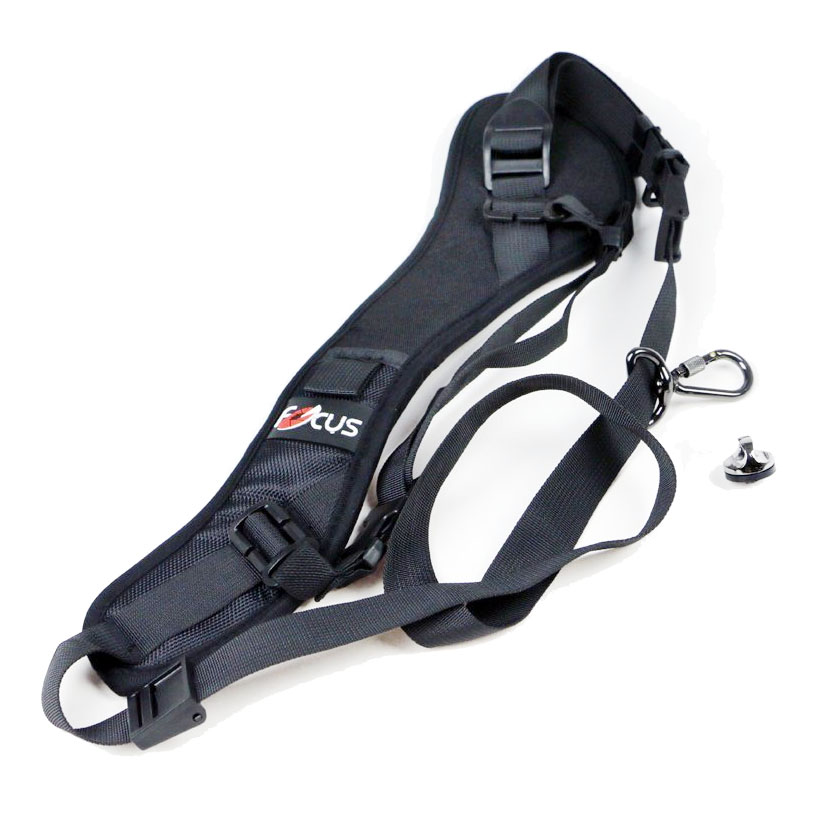 Focus - Canon EOS 70D Camera Strap
---
Consumer Reviews of the Focus F-1 Camera Strap
---
Focus Canon EOS 70D Camera Mount
---
Close-up of Focus Canon EOS 70D Camera Mount Screw
---
Consumer Reviews of the Focus F-1 Camera Strap
---
An extra camera strap for a 70D is likely not an accessory that comes to mind right away for you when thinking about what extra gadgets that are interested in.
It is an important one because it has an effect on your whole shooting experience.
Watch less TV
Shoot More Photos
Go to the Main Canon EOS 70D Page
Written by Bruce Lovelace
Bruce Lovelace on Google+