Canon BG-E4 Battery Grip
The Canon 5D uses the Canon BG-E4 Battery Grip but should you splurge for the Canon-made grip or save a few dollars and go clone?  
Being the Canon camera Geek, you might assume that I'd say if it aint Canon it aint worth buying.
While it's true that I primarily stick to Canon cameras and Canon lenses, I don't blindly buy all Canon camera accessories. 
The BP-511A  batteries directly slide in the BG-E4 grip and 6 AA batteries are inserted into the BGM-E2 magazine as an alternative way to power the grip.
I started with the original Canon 511 batteries when I purchased my 5D but have always used the 511A batteries since then in my 5D.  The BG-E4 actually accepts two 511, 511A, 512, or 514 lithium batteries.
Now I buy strictly the Non-Canon batteries for spares and if I were buying a battery grip for my Canon 5D, it would be one of the cheaper alternatives.
Canon BG-E4 Battery Grip Cost
There are not too many of these particular Canon camera accessories still available.  The Canon 5D was introduced into the market late in 2005.  At the time of this writing the Canon-made BG-E4 grips cost about 3 times as much as the third-party manufacturers version of this grip.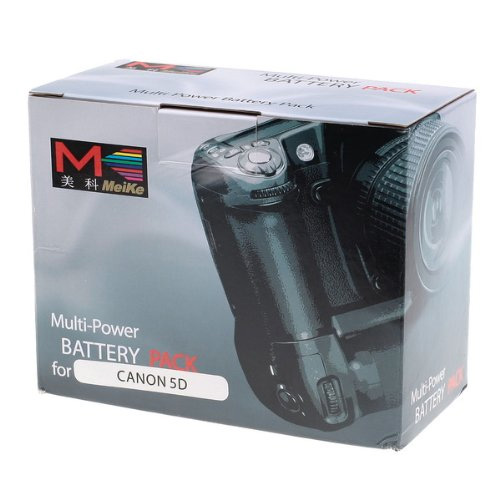 The two versions certainly don't feel the same when you hold them in your hands side by side, but the basic functions of increased battery life and the addition of camera function controls when shooting vertically are added.
For many Canon shooters a Canon Speedlite is a more useful accessory. Photography is really "painting with light" and the speedlites are both powerful, versatile and compact enough to use in a variety of photography situations.
The BG-E4 was made for the Canon 5D, the first real professional Canon DSLR I owned.  I had owned 10D and 20D bodies and several lenses before taking the plunge to the full-sized sensor with the 5D.
My newest toy is now the Canon 5d Mark III.  More affordable for most photographers and also a great camera to consider is the Canon EOS 60D.
Have Fun!
Canon Camera Geek
Back from Canon BG-E4 Battery Grip to Canon Camera Reviews Home Page
Back to Canon Camera Grips
---
The battery grips for the Canon EOS 5Dmade party manufactures are a little over $50 at the time of this update.
Here is the link to the reviews and opinions of several of the BG-E4 battery grip alternatives.
Reviews on Amazon of BG-E4 Alternatives
---

Written by Bruce Lovelace
Bruce Lovelace on Google+