Canon 1.4 Extender With
Canon 90D and 100-400mm II Lens
by Harvey Lindenbaum
(Southport NC)
Canon 1.4X Extender
"Can I successfully use a 1.4 extender with an EOS 90D and a 100-400MM Mark 2 lens?"

Thanks for asking about the Canon 1.4X Extender compatibility with the 90D and EF 100-400mmmm II Lens. The quick answer is yes. The Extender will fit with the 90D and 100-400 Mark II lens, but there's more to the story.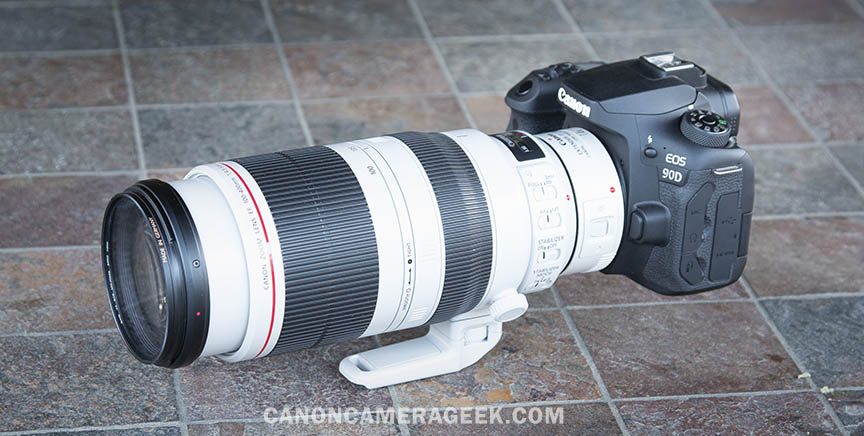 Canon 90D + 1.4X Extender + 100-400mm II Lens
Coincidentally, I researched this exact same question at the end of 2019 and into the earlier part of this year, and coincidentally have purchased the Canon 1.4X Extender II, the Canon EOS 90D, and the Canon EF 100-400mm f/4.5-5.6 II all within the last 18 months or so.
This combination will give you the equivalent angle of view of a 224-896mm super zoom. That's a ton of magnification, great for photographing birds, wildlife, and sports from a great distance. As you can see from the photos at the beginning of this post-click on the thumbnail to check sharpness-even without the 1.4X Extender, you can get great photos with the Canon 90D and EF 100-400mm f/4.5-5.6 II lens, with both distant and not so distant subjects.
Auto Focusing compatibility With the Canon Extender
The 1.4x Extender will reduce your effective maximum aperture by 1 f/stop. Many (including Canon) auto-focus systems have limited functionality above f/4.0 and unfortunately the combination of the 100-400mm
F/4.5-f/5.6
, with the Canon 1.4X Tele-extender and the 90D will only give you the single center focusing spot for auto-focusing.
This limitation is not necessarily a deal breaker if you're shooting stationary subjects. If you're shooting birds in flight or wildlife on the move, the limitation in not being able to expand to a larger focusing area may be a challenge too cumbersome to deal with in my opinion.
Canon 1.4X Extender Sharpness
The second, perhaps bigger issue is the loss in image quality that comes along with using Extenders (often called teleconverters and tele-extenders) I just wrote an article on the sharpness you get while using the
Canon Extender 1.4x II
that I'm sure you'll find interesting. I did a geeky image quality comparison with and without the Canon Extender and a very sharp 70-200 f/2.8 and was disappointed with the results.
The challenge is that lens image quality can vary slightly from model to model and that means that using a lens with a specific Extender can vary too. The Canon 1.4X Extender version III should be sharper than my version II. Micro Focusing calibration often improves sharpness too.
I like to test my lenses wide open and stopped down 1 or 2 stops, as image quality varies with aperture too. I can tell you that, without a doubt, the
Canon 100-400mm II
is a very sharp lens, wide open and I really like it a lot, as well as the 90D with its 10 frames per second for capturing action photos.
Harvey, stay tuned because I'll have the article on the exact 90D, 1.4X Extender, and 100-400mm II lens combination you want to know about, published on the Canon Geek within the next few days. Look for it on the
Canon Geek Blog
Please let me (and our fellow Canon shooters) know what you decide to do!
Have a blast. Shoot a Canon.
Bruce
Related 90D Articles
All Canon Lenses
Canon 90D Features
Is the 90D Any Good?