Canon EOS M System Lenses FOR Canon M5 Mirrorless
by Terry
(Birmingham, UK)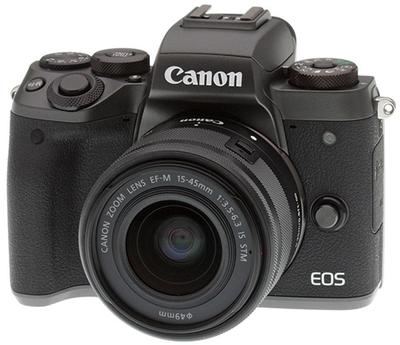 Canon EOS M5
"Hiya Bruce,
I've just swapped my G1X Mark II for a Canon EOS M5 camera kit which includes the 15-45mm lens. I've also bought an 18-55mm, 55-200mm, 22mm and an adapter so I can use ef and ef-s lenses on my new camera. My favourite genres are Wildlife, Street,Landscape and Nature photography. Do you think I need anymore lenses?
Regards,
Terry."

Hey Terry,

Thanks for checking in! First of all, let me say I'm jealous. I've been toying with the idea of diving into mirrorless for a while and Canon really came up short with the original M and and the M2 mirrorless cameras. I've really loved my G1X Mark II (accept for the separate EVF Viewfinder) and the G1X format is so convenient as a take anywhere camera and get the benefit of the big sensor. Now with the highly acclaimed M5, Canon fans like us can go mirrorless.
The New G1X Mark III
Now that Canon also came up with the impressive and fascinating G1X Mark III option, I'm in a state of paralysis by analysis. The M5's mirrorless advantages and performance vs the built-in viewfinder, APS-C sensor, and dual pixel focusing of the G1X Mark III. I must have the ability to shoot raw for many reasons and I must have a viewfinder. I guess I'm old school. But, enough of that. Let's dive in to your question about lenses for you Canon M5.
Canon M5 Lenses
Yes, you do have enough lenses.. In fact you are off to a real fast start. Most photographers, who try out a new camera, will begin with just the provided "kit" lens before they expand their lens arsenal. With the 18-55mm and 55-200mm you've got about a 28-360mm lens range covered with the M5's 1.6x crop factor. You've also got the 22mm prime and your adapter for your other Canon lenses.
You should be able to handle all of your shooting situations. Congratulations!
Terry, I'd love to hear back from you after you've played around with your new M5 and your lenses. If you'd like to contribute a review of your newly acquired Canon equipment to Canon Geek, we (The site's visitors and I) would love to read it.
Thanks again. Cheers!
Bruce
p.s. How did you "swap out" your G1X Mark II? Is there a good market for it?
Written by Bruce Lovelace