Canon SX500 Lens-Adding A Canon EF 50mm f/1.8 Fixed Focal Length Lens
by Jan
(WA)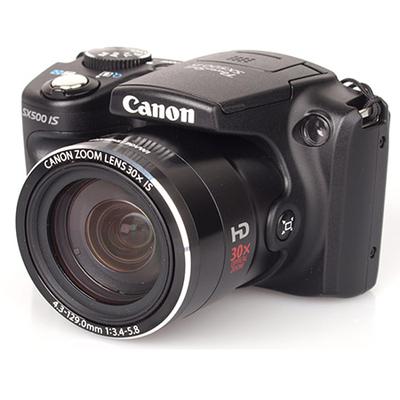 Canon Powershot SX500 IS
Can any lens be attached to the Canon sx500 is? - Jan

Hi Jan,
Thanks for checking in to my site and for asking a question about the Canon Powershot SX500 lens and adding a lens like the Canon EF 50mm f/1.8 prime (fixed focal length) lens to it.
The existing 24-720mm Canon SX500 Lens was intended to handle all your lens needs with this particular camera and is not interchangeable. The Powershot SX500 is a "bridge camera" designed to give you the look and feel of a traditional DSLR without the need to ever change the lens.
THE POWERFUL POWERSHOT SX500 LENS
When the SX500 was released in 2012 it got a lot of attention for its lens. Canon was able to engineer a 30x zoom range, making it capable of shooting both wide angle landscapes and zooming in on distant wildlife or sports as well. Canon fit the lens in a relatively light and small camera by using a small sensor and not including an optical viewfinder.
THE CANON EF 50MM F/1.8 LENS
Your interest in this lens shows you're looking for a fast lens. The EF 50 1.8 is a really affordable way to get low-light shooting and/or shallow depth of field photos. The SX500 lens has a maximum lens opening of F/3.4 at the wide angle end and f/5.8 at the telephoto end.
The Canon EF 50mm f/1.8 is intended for Canon DSLRs with a full frame sensor.
Have a blast with your Canon
Bruce
RELATED
Canon Travel Camera
Accessories For Powershot Cameras
Written by Bruce Lovelace