This page may contain affiliate links that pay me a small commission. There is no cost to you. You can review the affiliate statement at the very bottom of this page if you want more information. As an Amazon affiliate Canon Camera Geek may earn a small commission from qualifying purchases, at NO added cost to you.

Canon Teleconverter Compatibility
by Robert
(West Bath, Maine)
"I have a Canon Rebel XT with a 70-300 mm 1:4-5.6 IS USM lens. Is there a Canon teleconverter, either 1.4 or 2x that I can use with this camera/lens combination. I want to get up close and personal with birds at our feeder."


UPDATED ANSWER: Hi Robert,

thanks for asking if a Canon teleconverter will work with your 70-300 f/4.5-5.6 lens and your Canon Rebel. No, it does not fit, according to a call made by Robert to USA.canon. You need to know two things about Canon camera/lens/extender combinations. We'll get to those in a second, but first to answer your question about the tele extender fit.

Canon teleconverters are built as EF lenses. That means they use full sized lens elements and provide a full size image circle-as opposed to Canon EF-S lenses. I wrote a fully detailed article on this that I think you will find it very helpful: Ef vs. EF-S.


Teleconverter Compatibility With The 70-300
Although the Canon teleconverters will successfully mount to EF lenses (like the Canon EF 70-200) there will be some loss of sharpness and some additional chromatic aberrations.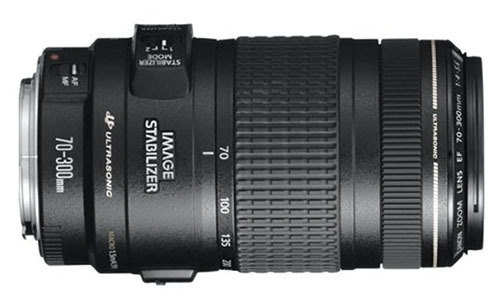 Canon EF 70-300mm f/4.5-5.6
This loss of image quality isn't necessarily significant enough for some Canon shooters to be a deal breaker, but you should be aware of it. It is definitely a subjective thing and you have to make a choice based on your own preferences.
I did my own geeky test of a 1.4X teleconverter II couple up with a 70-200 f/2.8 and you'll likely find this an interesting read as well:
Teleconverter Sharpness Comparison
.
I did my test using a high resolution 32 megapixel Canon 90D. With the 8 megapixel sensor of the Rebel XT you may not notice the change in image quality. You'd really have to test it and do your own side by side comparison. Also realize that there are 3 different versions of the 1.4x and 2.0x extenders, each later one having significant performance improvements.
Teleconverter Compatibility With The Rebel XT
Like all the Canon Rebels, the XT is an APS-C or "crop" camera. It will accept both EF and the smaller EF-S lenses. With the 1.6x
crop factor
of the Rebel, you'll get the same angle of view as if you were using a 112-480mm lens.
If you could add in a teleconverter with a magnification of 1.4, your lens will behave as if you have a 157-672mm lens on your camera. That's a
SERIOUSLY POWERFUL
amount of telephoto magnification. That would enable you to get very up close and personal for photographing birds.
Additionally, you lose 1 stop (or half of the light) with a 1.4x teleconverter and lose 2 stops (3/4 of the light) with a 2.0x teleconverter. Shooting in good light will be even more important and you may have to set your XT to a higher ISO setting to compensate for the reduced speed of your lens.
Finally, release you're going to lose auto-focusing capabilities as well. Although you have compatibility with the 70-300mm, your Rebel, and either the 1.4x or 2.0x canon teleconverters, you'll be focusing manually. With a decent tripod and shooting your bird feeder at a fixed distance, that shouldn't be a big issue either.
Feel free to comment back about what you decide to do. It will benefit all the readers of the Canon Geek blog.
I hope this helps,
Bruce
p.s. I may be traveling along Rt. 1 through Bath on my way to a photo shoot in Acadia very soon.
p.p.s Some lenses will not accept teleconverters because of the protrusion on the teleconverters coming into contact with the lens elements on the camera end. This is particularly true with NON-telephoto focal length lenses.