Macro work using my Canon G12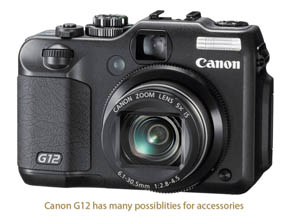 Canon Powershot G12


Dear Canon Camera Geek,

I would like to do some macro work using my Canon G12. Can you advise me
on the best accessories for this type of work using my G12 ?
Kind regards
Laura Fitzpatrick


Hi Laura,
Thanks for your question about the Canon Powershot G12 and shooting macro.
The G12 is not a GREAT camera that's dedicated for close-up shots, but with a few simple techniques, you can take some great images.


The Three Critical Must Do Techniques for Macro Photography
1. Use manual focus
2. Use a tripod
3. Use the self-timer or a remote shutter release.
The Three Preferably Techniques
1. Proper Exposure. Aperture priority gives you control over depth of field, which is critical in close-up work.
2. Use good computational technique like
Rule of Thirds
or leading lines.
3. Good Lighting. I almost always use natural lighting, near a window, or outside in the shade, or by using a light reflector or light blocker.
There are dozens of realted articles on this page:
Macro Tips and Techniques
Hope that helps you some!
Have a blast!