Single point focus in Canon SX 60 HS
by Kathryn
(Riverside, CA)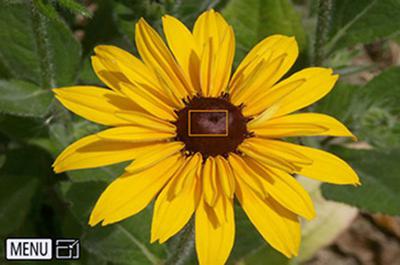 Canon SX60 HS Moveable Focus Area

"Does the Canon SX60 HS have an actual setting for single point focus, or is the small box as close as it gets?"

Hi Kathryn,

Thanks for your question about the Canon SX60 HS! That's quite an interesting camera. I've never used the SX60, but I believe the SX60 has the same focusing options as the SX50. As you can see in the photo of the daisey above, the small box is the smallest "point" for focusing and it is movable about the screen.

I wanted to confirm that by reading the manual and I tried to download the manual for you at the USA Canon site, but the site was not cooperating at the time: SH60 HS Info at USA Canon. I've found the support people that answer the phone for Canon to be quite helpful with questions like this: Contact Support at 1-800-OK-CANON (1-800-652-2666). You can also email them from that page as well.

The good news is that the rectangular focusing area is a fairly small area to concentrate your focusing and that it should handle just about every situation you come across, except perhaps macro photography, where the focusing is so critical. These superzoom cameras are great for beginners and have a lot of technology jammed into a nice light camera body. The focusing on these canon models is not as spiffy as the pricer DSLRs and isn't as responsive in darker shooting conditions.
FACTS ABOUT THE CANON SX60 HS
The PowerShot SX60 HS has an impressive 65X optical zoom lens. That's the same range as a 21-1365mm full frame lens, making it great to shoot your kids soccer game from the parking lot.
The 16MP sensor data is processed by a DIGIC 6 image processor that can shoot over 6 frames per second, plenty of speed for shooting action photos. You can use the electronic viewfinder or the fully articulating screen to frame in your photos and video. The SX60 HS shoots 1080p/60p Full HD video in MP4 format and has a convenient dedicated movie button.
REVIEWS ON THE SX60 HS
Readers of the Canon Camera Geek site can read reviews from buyers of the SX60 HS on Amazon and decide whether it's a good purchase for them or not.You can read the reviews here:
SX60 HS Reviews
Good luck, Kathryn.
Bruce
Best Canon Cameras
Written by Bruce Lovelace