This page may contain affiliate links that pay me a small commission. There is no cost to you. You can review the affiliate statement at the very bottom of this page if you want more information. As an Amazon affiliate Canon Camera Geek may earn a small commission from qualifying purchases, at NO added cost to you.

The Best Lens for a Canon Rebel t8i
by Mary Beth Shackelford
(Trenton KY)
Here's a great question from a Canon Geek reader about which lens is the best choice for a Canon Rebel t8i for shooting sunsets, bird photography and family events.

"Hi Bruce!

I am a newbie in the camera world and need to be pointed in the right direction. I am a picture taking fool, I will take hundreds of pictures of sunrises and sunsets to capture the right picture... but most of my pics are on my iphone, which is great for spur of the moment and ease but want to take photography to the next level.

Last year I got a Rebel 8ti for Christmas. It's great...still learning it...but need to invest in lenses to make it worthwhile. This is my dilemma. Do I stick with my Rebel and invest in a quality lens that allows me to take beautiful sunrise and sunset pics, nature pics, capturing that bald eagle in the field I'm driving by, and family get togethers, and if so...which one is the best bang for my buck? (I don't mind to spend some on it but also am not at a professional level, and don't want to sell a kidney to purchase it.....or...do I do a 180 and invest in a mirrorless or the Mark you referenced on your page?

I would love something that I can keep near me at all times, easy to pack around, and ease to connect to WIFI for downloading, something that my pictures continue to give that "wow" factor but with a lot more clarity and ability to really get that detail I'm craving when I zoom in to capture the moon. I'm going to Spain in January so I'd like to be camera ready and educated before then.

Thanks so much in advance!

MB"

Hi Mary Beth,

It's a great question. Your Rebel t8i has an APS-C sensor. It take both Canon EF-S and EF lenses. Before we dive in deep, let me say thanks so much for contributing your beautiful photos with your inquiry about Canon lenses. The t8i gives you a lot of technology for a great price and the flexibility of expanding your photography capabilities with many Canon Lenses. Here's my 3-part answer about lenses for your t8i versus a camera "upgrade."


Best General t8i Lens
The best general lens for your t8i is the Canon EF-S 18-135mm lens. It will give you sharp detailed photos. The 18-135mm focal range gives you wide angle through moderate zoom focal lengths that will handle almost all of your picture taking needs. On the Rebel t8i, the angle of view of your subject is equivalent to that of a 28mm to 216mm lens on a full frame Canon.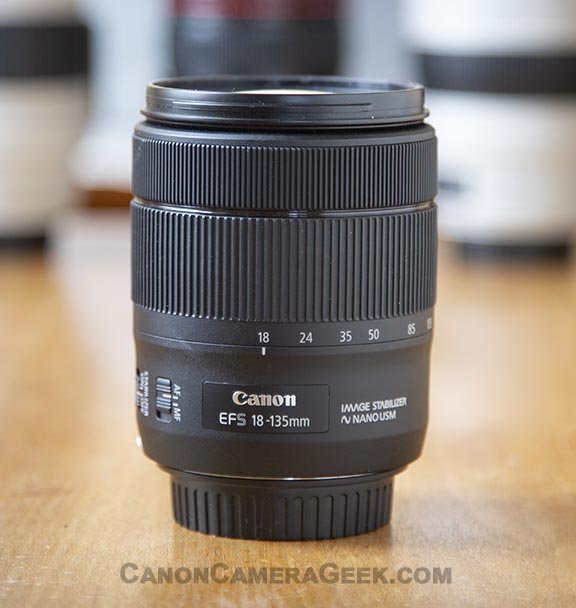 CANON 18-135MM F/3.5/5.6 IS LENS
The 18-135mmm lens also has image stabilization which will give you sharp photos with slower shutter speed photos-like those sunset and just after sunset photos you enjoy taking.
I recommend you read the detailed article I wrote on the best lens for a Canon 90D because it has the exact same size sensor as your t8i. That means it will give you the same benefits. Here's the post on
lens choices for a 90D
.
The 18-135mm lens zooms plenty wide enough for family snaps shots and group photos. Zoomed in all the way to 135mm, this lens will give you good (but not great) reach for photographing eagles and other birds.
Bird Lens For Rebel t8i
Ultimately, if you want to be able to take wild bird photos you need more serious magnification with your lens and you can't go wrong with the
Canon EF 100-400mm f/4.5-5.6 L
. This is a pro L lens and comes with a high pro lens price, so it's out of reach for many newbie photographers.
A cheaper alternative "bird lens" for your t8i would be the CANON EF-S 55-250MM F/4.5-5.6, although it only has about 2/3 of the reach as the 100-400mm lens, it's smaller, lighter and a fraction of the cost.
Another affordable t8i lens choice for bird photography is the Canon EF 75-300mm lens. Although neither one of these lenses is going to have the performance of the 100-400
L Lens
, they both are good starter lenses for bird photographers shooting with a crop camera like the t8i.
Rebel t8i versus Canon Mirrorless
You're wondering which is better, your t8i or a newer mirrorless camera. Should you trade in your t8i for a shiny new Canon mirrorless camera? I wouldn't. The very slight advantage of having a smaller camera body is outweighed by having the same sized large lenses attached to your camera at a higher cost.
The newer mirrorless do have better burst modes (faster frames per second fps) and generally have better video capabilities, but I really like your choice of the t8i. Your Rebel can shoot at 7 fps, which is good for capturing birds in flight. You just have to learn the right technique.
Your Rebel t8i is likely the end of the line for Canon's "Rebel t" series. Starting with the Rebel X, Rebel XT, and t3, through all the upgrades, you can think of the Rebel t8i as the final improve version of this very successful line of Canon camera bodies.
Mary Beth, I hope this was helpful answer to your question about lenses for your Rebel t8i. Please comment back or send us a few photos when you upgrade for your Rebel kit lens.
Warm Regards,
Bruce