Transferring photos (VIA USB) from Powershot G7X Mark II to Windows 10 Computer
by Richard
(Australia, NSW)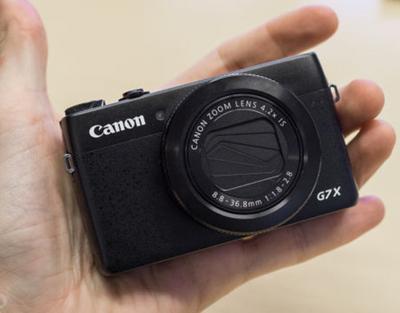 Love the G7X Mark II Size!


"Have problem using WiFi to transfer photos to my laptop running Windows 10. Is there a way to transfer photos using a usb cable?" - Richard

Hi Richard,

Thanks for your question about the Canon PowerShot G7 X Mark II Digital Camera. I've always found the built-in WiFi to be a bit clunky to use myself and I always transfer my images by 1. tethering from the mini USB camera terminal to a SUB terminal on the computer or 2. removing the memory card and using a USB adapter.

The quick answer is yes, using one of the 400 series USB cables from Canon or any third party manufacturer. You simply plug it into the terminal (see the photo above) select the images from the camera's memeory card, drag and drop them to wherever you want them on your PC.

Congratulations, Richard, on buying a really popular, pocketable Canon camera. For the benefit of the other readers, I am giving some additional facts and opinions on the G7X Mark II. Canon did a great job fitting a nicely sized 1.0 inch sensor into a compact point and shoot camera, capable of shooting high quality images through a nice fast lens.


Canon G7X Mark II Specs

* 1.0-inch, 20.1 Megapixel* CMOS sensor
* New DIGIC 7 Image Processor
* Fast lens f/1.8 (W) - f/2.8 (T),
* Decent zoom range: 4.2x, 9-blade iris diaphragm
* Continuous shooting up to 8 fps in both RAW mode / JPEG mode.
* Multi-angle 3.0" LCD touch screen
* 1080p Full HD video-MP4 format-stereo sound.

For a point and shoot camera, the Digic 7 processor does a good job with controlling noise at the higher ISO settings. To me stereo sound is a must have when shooting video. I shoot everything RAW too because I love the multiple ways I can process any image after capture and the fact that you can shoot at 8 frames per second in raw is remarkable.

The only 2 reasons I don't own a G7x Mark II is that I'm old school and really want a viewfinder (optical or electronic) and a hot shoe for an external flash. Neither of these two camera features are important to many digital shooters nowadays, they just are to me personally.

You can read a good number of consumer opinions of the G7x Mark II here: G7x Mark II Buyer Reviews.


G7x Mark II File Transfer
In a nutshell, you have three ways to download your photos from your PowershotG7x Mark II.
1.
You can use the built in Wifi.
2.
You can tether using the USB A to USB B cable. This is great if you are only copying a few images.
3.
Turn your camera off, Remove the SD memory card, insert it into any SD adapter, and plug it into one of your computer's USB ports. This is my own preferred method, particularly when I am downloading a big photo shoot with a few hundred images. I'm not a big fan of having wires running all over the place with the chance of me accidentally sangging one a pulling my camera onto the floor. Okay, I guess I'm a Klutz. I also like the speed of transfer this way.
Richard, please let me and the other readers of Canon Camera Geek how you make out.
Good Luck!
Bruce
P.S. Sorry for the delayed response. I've been working hard on completing a big photo shoot of a baseball/softball league.
Related G7x Mark II Topics
Alternative Cameras to the G7X Mark II
Other Canon Camera Questions Answered
| | | |
| --- | --- | --- |
| Canon G7x Mark IIt7 | PANASONIC LUMIX G7 4K | Canon Transfer Images Cable |