Upgrade From 60D To A Canon 5D Mark 4-Comparison 60D 5D Mark IV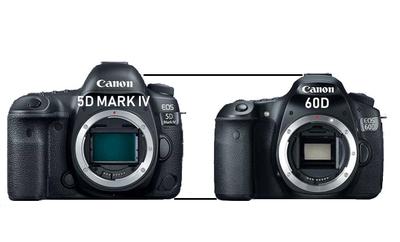 Canon 5D Mark IV vs Canon 60D Height Comparison

"I own a canon 60d and am looking at upgrading to a 5d Mark 4 camera. Some of my lenses are EFS and EF. Are there adapter rings to use both kind of lenses? Are there different software releases on the Mark 4 because looking them upon Amazon there is a variety of prices. What would be a good start out lens for the Mark 4?"

Hi Terry!

Thanks for your question about the Canon 5D Mark IV vs. The Canon 60D. Yes, there are always firmware updates released after a camera has been introduced. Price differences can also sometimes exist because of any accessories that are or are not included. I am included a link to the Amazon search results for the Canon 5D Mark IV, just to show you how offers can vary quite a bit at times.
I believe it is a good upgrade from the 60D to the 5D Mark 4.

You're jumping forward 6 years in technology-That's a lot when it comes to DSLR advancements. The 60D was a fine camera and Canon sold a ton of them. It's a good time to buy a 5D Mark IV. The price has come down at least a little since it's release in August of 2016.

You'll notice a big difference in image quality and speed because of the upgrade in the processor and the larger full frame sensor.
CANON 60D VS. 5D MARK IV SENSOR COMPARISON
You're going from a "crop sensor" to a full sensor. That's a jump of 1.6x in area and you're also jumping from 18 Megapixels to 30 Megapixels. Your file sizes will be much bigger, especially if you ever shoot RAW format-That's all I do when I use my 5D Mark III. Memory cards are so big and fast and affordable that file size really isn't an issue at all any more like it was 10 years ago in digital photography. You'll only be challenged when you edit your images if your computer is an antique
CANON 60D VS. 5D MARK IV LENS COMPARISON
You won't be able to use any of your EF-S lenses from the 60D on your 5D Mark IV. They don't provide enough of an image circle to cover the increased surface area of the 5D Mark IV. That's one of the biggests challenges for photographers like you who are considering going from a crop sensor to a full frame.
60D VS. 5D MARK IV HIGH ISO PERFORMANCE
Not only will you be able to shoot in more dimly lit situations, but the noise levels when shooting at high ISO settings is so much better in the 5D Mark IV. It will open up a whole new level of existing light photography that the 60D simply wasn't capable of. Thanks for your patience in waiting for my answer to your question. I've been quite busy with another photography project
;-)
Hope that helps! PLEASE PLEASE let me know what you decide. I am often curious about how the readers of Canon Camera Geek make their choices after an initial inquiry.
Good Luck,
Bruce
Link to Canon 5D Mark IV Listings on Amazon
p.s. If you like a little extra technology you'll also enjoy using the GPS and Wifi capabilities on the 5D Mark 4 that are absent in the 60D. That's fun stuff!
Written by Bruce Lovelace