Canon 60D Battery Replacement Strategy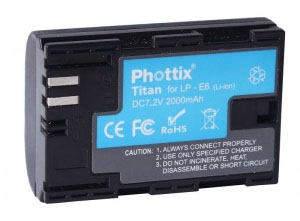 Is there one best Canon 60D battery replacement strategy?  
Certainly battery performance has dramatically improved since the development of the Lithium-Ion battery.
Many Canon shooters have strong opinions on whether it's best to go with only genuine Canon camera accessories or save money with a compatible third party.
The same argument is often debated with Canon batteries vs. non-Canon batteries.   I have purchased both Canon-made batteries and replacement batteries and gotten good results with both.
The Canon EOS 60D takes the Canon LP-E6.  This is the same battery that goes in my Canon 5D Mark III.  I purchased two Canon-made batteries with the camera and they work like a charm, so I haven't had to employ a battery replacement strategy on them yet.
My Canon 5D/20D Battery Replacement Collection


My Original Canon 5D as well as my Canon 10D and 20D take the old 511, 511A or 512 battery.
Over the years(and I've been a Canon DSLR shooter for many years) I've purchased six 511's, five of which are still working.  
The Original Equipment Manufacturer (OEM) one that came with the camera was quite old and has gone off to battery heaven. The weakest performing one was made/marketed by IMPACT.
In my opinion, one of the shortcomings in Canon's camera designs has been the lack of a more sophisticated battery meter.  
The 2-bar meters on top of my Canon 20D and 5D are not only inadequate. They are also inaccurate as well.  Just like the gas gauge in your automobile when the indicator is at 1/2, you really have qute a bit less than 50% of your fuel remaining.
Fortunately the Canon 5d Mark III is now my main camera and it is quite easy to access the remaining battery percentage (in 1% increments) in the menu.
My official Canon 60D Battery Replacement Strategy is to save your money and go 3rd party for your battery.  I give you that advice with only three cautions
Canon 60D Battery Replacement Warnings
1.
Buy only from a retailer who has a great return policy. Amazon's is excellent.
Canon 60D Batteries on Amazon.
2.
Only buy a brand that has received an overwhelming majority of positive reviews.
3.
Test your replacement better vigorously as soon as you get. You want to find out if you got a klunker right away so that you can return it within the return policy time frame.
Save your money on batteries and use it to get other valuable Canon camera accessories.
Back from Canon 60D Battery Replacement Strategy to Home page
Shoot more photos.
Watch less TV.
Bruce
Written by Bruce Lovelace
Bruce Lovelace on Google+