Battery Grip For EOS 100D-Rebel-SL1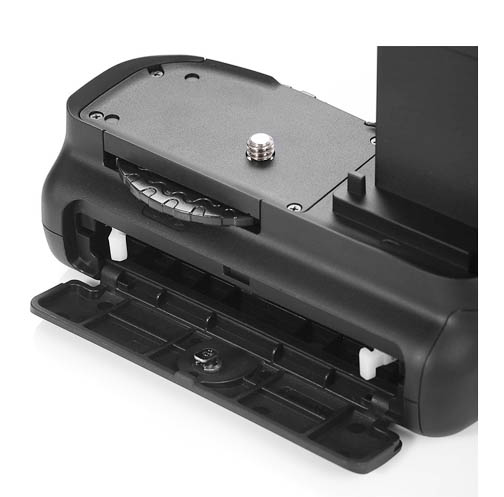 Battery Grip Door
"Does anyone make a battery grip for EOS 100D-Rebel-SL1 cameras?"-(October 2013)
I got this question from one of the readers of Canon Camera Geek about the Canon Rebel SL1. I am posting the quick answer and a link to Amazon for the SL1 Battery Grip made by a third party, DBK and not made by Canon.
2017 Update on Canon SL1 Battery Grip
That question came over 3 years ago and things change in the world of digital camera technology quite frequently. I updated this article here at the bottom.
Canon SL! Battery Grip - End View
He found one on ebay but asked me about this accessory. As of October 2, 2013, there was one listed on Amazon.  
You can read the review on the Amazon site:

The bigger question might be if you really want a grip for the world's smallest DSLR camera. After all, the Canon SL1's appeal is its small size and lightweight.
You can carry an extra LP-E12 battery.
That gives you the same capacity to shoot extra photos.
There are battery kits that give you two extra SL1 batteries for less than $20.
You only lose the vertical orientation buttons that are one of the chief advantages of using a battery grip.
That is one of my biggest issue with the new mirrorless cameras that are springing up by many camera manufacturers.

Nikon introduced the 1 AW1, a waterproof mirrorless camera, in September 13.

How do you think it looks?  ;-)

In some cases the lenses are bigger than the cameras.

This means that using the battery grip is a part time situation when you've got your big lenses in use. 
The main reason might be to use this accessory for better balance when shooting with a long lens.  A heavy lens attached to a light camera gives you a front-heavy feel. A battery grip will even that balance a bit more.
Of course, if you have a long shoot with a need for a lot of battery capacity or if you are shooting a bunch of vertical photos and want the vertical controls, then it makes sense to have the battery grip for your EOS 100D-Rebel-SL1 camera.
When you are not in one of those situations, you have the appeal of the small DSLR SL1 body to enjoy as it is,without the grip attached. These arguments for and against camera accessories often come down to personal choice and that is true here for sure as well.
2017  Canon EOS SL1 Battery Grip Update
Canon still does not make a grip for the EOS SL!, but there is good news for you. If you're looking for a grip for your Canon SL1, you do have several options. A couple of those options are junk, so you have to be careful. I just can't recommend some of them to you, but others are not so bad.
The Best Battery Grip for SL1
The top rated grip for your SL1 is the Zeikos.  It's also the one that's been purchased the most.
You can double your shoot time.

Grip's shutter release button makes shooting in a vertical position easier

Half press the shutter for focusing convenient for vertical portrait shot.

Improved handling and feel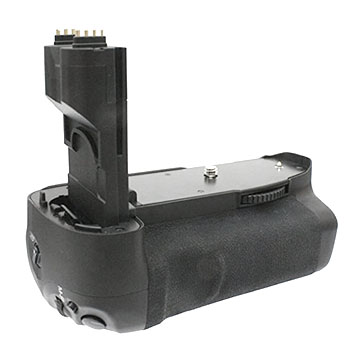 ZEIKOS SL1 GRIP
---
Back From battery grip for EOS 100D-Rebel-SL1 to Canon Geek Home
Written by Bruce Lovelace
Bruce Lovelace on Google+