Best Canon Lens for Wedding Photography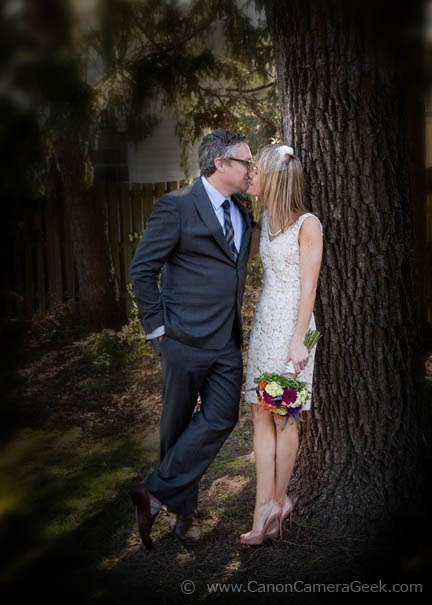 What's your best Canon lens for wedding photography?
It really depends on your level of expertise and what Canon DSLR you use.  
I recently shot a wedding with only two lenses.
It was a really short affair, as it was the second marriage for both the bride and groom. As a general rule, a zoom lens is the single best lens you can use for wedding photography.
My Own Two Best Lenses for Wedding Photography
I used my versatile 24-105mm f/4.0 for most of the photography, but also used my 85mm f/1.8 prime lens for existing light photography during the wedding ceremony inside the church.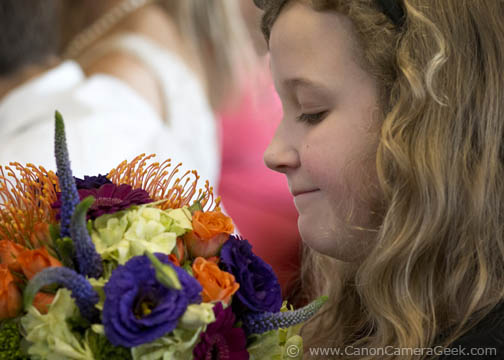 Wedding Bokeh With the 85mm Lens at f/3.5
In the photo of the bride's daughter above, I shot at f/3.5.  It gave me enough background blur of the bride's dress but still kept the girl's face and the flowers in good focus.
When I have a situation where I really desire an even shallower depth of field, I can open that lens all the way to f/1.8 and get terrific bokeh.
The 85mm is so light, so easy to carry and focuses really fast that it's a joy to use. It's also great to use with an APS-C camera like my EOS 70D because it gives a field of view like a 136mm lens. That's great for getting in close to your subject without interfering. 
The 24-105mm lens is also good for close-up detail shots like the photo of the hands above, a photo of the invitation or even a macro image of the two wedding rings.
I've had my 70-200 f/2.8 Lens available for wedding photography, my absolute favorite for shooting portraits,  but I really like to travel lightly when I shoot weddings.
I've seen the 70-200 used by a lot of professional wedding shooters and it gives you a lot of power to shoot from a distance, no doubt.  I just like to keep things simple and light.  That's just my personal preference.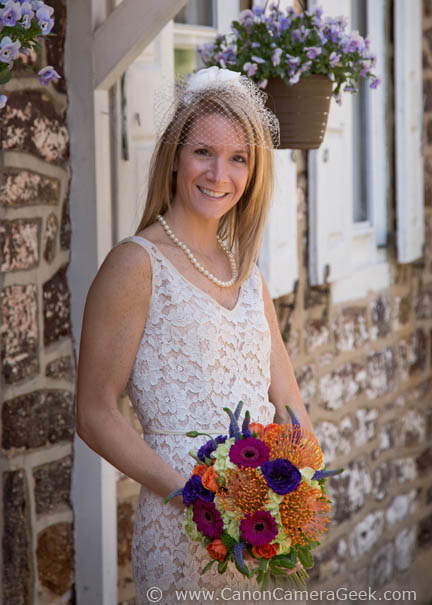 Wedding: Canon 24-105mm Lens at 105mm
Although I wouldn't classify the 24-105mm lens as a portrait lens, it has enough power at 105mm to create a pleasant perspective in mid-range distances.  if I am taking headshots, I use the 85mm lens.
APS-C: Best Canon Lens for Wedding Photography
If you shoot with an APS-C camera like one of the Rebel t cameras and you can only use one lens, which would be the one best wedding lens?  I listed three lenses below and commented on each for it's value as a good lens for shooting weddings. 
1. The 18-135mm.  Has a nice 7.5x Zoom range, is affordable, and relatively lightweight.
2. The 28-200mm.  Good enough zoom range but no wide angle capabilities for shooting interiors and group photos.
3. The 18-55mm "Kit" lens.  Wide enough but not long enough with on a 28-88 (equivalent) zoom range.
Search for the right lens on Amazon:
None of these lenses are of the same quality as one of the pro "L" lenses, but if you are shooting a wedding for a friend or relative, the quality is sufficient for you as a photo enthusiast.  Professionals who makes their living taking photographs spend the money and go with the Pro "L" lenses.
Have a blast!

Return from Best Canon Lens for Wedding Photography to All Canon Lenses