As an Amazon affiliate Canon Camera Geek receives a small commission from qualifying purchases, at NO added cost to you.
Best Canon Lens For Landscape Photography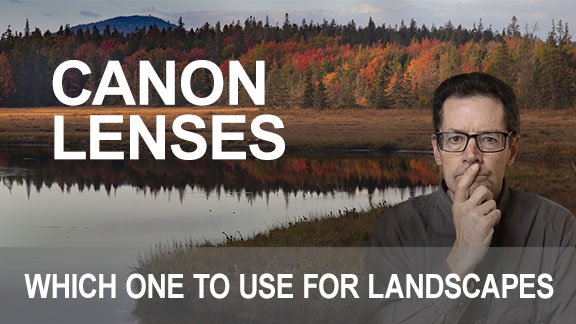 Landscape lenses are not always wide angle.


You want to shoot great landscape photography and you don't know which Canon lens is best to get. This post will help you understand what features to look for with landscape lenses and which Canon lenses you should consider.
Also included in this article are some interesting sample landscape photos and the corresponding lens information. Okay, lets jump in to the list of the best Canon lenses for landscape photography in the table below.
| | | | |
| --- | --- | --- | --- |
| CANON LENS | SENSOR | FEATURES | PRICE |
| Canon EF-S 10-22mm f/3.5-4.5 | Crop | Affordable. Good zoom range. 1/3 stop faster than the 10-18 f/4.5-5.6. Sharp with minimal distortions | Check Price |
| Canon EF-S 10-18mm f/4.5-5.5 | Crop | This is the most affordable Canon super wide angle lens there is. Compact and light. Great for vlogging and landscape photography. | Check Price |
| Rokinon EF-S 10mm f/2.8 Prime | Crop | It's not a Canon lens, but image quality and price make it worth considering. It's a non-zooming prime lens. This lens is manual focusing only, but depth of field is so great it's hard to miss proper focusing. | Check Price |
| Canon EF 14mm f/2.8L III Prime | Full | It's made for full frame, but still wide enough to use on a crop camera to get a decent wide view (22mm equivalent). There are 2 versions of this lens. Great for low light wide angle photos because of its fast f/2.8 maximum aperture. | Check Price |
| Canon EF 11-24mm f/4L | Full | A top of the line super wide angle "L" lens that works great on crop and full Canon camera bodies. Outstanding image quality and an expected very high price tag. | Check Price |
| Canon EF 20mm f/2.8 Prime | Full | Significantly wider than the zoom lenses with 24mm as the maximum angle. Works great on crop and full Canon camera bodies. Compact and affordable. Vignetting when wide open. | Check Price |
| Canon EF 24-105mm f/4.0L | Full | Very versatile for shooting a wide range of landscape scenes | Check Price |
See the list of the best 7 Canon landscape lenses below.
Canon EF-S 10-22mm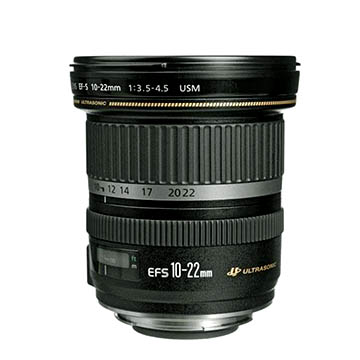 EF-S 10-22mm


This is the top pick for beginners and enthusiast landscape photographers on a budget that shoot with an APS-C camera. It's been the choice of Canon crop-sensor shooters since it was introduced in 2004. The EF-S 10-22 lens has about a 50% longer zoom range than its successor, the  10-18
Canon updated the optics, reduced the zoom range and switched to a high grade plastic for its successor, the 10-18. The EF-S 10-22 has a maximum aperture of f/3.5 which is about 1/2 stop faster. That my not be significant enough to matter for the average landscape photographer.
---
Canon EF-S 10-18mm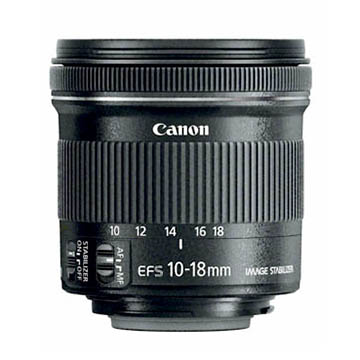 EF-S 10-18mm Lens


The EF-S is a better landscape lens than the 10-22 if you need a lens that is smaller, lighter, and even more affordable than the 10-22mm lens. The 10-18 also has image stabilization (IS) which is why I have this as one of my landscape lenses (for my 90D).
The example of a photo taken with the EF 10-18mm lens is below. I shot ultra wide at 10mm to include a larger part of the blue-black nighttime sky to contrast with the red and white of the lighthouse.
---
Although it's made up of more plastic than the 10-22mm lens, it still feels like it's well-built. The EF-S costs only about half as much as the 10-22mm lens does and gives you ultra wide view landscapes. It can also double as a great vlogging lens. More on the EF 10-18 lens.
---
Canon EF 11-24mm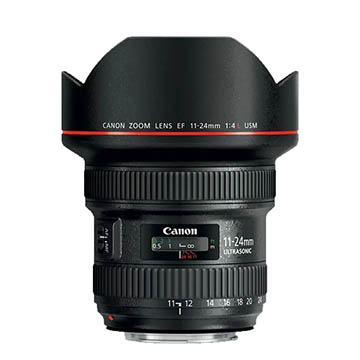 EF 11-24mm L Lens


The EF 11-24mm f/4.0L lens is the ultimate super wide zoom for full frame Canons. It's one of Canon's L lenses and comes along with a high Canon L price tag. It's front protruding front lens element might scare some landscape shooters away, but not the most serious photographers.
The 11-24mm lens gives you an  ultra wide angle for ultra wide inclusive scenic views and strong perspectives. When it was released it was the widest rectilinear lens that completely covered a full frame sensor
---
Canon EF 14 f/2.8 II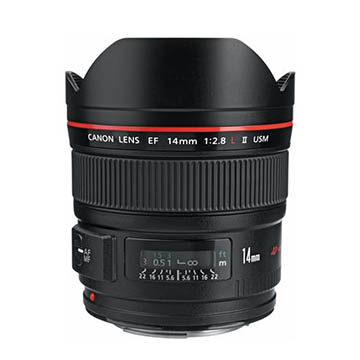 EF 14mm f/2.8L II Lens


This lens has a super wide diagonal angle of view of 114°. Prime lenses are sometimes accused of not being versatile, but used on a high resolution full frame camera body and you can easily crop your photo post capture if needed.
The image quality you get from using this lens is simply outstanding, even shooting wide open. This makes it good for shooting the stars at nighttime or your favorite rock band in a dark bar.
---
Canon EF 20mm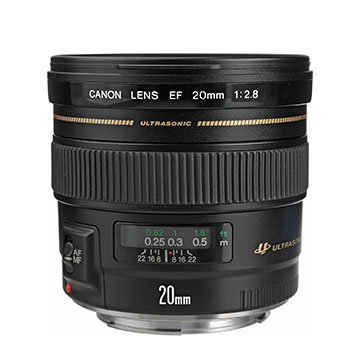 EF 20mm F/2.8


This Canon EF 20mm wide angle lens is a potential fit for you if you want a bargain price for a very wide view that will work with a full frame camera. This is a good landscape lens if you use it right. Some vignetting of the image is normal and can be corrected with stopping down to f/5.8 or f/8, correcting with software, or by using less of the image and cropping.
Most traditional landscape photos are taken at smaller apertures, so it's not much of an issue unless you're shooting with the lens wide open.
---
Canon EF 16-35mm f/4.0L 
 I used the EF 16-35mm f/4.0 L lens to take the photo below.
---
EF 16-35mm f/4.0L iii Lens


I have the f/4.0 version of the EF 16-35mm lens and I love it. Although I use the 24-105 much of the time, I really appreciate going to the wider angles this lens gives you for certain scenes. The f/4.0 version is quite a bit cheaper and has image stabilization.
The two f/2.8 versions are 1 stop faster, carry a higher price tab and are better for shooting in dimly lit scenes. To help you pick which one is right for you, see my article on the 3 versions of this Canon 16-35mm wide angle zoom lens.
---
Canon EF 24-105 f/4.0L 
The Canon EF 24-105 f/4.0L lens is the most versatile landscape lens because of its 4.3x zoom range. It zooms from very wide to moderate telephoto so you can shoot full scenes as well as detail shots.
The maximum f/4.0 aperture is constant through out the zoom range and the 24-105 has image stabilization of 4 stops.
---
What lens do most landscape photographers prefer
Most landscape photographers prefer to shoot with wide and super wide angle lenses. For Canon shooters that means the EF 11-24mm, the EF 16-35mm, and the EF 17-40mm are very good for full frame Canon cameras. For APS-C "crop" cameras, the EF-S 10-18mm and the EF-S 10-22mm are good choices.
You can use the larger Canon EF lenses (intended for full frame) on either size of Canon DSLRs as well as on the newer Canon mirrorless R mount cameras for shooting landscape photos. The smaller Canon  EF-S lenses will not work on the larger DSLR cameras. For more on compatibility between the different lenses and camera mounts see my guide on Canon Lens Compatibility.
Additionally, for the ultimate in best image quality, super wide angle (NON-zooming) prime lenses, like the EF 14mm and EF 20mm lenses, are used by serious landscaper shooters.
AUTHOR'S FAVORITE:  I use the 24-105mm lens more than any other because of its versatility. As an example, I shot the Acadia landscape shown directly below, using the 24-105 at 105mm and the photo below that at 24mm. 
The photo above was taken at the EF 24-105mm f/4 lens zoom all the way in and the photo below was taken with the same lens zoomed all the way out.
Second to the 24-105mm lens for me as a favorite is the 16-35mm lens because of it's wider view and the strong perspectives I can achieve at its widest focal lengths. I chose the f/4.0 version because of the lower investment and the image stabilization.
Is A 50mm lens good for Landscapes
A 50mm prime lens can be a good lens to start with, especially for beginner landscape photographers for 5 reasons. They're light, easy to use, very affordable, and easy to carry, and give you high image quality without any distortions. Non-zooming "prime" lenses force you into physically moving to different spots to refine your composition and are great to practice your composition techniques.
A 50mm lens was not included in the list of lenses because the downside of using a 50mm lens for landscape photography is that you can't get those super wide views of the scene in front of you.
Is An 18-135mm  lens good for Landscapes
The EF-S 18-135 is my highest recommendation for a general purpose lens for APS-C Canon shooters, but I don't recommend it as a landscape lens. The 1.6x crop factor of the APS-C cameras gives you an equivalent view of 29-216mm lens which is not ideal for landscapes.
Don't get me wrong. You can use it for landscapes, but you'll just be a bit limited on the wide angle end of its zoom range. I've shot some real nice landscapes with the 18-135mm lens. See the photo below It's just not one of the "best."  
In the photo above, 18mm was the perfect focal length for this colorful scene in Acadia National Park. Here's the complete post on the pluses and minuses of the 18-135mm lens.
Telephoto Lens For Landscapes
You may be wondering if one of Canon's telephoto lenses is good for landscape photos.
Yes, telephoto lenses can be very effective to use for doing landscape photography. You can get some great detail photos as well as "flatten" the perspective of your photo. That often brings out the colors and patterns as a bigger part of what you're trying to emphasize in your image.
During a hike on the Great Head Trail in Acadia National Park I turned my attention backward to the area to the left of Sand Beach and witnessed this splash of color. I attached my EF 100-4000mm lens to my Canon ESO R, zoomed in all the way and took this landscape shot at 400mm.
Canon Landscape Lens Summary
Generally speaking, Canon wide angle zoom lenses are the best choice for landscape photography. Whether you're shooting with a Canon DSLR or one of the Canon mirrorless  "R" cameras, you can't go wrong with one of the EF lenses.
The new mirrorless "R" lenses are just as good on the new R series of mirrorless cameras and the best EF lenses can also work on the R cameras with an adapter.
---
As an Amazon affiliate Canon Camera Geek receives a small commission from qualifying purchases, at NO added cost to you.
---
Have a blast. Shoot a Canon!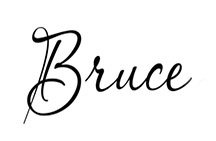 Bruce Lovelace is the publisher of Canon Camera Geek. Read more about him on the About Page. He also publishes how to articles and camera gear reviews at the Photography Tips website.
View some of Bruce's photos on Instagram  and Flickr.   Join the tribe of followers on YouTube. Bruce also runs photo workshops and provides 1 on 1 digital photography coaching.
---
---