Best Canon Portrait Lens
In order to decide which is the best canon portrait lens to buy, you need to consider a few important things before reading all of the Canon lens reviews. It can get confusing because you have so many options.
You can save money and get an adequate lens for covering a variety of portrait shooting situations or go with more of a specialty portrait lens for the utmost in portrait quality. This post will help you make the best choice for your situation.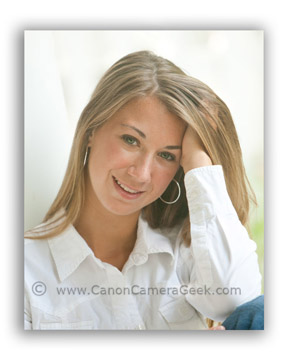 In general, when taking portraits it is usually desirable to have your background go soft.
An out-of-focus area behind your subject forces your attention on your subject and not on the background.
You get a more pleasing perspective of your subject and It's also more comfortable for your subject if you are not standing too close. Being more distant from someone allows them to relax and that bodes well for a more natural expression.
I personally have three Canon lenses that I have used as portrait lenses. I use a 70-200mm f/4, a Canon 85mm f/1.8, and a Canon 24-105mm f/4. 
The Canon 70-200 f-2.8 IS. By far, this is the lens that pro portrait photographers swear by and it's the one I use most of the time with my portrait photography. Set at 70 mm, you can still photograph relatively small families and groups and maintain a good working distance.
At 200 mm, you can get great tightly cropped head shots like the senior portrait at the beginning of this post.
The Canon 70-200 f4 lens is even more popular than the 70-200 f/2.8 as a portrait lens with advanced photo enthusiasts.
That's because of its weight and price. 
Both the IS and the standard versions of the 70-200 f/4 lens receive over 96% 4 and 5 star ratings on Amazon.

The Canon 85 f-1.8. This was my first true portrait lens. A single focal length "prime" lens like this does not zoom. At the wide open setting of f 1.8, you get an absolutely beautiful blur on all but the closest of backgrounds.
When using a lens that does not zoom like this 85mm prime lens, you also avoid the possibility of getting any pin-cushion or barrel distortion. Cheaper zoom lens will give you a bit of distortion at the widest angle settings.
Use the 85mm lens when you're am in tight quarters where the background is not too far distant and you really want the background to go soft.

The Canon 24-105 f-4. Zoomed fully in to 105 gets you a good workable, perhaps not ideal distance from your subject with a head and shoulder portrait.
The Best Canon Portrait Lens for Group Photos
This is the lens to use when doing large group portraits. The Canon EF 24-105mm f/4 L IS USM Lens is perhaps one of the most popular Canon zoom lenses ever made because of it's versatility, quality and range. I have two of them
Some would deny that it is really can be called a best portrait lens, but I have used this lens for portraits since the year 2007.  It is great for shooting groups because of its zoom range and image quality.
If you're looking for the best Canon portrait lens, based on the technical data such as chromatic aberrations, vignetting, color, contrast and all of the technical stuff, you've come to the wrong place.
For the majority of photographers, every so slight differences in test results can't be detected by the average viewer of the photo.
Particularly in portraits where critical sharpness and exact color rendition is not absolutely critical to creating a beautiful, emotional portrait, the best portrait lens is really decided by it's features, such as focal length, maximum aperture, size, weight and price.
Use the exact keyword Canon portrait lens review to get information that is more technical from one of the sites that does professional testing of lenses.
Do you also like macro photography? You might also be interested in information on the best macro lens for Canon cameras.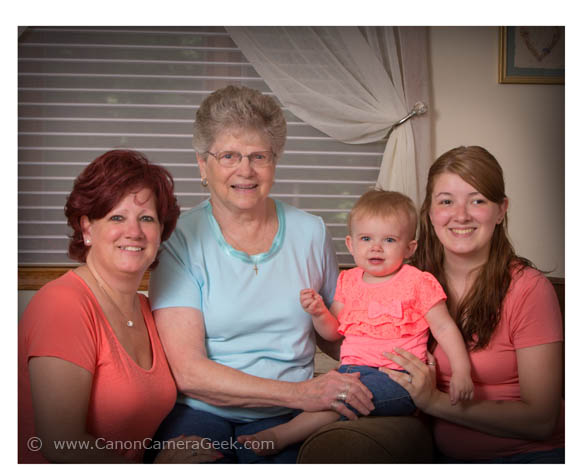 4 generation portrait with 70-200 lens at 70mm in a small room
If you're a Canon shooters using a camera with a smaller APS-C, your best Canon portrait lens choice might be the 55-250 lens made by Canon.

It's very versatile.

It's very affordable.

Powerful enough for sports photos too.

Has Image stabilization so good for hand held portraits.




Click for Details
If you want just one single lens to shoot groups and individual close-ups get yourself a moderate high quality zoom lens. If you ultimately want the best Canon portrait lens for individual head shots go with a fast prime lens.
Shoot more photos
Watch less TV
Bruce
Back to Canon Camera Lenses
Bob Atkins thoughts on portrait lenses
Back from Best Canon Portrait Lens to Canon Camera Geek Home Page
Please visit one of the Canon Geek's preferred vendors below. It hleps me keep the site going. Thanks.

Written by Bruce Lovelace
Bruce Lovelace on Google+