Battery For Canon R Mirrorless camera
Canon did a smart thing when they chose the battery for the Canon EOS R camera. The Canon R takes the older LP-E6, the LP-E6N upgrade, or the newest LP-E6NH battery. As you'll see shortly, that's great news for you. After all a spare battery is one of the must-have Canon EOS R accessories to consider getting.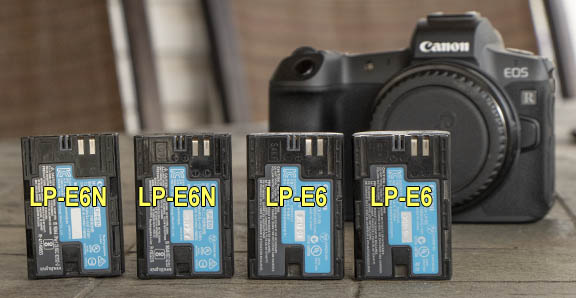 4 of my batteries that fit my Canon EOS R camera.
Photo taken with Canon 90D and
Powered by Wasabi LP-E6 2600mAh battery


You want to know what battery does the Canon EOS R use because you're considering buying one. That could be good for you for two different reasons.
You already have a Canon DSLR, and like me, you want to try out one of the mirrorless cameras, namely the Canon EOS R. This means you could use one or more of your leftover LP-E6 or E6N, or E-6NH batteries from your DSLR as back-ups for your EOS R. 
You're starting your mirrorless photography with the EOS R camera, but you will likely upgrade to another one of the full frame Canon mirrorless camera bodies at some point in the future. Once again, you'll be set with having one or more compatible batteries already in your arsenal.
How do the three version of the EOS R battery compare? See what the differences are between the LP-E6 and LP-E6N batteries, as well as what the differences are between the LP-E6N and LP-E6NH batteries in the battery comparison table below. 
Comparison TABLE OF CANON EOS R BATTERIES

CANON
LP-E6
CANON
LP-E6N
CANON
LP-E6NH
1800 mAh
1865 mAh
2130 mAh
2008
2014
2020
All three batteries are the same weight and have the same physical dimensions. The only differences are the technological improvements in their performance, in particular their capacity. The improvement in overall capacity from the original LP-E6 to the LP-E6/N was minimal. The LP-E6N has 3.6% more capacity. Whoopee!
The improvement in capacity from the LP-E6N to the LP-E6NH was more significant. The LP-E6NH has 14% more capacity than the LP-E6N and 18% more capacity than the original LP-E6. That could be the difference between you getting a great photo and missing that great action shot of your kid scoring a goal in the last minute of her soccer game because of a dead camera battery.
The battery capacity of any camera is an important consideration and the topic of EOS R battery life was included as one of the many items in my list of Canon EOS R Pros and Cons.
The Canon mirrorless EOS R, Ra, R5, and R6 can use any one of these LP-E6 series of batteries. The only cameras out of the entire Canon "R" series mirrorless cameras that don't accept the LP-E6 batteries are the entry level Canon RP, which takes the paltry 1040 mAh LP-E17 battery, and the professional R3 camera.
So, what's the good news I spoke about earlier? Kudos to Canon that the LP-E6, LP-E6N, and LP-E6NH also fit many of their more recent DSLR cameras. See the compatibility illustration below.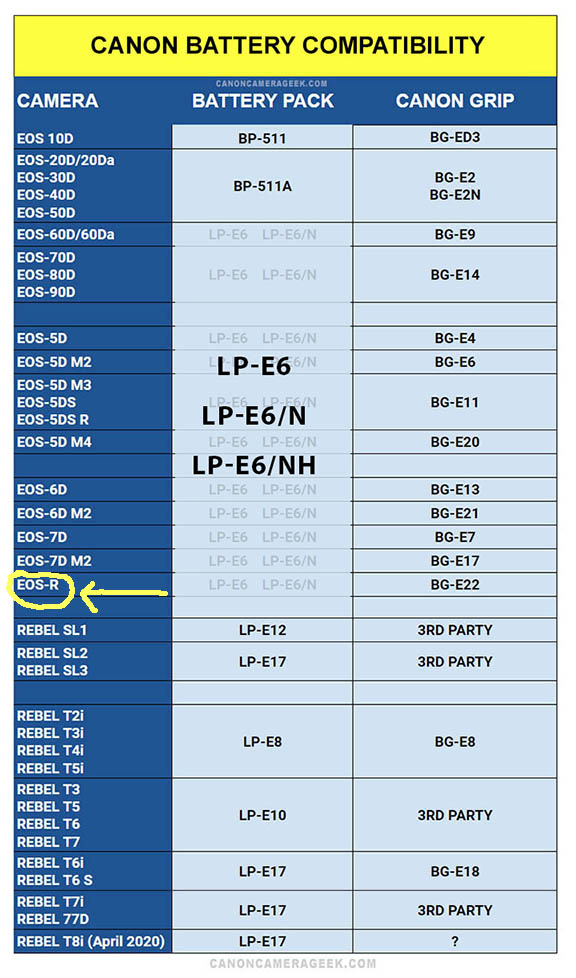 The Canon EOS R cameras accept LP-E6, LP-E6N, and LP-E6NH batteries.


It's been one of my biggest complaints over the years about Canon (and other brands). They keep changing their battery designs, making your older batteries obsolete when upgrading to a newer camera model. Fortunately, the Canon EOS R camera battery works perfectly with several of the recent Canon DSLR and mirrorless camera models.
It's simpler to have just one plug in charger and compatible batteries to power my 90D, 5D Mark III, and EOS R cameras.
Canon R Battery Capacity
You're also likely interested in what the battery life is with the Canon R camera. One of the biggest downfalls with mirrorless cameras, in general, is how fast they eat up batteries. This became apparent to me during my first photo excursion with my EOS R camera, a trip to Knoxville, TN.
I started out on a walking tour of the city, with one of my older batteries not fully charged and inserted into my R camera. That foreboding "low battery" warning flashed at me on my R camera's LCD screen and horror struck as I had the sinking feeling I had left my spares back in the car.
Fortunately, with two compatible spare batteries along on the trip, the ability to keep shooting is appreciated. The number of photos you can shoot using one of the LP-E6 batteries depends a lot on your shooting style. The age of the battery, how much you use the LCD or the electronic viewfinder, how long you review individual photos, the amount and length of videos you shoot, as well as if you shoot rapid bursts of photos, all affect how long your Canon EOS R battery will last.
The LP-E6 is rated for only 370 photos, but I've had no issues getting over 1,000 photos out of a freshly charged, newer battery. There are two ways to check your EOS R for how much remaining power you have in your battery. See the photos below.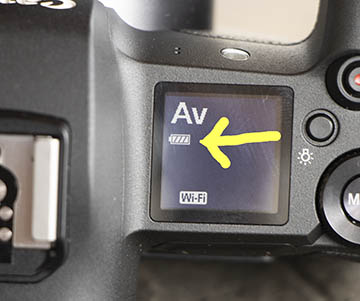 Convenient check of remaining power-
6 levels of charge shown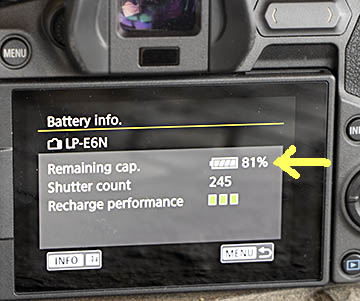 Use menu for precise battery live
percentage of remaining battery life


The small LCD screen on the top of your camera has a convenient 6-level power remaining indicator that you can do a quick check on at any time. If you dive into the menu on the big LCD screen on the back of your camera, you'll see a specific percentage of remaining power, shutter count and recharge performance of your battery.
Conclusion
I hope this post was helpful and it gave you the information you were looking for. You can you use any version of the LP-E6 battery in the Canon EOS R. That's any of the 3 versions that are available to you from Canon or you can get one sold by a third party vendor and save lots of money.  I recommend the most recent version (LP-E6NH) because of it's higher capacity.
You can check current prices on Amazon for genuine Canon batteries or substitutes below my signature at the end of this post.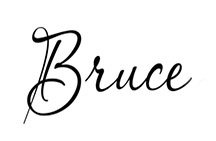 Bruce Lovelace is the publisher of Canon Camera Geek. Read more about him on the About Page. He also publishes how to articles and camera gear reviews at the Photography Tips website.
View some of Bruce's photos on Instagram  and Flickr.   Join the tribe of followers on YouTube. Bruce also runs photo workshops and provides 1 on 1 digital photography coaching.
---
---