Canon EOS R Memory Card
You're wondering about choosing the best Canon EOS R memory card for your needs. It's important to get it right because the right memory card and a back-up battery are the two most important accessories you can have for your Canon R camera.
I know what you're thinking. There are too many choices for memory cards and it's confusing. I couldn't agree with you more.  The Canon EOS R mirrorless camera takes the SD format of memory card, but there are dozens of variations available.
LET'S KEEP IT SIMPLE. This guide will make it sure easy to pick the right card specifically for your Canon R camera, but realize that these SD memory card recommendations would be perfectly fine for the Canon RP, R6, and R5. The only 3 things you need to know about is 1)Brand, 2)Capacity, and 3)Speed.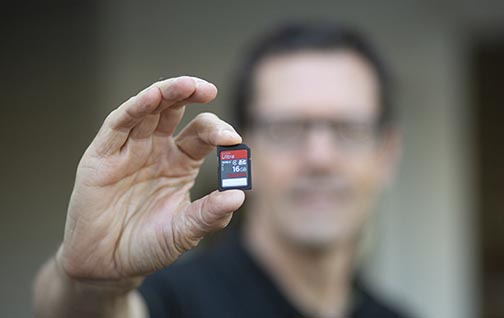 16 MB is too small nowadays


You can read all the reasons for my recommendation or you can just follow the following guidelines and be done. I've never had an issue with a card corrupting or being too slow because I've always chosen a top brand with enough speed. We'll get to capacity in a minute.
Best Brand of SD Memory Card for Your Canon R
BUY ONE OF THESE 4 BRANDS. In no particular order, I recommend any of the following brands of memory card for your Canon EOS R: Sony, Lexar, and SanDisk SD memory cards. These cards are available everywhere.
SANDISK
SONY
LEXAR
TRANSCEND
They're reliable, high performing, and affordable. Yes, you're right. While it's true there are other brands of memory cards that would work with your EOS-R camera, you can't go wrong with playing it safe and sticking with one of the safest and reliable brand of memory cards.
How Much Capacity
64 GB Capacity


GET a 64GB (GIGABYTE) MEMORY CARD OR LARGER.
Unless you're shooting long videos at super high 4k or 8k resolution 64 MB is plenty of memory. The key with always having enough memory is that you should periodically copy your files from your camera to your computer or the internet cloud. Once copied, then delete (Use FORMAT in your camera) so you have an empty card ready for more current photos and videos.
As you can see in the memory card capacity table below, SD cards are described by class in terms of capacity. You don't need to use those classes when shopping for a memory card for your Canon mirrorless camera, but now you'll know what they mean when you see the class stamped on the card.
TABLE OF CAMERA MEMORY CARD CAPACITY
| | |
| --- | --- |
| CARD TYPE | CAPACITY |
| SDHC | Between 2 GB and 32 GB |
| SDXC | Greater than 32 GB up to 2 TB |
| SDUC | Greater than 2 TB up to 128 TB |
If you find a great deal then go with the128MB size. They're not much more money and they have twice the amount of storage. If you need to be more budget conscious and want to save a few dollars, then skimp with a 32GB. See the price comparisons on Amazon below.

As an Amazon affiliate Canon Camera Geek receives a small commission from qualifying purchases, at NO added cost to you.
Speed of Your EOS R Memory Card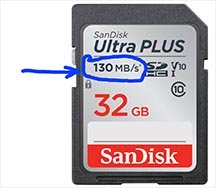 Check the write speed
GET 100 MB/s OR FASTER. Everyone wants to know how fast should the memory card for your Canon R be. Keep it simple. Memory cards have several designations with respect to speed. There are certain speed class specifications like "Speed Class," "UHS Speed Class'" and "Video Speed Class" that make it complicated and confusing.
To keep it simple for how fast your memory card needs to be for your R camera, just look at the number that gives you the writing speed. That's how fast your EOS R can record your photos and video to your card.
The EOS R has a continuous drive, burst rate of 8 frames per second for still photos and can shoot 4k video (cropped). A 100 MB/s card can handle recording at a fast enough rate to handle these situations. If you do want to read the technical details on speed classes here's the link to SDcard.org.
Additionally, the short video below is worth watching to give you more insight. It gives you the only 3 things you need to know about with the right specs for a memory card for your Canon EOS R camera.
Common Questions About EOS R Memory Cards
DOES THE CANON EOS R TAKE SD CARDS? Yes. The Canon EOS R mirrorless camera takes the Secure Digital format of camera memory cards, abbreviated simply as SD. The EOS R camera is compatible with any class of SD cards, but performs better with the more modern SD High Capacity (SDHC™), and SD Extended Capacity (SDXC™), and SDUC memory cards.
HOW MANY CARD SLOTS DOES THE CANON EOS R HAVE? Canon shooters want to know if the Canon R has two memory card slots The higher end "pro" cameras do take two memory cards, but not the R.
The fact that it only takes one memory card is one of the negatives aspects of the EOS R that pro Canon shooters aren't thrilled with.
Canon's Recommended R Memory Card
Surprisingly, it's disappointing to read what Canon says about which card to use in the EOS R camera.
Canon says: "When shooting movies, use a large-capacity card with good enough performances (fast enough writing and reading speeds) to handle the movie recording quality."
That comes from the EOS R camera manual. How helpful is that? Not very! It goes on to mention SD, SDHC, and SDXC cards. Well, I'll tell you something.
Camera memory cards have come down in price so much that it makes NO SENSE to get an outdated standard SD card. Even if you don't intend to shoot much 4k video with your Canon R, the extra capabilities of the SDHC and SDXC will handle anything you through at them. You won't miss a photo due to an inadequate memory card.
Parting Thoughts on a Good Card For A Canon R Camera
To get the most out of your Canon R camera you need the right accessories. That includes the right spare battery and matching memory card.
Sticking with one of the major brands of SD cards for you Canon EOS R is the safest thing to do. Get a card that holds at least 64 GB of memory and can record at 100 MB/s and you've got the best memory card for your Canon EOS R camera at an affordable price.
I hope you found this post helpful. Stay inspired. Shoot your Canon.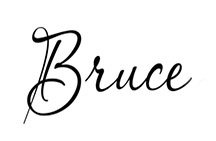 Bruce Lovelace is the publisher of Canon Camera Geek. Read more about him on the About Page. He also publishes how to articles and camera gear reviews at the Photography Tips website.
View some of Bruce's photos on Instagram  and Flickr.   Join the tribe of followers on YouTube. Bruce also runs photo workshops and provides 1 on 1 digital photography coaching.
---
---
---
As an Amazon affiliate Canon Camera Geek receives a small commission from qualifying purchases, at NO added cost to you.
---