Buying Your First Canon Camera?
Here's What You Need to Know
This is a guest post by Lisa Smith.
Which Canon camera will be your first?


Getting a dedicated camera is probably the first step toward your photography journey. The market is crowded with so many options that offer varied features, and all seem to be perfect. However, as you explore more about these cameras and accessories, picking the right one becomes easier. 
The article explains noteworthy aspects of choosing the best Canon camera, particularly if it is your first buy. You need to ask yourself a few questions, and they will boil down your options to limited models. So, let's start. 
Do I need to use different lenses?

The kind of photography you will be doing decides if you want to go with a compact Canon camera or an interchangeable lens model. DSLR and Mirrorless cameras come with interchangeable lens features. One of the major reasons to get a DSLR is its ability to change lenses. 
If we talk about a specific model, RF100mm f/2.8L IS USM allows you to capture close-ups of tiny objects such as a butterfly from a distance. A more advanced RF100mm f2.8L MACRO IS USM integrates a new Spherical Aberration Control to bring a bokeh effect that can expand your creative horizon further. 
The lenses that come with your Canon camera kit are standard zoom or superzoom lenses, ideal for everyday photography. If you need crystal clear and sharp images, having a DSLR is a good option if you are looking to scale your future needs. 
On the other hand, if you are quite concerned about maintenance as your camera and lenses would demand regular cleaning, get a compact camera with only one unit. Picking the latest model in the Canon PowerShot series, such as PowerShot S740 HS, can be an ideal choice. 
Do I need a full-frame camera?

When it comes to selecting the frame size, the budget and shoot flexibility influence the purchase decision. If you have decided to get an interchangeable lens camera, you might be thinking about whether you should go for a full-frame image sensor or an APS-C sensor. If you are new to these terms, let's first understand the difference between the two image sensors. 
The image sensor on your digital camera is the part that receives the light that enters the lens and transforms it into electrical signals that you can view, analyze, or store. The camera frames come in different shapes and sizes; however, camera giants follow several standard formats.
There may be a slight variation between various Canon DSLR models, the most usual image sensor dimensions are 36 X 24 mm for full-frame and 22.3 X 14.8mm for APS-C models. A full-frame image sensor is also popularly known as a "35mm full-frame". 
On measuring a 35mm film negative, you will get that the image area is 36mm X 24mm. This measurement is around the same size as the image sensor itself on a full-frame camera. Now, let's discuss the APS-C format. APS-C stands for Advanced Photo System type-C originated from the "Classic" format. 
APS format was initially introduced in 1996 with the intent to make cameras more accessible and easy to use for non-professional users. With more advances in the area of digital photography, the manufacturer invented image sensors that were nearly the same size.
Your budget plays a role in selecting the frame size. Having said that, having a smaller camera integrating an APS-C sensor makes more sense if you're on a tight budget. If you are looking to buy a camera with more features, go for a full-frame camera. 
Which lens mount should I go for?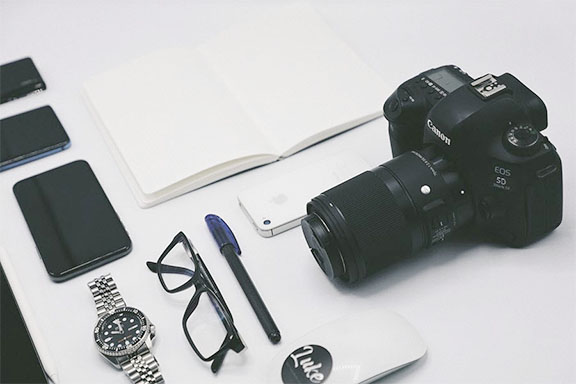 The full frame Canon 5D series take EF lenses


Your choice of lens mount or camera series relates to the sensor size, so you need to first finalize whether you are buying a full-frame or APS-C sensor. Canon currently offers four lens mount systems listed below:
EF mount for full-frame DSLR
EF-S mount for APS-C DSLR
RF mount for EOS R mirrorless camera
EF-M mount for EOS M APS C format mirrorless camera
Other than that, the two different RF mount lenses include RF lenses designed exclusively for full-frame EOS R camera models and RF-S lenses designed for APS-C sensor camera systems. You can attach both the mount lenses to any EOS R camera model, but there may be a slight difference between the outcome. 
The lens mount can greatly affect the choice of lenses available to you. Also, the lens mount will influence your plan to upgrade to higher models or expand your photography toolkit in the future. Another noteworthy point is that you need a big camera to house the bigger sensor and everything else. 
On a Canon DSLR camera, the sensor size also impacts the size of the mirror integrated in front of the sensor as well as the pentamirror placed at the top. 
How important is a viewfinder, and what type is preferred?

In most cases, having a viewfinder is a matter of shooting style and personal preference; it's nice to have one. The more you explore your options, the more confusing it becomes, and you may wonder if you have made the right decision by picking a DSLR or compact camera without a viewfinder for your photography needs. 
Several models of DSLR and compact cameras don't have a viewfinder, PowerShot SX740 HS, for example. Having a viewfinder is helpful as it brings along numerous benefits. The most significant advantage is that it makes shooting in bright daylight easier. It allows you to focus better on the object, even if it's a tiny one. 
The viewfinder also has an advantage when shooting in low light as the light from the LCD won't distract others. Moreover, holding your camera becomes easier, and you can capture better images. The viewfinder is of two types - EVF (electronic viewfinder) and OVF (optical viewfinder). Understanding the basic difference between the two is important to pick the right option. 
The OVF displays the image right from the lens reflected in the mirror to give you a preview of the object optically. When you look through OVF, you see the scene reflected by mirrors integrated inside your camera. In simple words, it gives you a true image of the object.
EVF, on the other side, is completely electronic and gives you a digital version of the scene or object. The scene is taken through a camera sensor as the EVF displays an autofocus grid and exposure data similar to the optical viewfinder. High-end mirrorless Canon models such as Canon EOS R5 integrate an electronic viewfinder. 
An electronic viewfinder may not deliver the clarity, precision, and resolution that an optical viewfinder can. Your camera settings will not have any impact on scenes produced by the optical viewfinder. However, the EVF display may become darker if you increase the shutter speed, so that's how the camera settings affect your output with an electronic viewfinder. 
What about the interface and controls?

Different models of Canon cameras are designed with different levels of photographers in mind. That's why the features and functions of cameras vary. Let's discuss some of these features for better understanding. 
For example, a Canon camera with a hot shoe on top lets photographers attach external accessories such as flashlights. Some entry-level cameras may not have this feature. Attaching external flash or Speedlites help illuminate the object for better picture quality. It enhances the images even if your camera has a built-in flash. 
When it comes to controlling, most camera models are touch-optimized, which allows for easy navigation. Controlling features like autofocus becomes more convenient with touchscreen features. You don't have to sift between different buttons, and you can control almost everything from a single screen. 
Some Additional Tips for Your First Canon Camera

Canon DSLRs and mirrorless R cameras have great grips


Having a top-class camera means you can capture high-quality images, but what about processing. You will need to edit and store your images, so having a computer and image editing software such as Photoshop is a must. 
As a photographer, you need to be organized with your files as you must have a bulk of those. On your computer, you need to organize Mac desktop, for example, regularly so that you know the exact location of the files on the device. Don't forget to name folders carefully. 
The more frames your Canon can take per second, the better the picture will be. Make sure that your camera supports object tracking during continuous shots. With customizable controls, you can change your camera settings quickly. Go for Canon EOS R. 
Canon's EOS R10 and EOS R7 models come with advanced deep learning capabilities that allow for faster object detection and tracking. It helps photographers to focus more even on the objects that move faster such as birds and butterflies. 
If you are a landscape photographer, you must have a higher dynamic range as you will be capturing a significant range of tones during sunlight and sunset. You need a higher megapixel camera such as Canon EOS M50 Mark II to capture with precision. 
For shooting outdoors, you need a dust-proof and water-resistant camera so that you can maintain a healthy work routine even in harsh weather conditions. Canon offers models such as Canon 5D Mark IV or Canon 1DX Mark III, but they are usually cost-intensive.
---