Best Canon R Accessories
You've got your EOS R camera body and a lens, but which Canon R accessories are best to start with. This post will give you a detailed list of the top accessories for the Canon EOS R camera.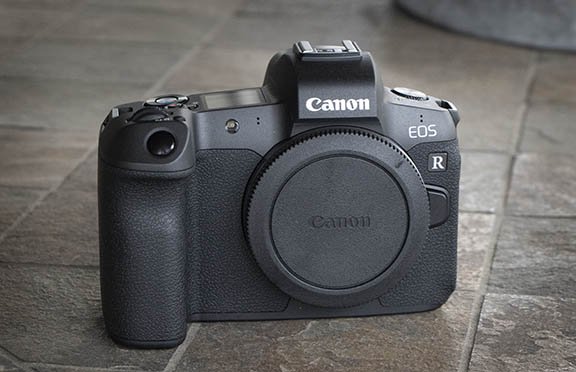 EOS R Camera Body


Whether you're adding  to your own gear or you're looking for a gift for your favorite photographer, this post will help you choose the best accessories.

While some camera accessories are essential to get, other gear will help you improve your photography. We start with the two must-have items that every Canon R shooter needs to own. 
1. Spare battery
The EOS R, like other mirrorless cameras, put a strong demand on its battery to handle all the power-draining activities that come with digital photography. Canon got it right when they designed the Canon R to take the high capacity LP-E6N battery and now the most recent version, the LP-E6NH. 
The LP-E6N batteries have 3.5% more capacity than the original LP-E6 batteries and the LP-E6NH have 13% more capacity than the LP-E6N.
Spare Canon R compatible batteries from left to right
Wasabi, Canon, and STK LP-E6


Nothing earthshattering here, just be aware that all 3 LP-E6 batteries fit and work well with the Canon R mirrorless camera and a spare battery is one of the must have Canon R accessories to have.
Some mirrorless camera come with smaller batteries to save space for electronics within the smaller camera bodies, but Canon designed the EOS R to take the full-sized battery.  For a complete understanding of Canon batteries and compatibility, here is my article on Canon Batteries, and here is a detailed post with more on the right battery for the EOS R. 
2. Memory Card
Theoretically, you only need one card with enough speed and capacity, but memory cards are so affordable and are a good insurance policy. A back-up card for your Canon R is essential in case you fill one up, or in case you have a card crash. Here are the size and speed requirements you need for a memory card for your Canon R camera.
Ideally, every so often you should download all your photos to your computer, and back them up to a 2nd location, and then format your memory card when its' bee inserted back into your camera.
The reality is many of us (me included) are guilty of allowing our cards to fill up with photos and/or video. The last thing you want to happen is to fill up a card during a photo shoot and not have a spare memory card to insert so that you can keep shooting.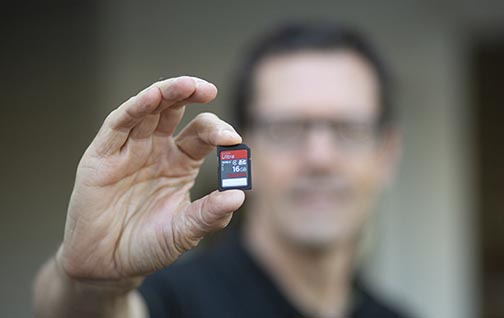 You can get a 16 GB memory card for your Canon R for less than $10


HOW BIG IS BIG ENOUGH: Get one of the SDXC cards. Regular SD and SDHC memory cards are an older technology have limited capacity. I recommend a 64 GB card capacity.
HOW FAST IS FAST ENOUGH:
SINGLE PHOTOS. For single shots with your Canon R, UHS-1 cards are fine and are super cheap to buy. Write speeds should be a minimum of 20 MB/second if you're shooting RAW files and at least 10 MB/second for just jpg files.
BURST.  For a long burst of still photos, you need a memory card that writes at least 90 MB/second to clear the memory buffer faster so that your R won't get bogged down.
4K VIDEO.  In order handle shooting 4k video with your Canon EOS R, you should get a card that writes at least 60MB/second or faster. 
For a deeper understanding, here's my post on Canon memory cards.
3. EF-EOS R Adapter
There are 3 versions of the EF-EOS R adapter that work to allow both EF and EF-S lenses to mount correctly to your new Canon R. I prefer the R adapter with the control ring.
Although it's over-priced compared to other lens adapters, this is one accessory that is needed if you want to use EF or EF-S lenses on the Canon R body.
Let's face it, the new Canon R (made for mirrorless) lenses are pricey. There's a ton of like-new condition, used EF and EF-S lenses that work perfectly with the Canon R. My favorite source for buying used Canon lenses is KEH. See my recommendation on my Canon Resources page.
Also, see my complete guide to the 10 best Canon R lenses and my review of the Canon EF-EOS R Adapter.
Although it has the higher price tag, the adapter ring with the built-in control ring is magical for me. Sometimes I use it for exposure compensation and other times I set it to adjust the Canon R's ISO setting. You get to set it to fit your own shooting preferences.
Canon R Accessories That Protect
4. Camera Case
You can get an individual rubber or leather case for protecting your camera, but their biggest weakness is that you can't carry extra accessories. The other popular choices are camera bags and camera backpacks.

Tamrac 5789 Evolution
camera backpack


I carry a lot of equipment so I use a large traditionally camera bag by Lowepro for local jobs and events. Usually I have to have two camera bodies, 3 lenses as well as flash units and professional battery packs.
For hiking and photo excursions I travel a little lighter. I use a camera backpack from Tamrac (See my article which includes my review of this bag, the Evolution 5789. 
No matter what style you choose, you need protection for your Canon R camera with a case, a bag, or a backpack. It depends on what your plans are for lenses and other accessories, and your shooting style.
As an Amazon affiliate Canon Camera Geek receives a small commission from qualifying purchases, at NO added cost to you.
Accessories to improve your Photography
The next section of accessories  for your Canon R camera are those that will help you improve your photographs you take with your EOS R camera. You can still take great photos with you Canon R without these accessories, but read on and see why you should consider them.
5. External flash for your Canon R
Although the need for using flash has diminished due to better camera performance in dim lighting, there are still times were one of the Canon Speedlites or an alternative flash gun is an accessory you'll want to have.
Canon R with Speedlite 580EX attached is top-heavy.


Your Canon EOS R gives great image quality even in darker situations where you're shooting with the existing light and using a real high ISO setting to compensate. However, using a Speedlite will give you super sharp photos.
When it's really dark, or you want to freeze the action, or you want the spectacular image quality that comes with low ISO shooting, a flash mounted onto your camera's hot shoe will help.
Even the very affordable 3rd party flashguns are very sophisticated and you "set it and forget it" by setting to an automatic exposure setting. 
One of the most valuable uses of a Speedlite on your Canon R is when your subject is lit from behind. This kind of strong backlighting results in your subject with too much shadow as shown below.
Back lit subjects without fill flash


A Speedlite, mounted to your Canon R hot shoe, will brighten up the front of your subject. Compare the without fill flash photo above against the photo with fill flash below.  Look at the crisp details you get from using a Speedlite.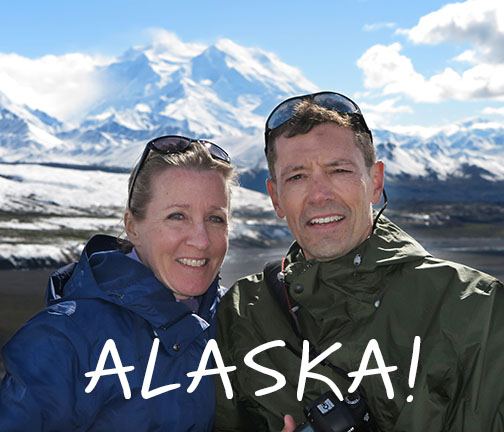 Back lit subjects with fill flash


You don't need to get one of the big pro Speedlites, like the 580EX II or the 600EX III-RT. When attached to the hot shoe, they make the Canon r top-heavy. I highly recommend the smaller and affordable, but still powerful, Canon Speedlite 430EX III-RT.
6 Macro lens
When you add close-ups and macro photos to the types of photography to have fun with, you open up an entire universe of possibilities.
You can use existing EF or EF-S macro lenses attached to your EF-EOS R adapter or buy the highly acclaimed and highly priced new Canon RF 100mm f/2.8 lens. I now shoot macro with this lens. Here's my review of the RF 100.
7. Extension Tubes
Extension tubes enable any ordinary lens to be use to shoot macro photos. The most versatile way to get involved with extension tubes is to buy a set. They usually come in sets of 3.
I used a set of extension tubes form Kenko for several years, but recently upgraded to the EF 25 II extension tube made by Canon. You can save money by using extension tubes instead of a dedicated macro lens. For more on extension tubes, read my post here: Canon extension tubes.
8. LED Light Panel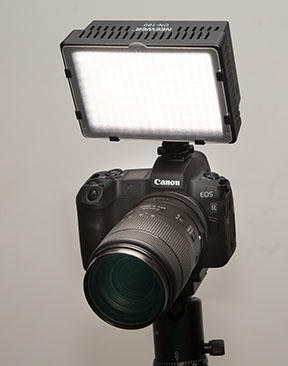 LED light panel
mounted on R hot shoe


This accessory for your Canon R is just plain fun to use.
You can use it as designed, attached to your Canon R hot shoe for shooting stills or video, but it also serves as a fill light that can be used off the camera at any angle you want, depending on the the subject and the existing light.
It's light enough and small enough to make it easy to carry out in the field and many designs have the ability to adjust the color temperature of the light too.
---
9. Canon R Battery Grips
Recommended to you for potentially three reasons, the Canon EDOS R takes the BG-E22 battery grip.
It holds two LP-E6NH batteries, so your shooting capacity time is doubled. Rather than have to stop shooting to change to a fresh battery, the grip automatically switches to the 2nd battery when the first one is drained.
The BG-E22 has camera controls placed conveniently for shooting vertical compositions.
Many photographers prefer to shoot with a grip when they have a long lens attached to get a better balance in the weight distribution of the lens/camera combo.
10. Tripod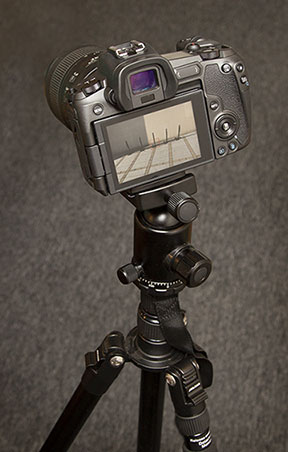 Canon R on a tripod


I saved tripods for last in this list of 10 best Canon R accessories for a reason. You're probably wondering if a tripod is really even needed when you can just raise up the ISO setting on your EOS R camera and get a fast enough shutter speed to shoot everything handheld.
I agree that tripods are less needed than they used to be, but I've got to tell you they're still a welcome addition to go along with your Canon R camera for several reasons.
Even a budget tripod will enable you to take certain photos that you otherwise would not be able to.
I confess that being both a pro portrait photographer and a wannabe pro landscape photographer makes me unfairly biased toward using a tripod, but I'm hoping to inspire you to try a few fun new types of photography. Here's the list of why a tripod is a great accessory for you and your Canon R.
---
A. ASTROPHOTOGRAPHY. Your exposure times can go anywhere from 10 seconds to a couple of hours long depending on your lens choice and what effect you want to achieve.
B. LONG EXPOSURE LANDSCAPES.  Particular when there's moving water, you'll need a tripod when shooting long exposures to get that surreal creamy look from the moving water.
C. MULTIPLE EXPOSURE PHOTOGRAPHY. Any situation where you're taking multiple photos without the camera moving, including High Dynamic Range (HDR) photos and time lapse photography require using a tripod.
The Canon R already has time lapse capabilities and substantial HDR options built into the camera.
D. MACRO PHOTOGRAPHY. We touched on macro lenses and extension tubes, but focusing becomes much more precise when you can keep your camera positioned in the exact same spot. Focusing can be very challenging when working at a super close position to your subject. A tripod will maintain the same distance between your Canon R and the subject.
E. COMPOSITION HELPER. While shooting with your Canon R attached to a tripod will slow you down, there's a hidden benefit. For me, that's one of the best advantages of using a tripod.
Slowing down improves your composition technique. You take your time. You examine the scene in front of you. You're more meticulous in your choice of focal length, precise camera position and camera settings.
As an Amazon affiliate Canon Camera Geek receives a small commission from qualifying purchases, at NO added cost to you.
I hope this list  of the best accessories for your Canon R inspires you to try a few new techniques as well as get more out of your camera.
Stay inspired. Shoot a Canon!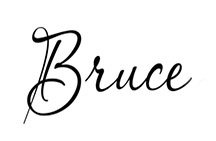 Bruce Lovelace is the publisher of Canon Camera Geek. Read more about him on the About Page. He also publishes how to articles and camera gear reviews at the Photography Tips website.
View some of Bruce's photos on Instagram  and Flickr.   Join the tribe of followers on YouTube. Bruce also runs photo workshops and provides 1 on 1 digital photography coaching.
---
---