Canon R7 Battery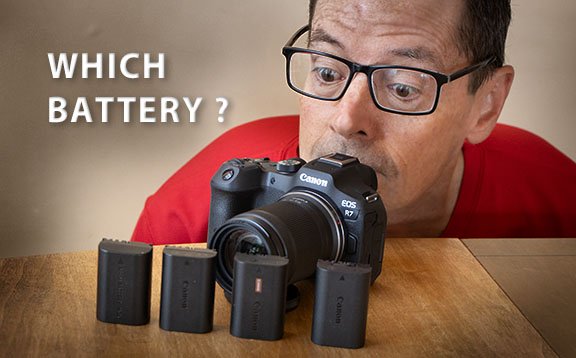 Canon LP-E6, LP-E6N, or LP-E6NH Battery


This Canon R7 battery guide will help you make the best choice for powering your EOS R7 camera. The decision can be confusing because of all the options and differences in the batteries that cameras use in today's world of digital photography.
The capacity of a given battery has become even more important because your R7 is a mirrorless camera. It needs power for the electronic viewfinder, the large energy-sucking LCD screen, as well as the R7 Digic X processor.
R7 Battery Capacity

How long it lasts. That's the most common aspect photographers are curious about. See the comparison chart below of the 3 batteries that you can use in your R7. Bottom line is that they all have SIMILAR power capacities.
The LP-E6N is rated for 770 photos, but I've found that in real-life use, I can shoot many more photos than the stated capacity suggests. That's partly because I use the EVF rather than the LCD to compose my photographs.
As an Amazon affiliate Canon Camera Geek receives a small commission from qualifying purchases, at NO added cost to you.
CANON BATTERY
CAPACITY
(milli-Amp-hours)
COMMENTS
PRICE
(On Amazon)
LP-E6
1800 mAh
This is the original version of the E6 battery and isn't being sold anymore. It's very capable of powering many different Canon DSLR and mirrorless cameras. The ad on the right is for a genuine Canon brand LP-E6-NH battery.

LP-E6N
1865mAh
This replaced the LP-E6 in 1920 and has 3.5% more capacity. A 2-pack BM brand with a charger included costs about half as much as the Canon brand LP-E6 batteries.

LP-E6NH
2130 mAh
The LP-E6NH has the latest technology and has 13.5 % more capacity. This was brought on by the need s of mirrorless cameras
R7 Battery Compatibility

It can be confusing as to what R7 batteries are fully compatible and which is the best battery to use in your R7. All of the versions of the LP-E6 batteries are forwards and backwards compatible. This is a good thing for Canon shooters like me who upgrade cameras every so often. I've been using LP-E6 batteries for my 70D, 90D, 5D, 5DM3, R, and now my R7.

Note that all 3 versions of batteries that work with the Canon R7 camera are 7.4 volt batteries and all 3 batteries are the exact same shape as each other.

Top Recommended R7 Battery
What's the best battery to use in your Canon R7? I recommend an LP-E6NH compatible battery from a reputable company. Because of the higher power demands that MILC (Mirrorless Interchangeable Lens Cameras like the R7) have, you should choose the highest capacity available.
The 3rd party versions of the LP-E6N and LP-E6NH that work in your EOS R7 are both affordable and reliable.
Canon R7 Battery Replacement

So, what should you do when you need a back-up or replacement for your R7 battery? Shoot for a 3rd party LP-E6NH battery where the majority of consumer reviews are highly positive. It's possible you can get a bad copy, but it's very unlikely.
The worst photography crime you can commit is to miss a memorable photograph because you run out of battery power or memory space.

Camera batteries are extremely affordable nowadays and it's easy to test a battery thoroughly when you first receive it. With a warranty and an easy return policy in place, there's no reason to worry about buying a NON-Canon battery.
R7 FAQ
It takes about 2 hours to fully charge a depleted battery for the R7 camera. The exact charging time depends on how drained your R7 battery is, the specific battery you are using, as well as what charging method you use.

It's safe to charge your Canon camera battery overnight, but it's not recommended. It is reported that over time this could reduce the life span of your battery. With that said, I've forgotten many times and have not noticed a reduced capacity in the batteries I use after an extended charge.
The LP-E6N battery is rated to shoot 770 photos when using the LCD. Your personal shooting style and camera settings will determine the precise number of photos you can take before the battery needs recharging. Using the viewfinder when you shoot draws less power than using the LCD panel and will extend battery life.
Both LP-E6N and LP-E6NH batteries can be charged using the R7's USB-C connector. The older Canon LP-E6 battery does not support USB charging. You can use the Canon PD-E1 USB Power Adapter to charge the Canon LP-E6NH and LP-E6N batteries in-camera.
Canon did not design the R7 to accept a battery grip. There are 3rd party grips available, or you can hack a homemade version yourself, but they may not have the same fit or functionality as a genuine Canon grip will have on a camera that accepts it.
Camera batteries are a product that camera companies can make a good profit on. There is a false belief that if a battery does not have the Canon logo on it that it will somehow not be compatible or functions as well.
---
R7 Battery Specs
The physical specs on the three R7 batteries, the LP-E6, LP-E6N, ad LP-E6NH are the same.

The LP-E6NH size specifications are : 2.24 x 1.51 x 0.83 inches.
This battery weighs 2.72 ounces (0.17 pounds)
Output voltage on the LP-E6NH is 7.2 VDC
I hope this battery guide has been helpful. The LP-E6 line of batteries work well with the Canon R7 camera and will supply you with enough power to shoot plenty of great photos and video. I highly recommend you invest the small amount it takes to have both a back-up battery and 2nd memory card available at all times.
As an Amazon affiliate Canon Camera Geek receives a small commission from qualifying purchases, at NO added cost to you.
---
---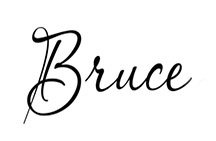 Bruce Lovelace is the publisher of Canon Camera Geek. Read more about him on the About Page. He also publishes how to articles and camera gear reviews at the Photography Tips website.
View some of Bruce's photos on Instagram  and Flickr.   Join the tribe of followers on YouTube. Bruce also runs photo workshops and provides 1 on 1 digital photography coaching.
---
---