Is The Canon R7 Worth It
The bottom-line question I keep hearing is if the Canon R7 is worth the money. Like every camera ever made, the EOS R7 has strengths and weaknesses, but is it a good idea to buy an R7 based on its performance compared to its price.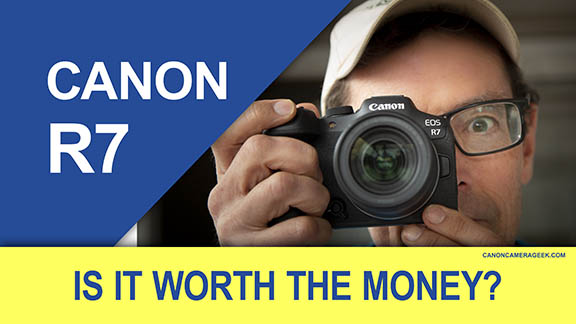 I have a confession to make about the R7.
When I wrote the title to be published with this article, "Is The Canon R7 Worth It? Pros + Cons of The EOS R7 + a Big Surprise," I had just one feature of the R7 camera that surprised me. Well, one surprise turned into two surprises. I'll get to those surprises in a minute. First, you want to know if this crop-sensor R7 camera makes sense for you.
The Canon EOS R7 is an excellent camera, with features and performance that make it a great investment. The 32 MB sensor, Digic 10 processor, IBIS image stabilization, focus tracking, 15-fps burst rate, high ISO performance, and sophisticated video abilities make it worth the money it costs.
What Makes The R7 Worth The Money
The real value of a camera depends on whether it will take great photos for you based on the features and capabilities it has shooting the type of photos your shoot. In no particular order, here is a list of the top 16 reasons why the R7 is a good value for its price.
1. CONTINUOUS SHOOTING. The Canon R7 has continuous burst rate of 15 frames-per-second (fps)using the mechanical shutter. That makes it just as fast as pro-level DSLR cameras costing much more for taking split-second timed photos of sports, wildlife, birds in flight, and other fast moving subjects.
The rate increases to 30 fps using the R7's electronic shutter. That makes it capable of getting the perfectly time photo of high-speed action subjects.
2.IMAGE STABILZATION. The R7 camera body has IBIS, in body image stabilization, of up to 7 f/stops of shutter speed. That means you get sharper photos without motion blur caused by camera movement at slower shutter speeds while using lenses that do and don;t have image stabilization bult in.
3. HIGH ISO PERFORMANCE. This is a big surprise for a camera like the EOS R7. Typically, high pixel count, APS-C sensor cameras like the R7 produce too much digital noise when shooting with high ISO settings. The R7 takes very clean, detailed images at high ISO settings. Here is my test results article.
The first test I performed on the R7 as soon as I unpacked the camera was a high ISO test. In early model APS-C cameras, ISO image quality was significantly compromised with high pixel count sensors. 
4. DEDICATED ISO BUTTON. The R7 has a dedicated ISO control button on top of the camera body. This make changing the ISO fast and super easy to do. Changing ISO has many advantages to help you handle different shooting and lighting situations.
Once you learn the Exposure Triangle, you'll realize how important it is to have control over the ISO setting you choose to use. The ISO button saves you a ton of time and that gives you more time to focus on getting a great shot of your subject, and not wasting time diving into a camera's menu to make a change. 
5. LENSES.  The R7 camera has an RF lens mount. That means it is fully compatible with over 3 dozen (currently) native RF and RF-S lenses. Additionally, the R7 is also compatible with all EF and EF-S lenses provided you use one of the 3 different versions of the EOS-EF R adapters. See my list of best R7 Lenses.
The number of new and used lenses that can be used on your R7 is staggering.
6. PRICE.  Although its classified as a camera for advanced hobbyist photographers, it is fully capable of being used as a professional camera for earning money. It's a bargain to get the capabilities of the R7 camera for such a relatively small investment.
Five years ago, this same technology built into the R7 would have cost you thousands of dollars. The R7 suggested retail price at the time of its release was only $1499.
7. VIDEO. Canon finally caught up as the R7 video is very capable. It can do un-cropped 4K video recording at 30 fps as well as 60 fps cropped or HD at 120fps. The auto-focus tracking is quick and responsive.
8. LCD SCREEN. With dimensions of just under 3 inches, the R7 LCS screen has 1.6 million dots and 100% coverage of the scene in front of you. It's a fully articulating touch screen which enables you to compose and shoot from different angles
9. VIEWFINDER. The EVF electronic viewfinder is very responsive with a quick 59 fps refresh rate. It is .39 inches OLED with 2.36 million pixels. The EVF viewfinder is automatically activated as soon as you get your eye close to it.  
10. IMAGE QUALITY. Isn't image quality the ultimate goal? The R7's newly designed 32MB sensor combined with the Digic 10 processor do a great job producing a high level of detail in its images.
11. AUTO-FOCUS. The camera has Dual-Pixel focusing technology, This gives you fast, accurate, focusing even under dim lighting conditions, Subject tracking.
12. WEATHER SEALING. The R7 camera body includes weather sealing. That means you have more opportunities to take great photos in poor weather conditions. Cameras without weather sealing shouldn't be used in wet or dusty conditions.
13. SIZE. The Canon EOS R7 is a compact, light, APS-C camera that is easy to carry, but packed with power and versatility. The R7 camera body weighs just 1.2 lbs. and is only 5.2 x 3.6 x 3.6." That makes it easy to carry and transport.
14. FOCUS STACKING. This is a remarkable technology, built into the R7, which was previously limited to being a time-consuming technique done with sophisticated software afterward on your computer.
Focus stacking gives you the ability to create a single sharp image, with deeper depth of field, by combining several images with different focusing distances.
15. DUAL MEMORY CARDS. You can use two memory cards in the R7 at the same time. This is normally a valuable feature included only in expensive professional cameras. You can save your photos to both memory cards as backup for added security.
Alternatively, you can save photos to one memory card, and have your R7 automatically switch to the 2nd card when the first card is full. Or, you can use one card for video and the other card for still photos.
16. BATTERY COMPATIBILITY. This is a big advantage for me. The R7 takes the LP-E6, LP-E6N or LP-E6NH batteries. These batteries fit quite a few of the  older Canon DLSRs AND the newer mirrorless Canon cameras. For me, I used these in my 70D, 5D, and EOS R, and can use them in my 5D Mark III, R6 Mark II, and my R7.

The R7 Surprises
I was pleasantly surprised in two different ways when I got my R7, both related to ISO. First I was surprised by how clean and sharp the images from my R7 when I used it with very high ISO settings.
The high ISO performance was the first thing I tested. You see, for quite some time I've been disappointed with the image quality that comes from setting digital cameras to high ISO settings. Image qualify is likely the number one priority for pros who want the very best photos to delivery to their clients.
Secondly, the R7 has a dedicate button on top of the camera for super fast adjusting of the ISO setting. I often shoot in changing light conditions and this 
R7 dedicated ISO button


The ISO button on top is, oddly enough, my favorite feature on the EOS R. Both my 5D Mark III and my 90D have the same shortcut to adjust the sensitivity of the sensor quickly and this is a shortcoming on many digital camera models.
Summary: Why I Chose The Canon R7
I have 5 top reasons why I chose the R7 as my next Canon. Your reasons will be different, of course, but getting a look at my reasons may help you decide if the R7 is a good choice for you.
IMAGE QUALITY. I read many technical reviews on the EOS R7 before I bought it and the newer sensor and processor are a great combo for dazzling photos..
BURST RATE. I don't shoot a ton of action photos, but when I do I love the 15 fps combined with the dual pixel fast focusing.
SIZE. The grip is perfectly secure despite the light and compact size of the camera, making it super comfortable to take on strenuous hikes.
LOW LIGHT. The low light performance of the R7 is remarkable. The technology has improved so much in the 20 years I've been shooting digital. Tripods and Speedlites are losing their appeal!
PRICE. I'm real happy to get this camera with this much technology and performance at this price. I paid more than 2x for my 5D Mark III.
I hope you found what you're looking for and are will have as much fun as I am with your digital photography.
Have a blast. Shoot a Canon!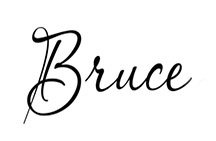 Bruce Lovelace is the publisher of Canon Camera Geek. Read more about him on the About Page. He also publishes how to articles and camera gear reviews at the Photography Tips website.
View some of Bruce's photos on Instagram  and Flickr.   Join the tribe of followers on YouTube. Bruce also runs photo workshops and provides 1 on 1 digital photography coaching.
---
Search For Other Canon Articles
Search for articles on this Site:
---
---