the 10 Canon 90D features worth looking at
WRITTEN BY: BRUCE LOVELACE
PUBLISHED ON: NOVEMBER 18, 2023
Canon shooting geeks like me were watching for the specific Canon 90D features that would help prevent us from taking the plunge into the murky new territory of going mirrorless. Fortunately, the 90D came through to have several welcome features and specifications to at least delay that plunge and keep using our existing EF-S and EF-S lenses on a capable Canon DSLR camera.
Here's the list of the 10 features of the Canon 90D that turned it into a yes-buy-it decision for me.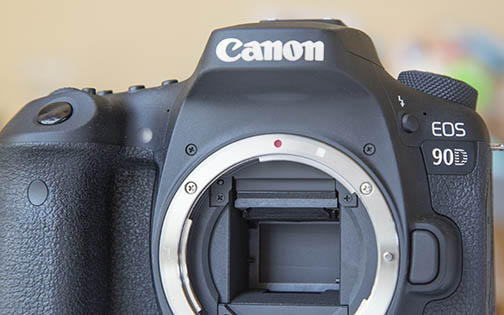 Canon 90D Top Ten Features


10 Frames Per Second
32.5 MP Sensor
Electronic Shutter
100% Optical Viewfinder
Canon 90D Price
Eye Detection Focusing
Fully A

rticulating

 LCD
Slow Motion Video
Uncropped 4k Video
Focus Peaking
Now let's look at each one of these top ten features of the Canon 90D in detail. Seven of the features are for shooting stills and three of the features are for shooting video with the 90D. Here are the best 10 features of the Canon 90D in no particular order. 
1. Canon 90D Burst rate
Like other Canon shooters, you want an advanced camera like the 90D to be able to shoot action and sports photos in fast sequences. The 90D shoots at 10 frames per second when using the optical viewfinder and 7 fps when shooting with live view.
In particular I personally want to be able to captures birds in flight, which is one of the most challenging subjects you can attempt to photograph. Timing is everything. The photo below is the best photo I've ever taken of a bird in flight.
I wanted something faster than my full frame 5D Mark III which only shoots at 6 frames per second. A fast frame rate is great for photographing your daughter's soccer game or to document the black bear traipsing through your flower garden.
To hear what the 90D sounds like at 10 frames per second you can listen to the sound it makes by clicking here.
2. 90D pixel count
The EOS Canon 90D has a 32.5 megapixel sensor. That's the highest pixel count in an APS-C crop camera. That doesn't automatically mean it's the best camera you can get, but it does mean you're going to get very fine detail to show up in your 90D photos.
At camera geek we call that P.O.P. or plenty of pixels. You'll have plenty of pixels to make very large wall prints of your favorite photos.
The combination of these 2 features, the fast frame rate and the high pixel count, make the Canon EOS 90D one of the best crop sensor cameras on the market.
3. electronic shutter
DSLR Mechanical
Shutter in Action


This feature is very powerful for what it will do for you. Electronic shutters can achieve super fast shutter speeds. The 90D electronic shutter speed can go as fast as 1/16,000 second, giving you the ability to motion freeze even the fastest moving objects.
The 2 biggest advantages however, are that it's completely silent and also vibration free. Silent shooting is great in several situations. Photographing a wedding, staying discreet while shooting street photography, and photographing skittish wildlife are to name a few.
The electronic shutter operates with no moving parts, in other words vibration free, which is great for sharp images even during long exposure photography too.
4. viewfinder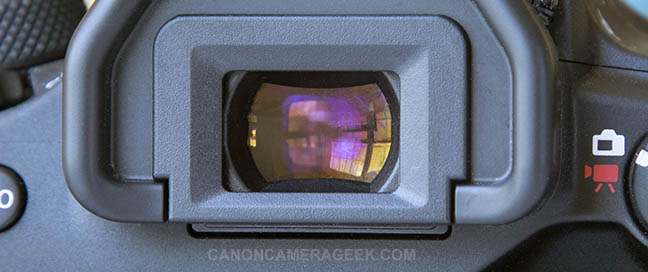 The 90D optical viewfinder gives you 100% coverage of your subject


The Canon 90D has a 100% optical viewfinder, meaning that WYSIWYG-what you see is what you get. You composition is 100% the same for you image file as it is as you see it in your viewfinder.
Some smaller cameras have tiny viewfinders that make it difficult to see your subject. The 90D has a 97% magnification factor.
5. canon 90D price
This was one of the top 3 reasons why I bought a new 90D. The Covid-19 pandemic crushed my portrait business and cash flow had been a challenge. I had been way overdue to buy another Canon body to test and the timing was bad to dive into one of the full frame mirrorless Canons.
---
As an Amazon affiliate Canon Camera Geek receives a small commission from qualifying purchases, at NO added cost to you.
CHECK AMAZON PRICE
---
The 90D is priced for photo enthusiasts, but has features that make it a viable choice for pro Canon shooters too.
6. eye detection focusing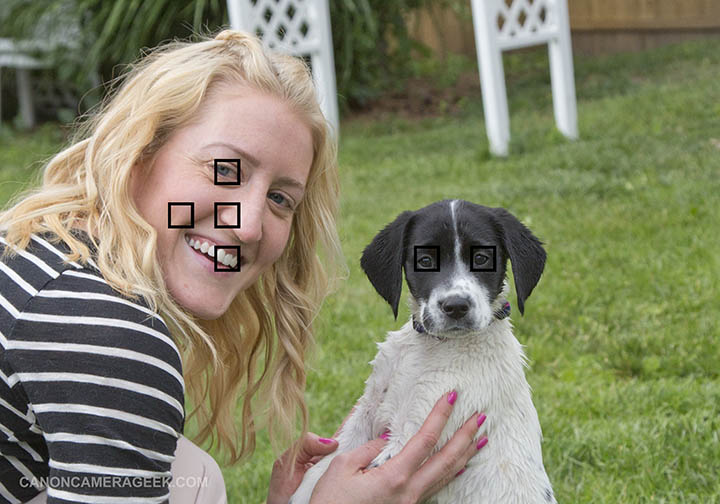 Canon 90D eye-detection focusing


The eyes of your subject are the single most important part of your subject that must be in sharp focus. The sophistication of auto focusing technologies has been one of Canons strong points and the 90D comes through big in that department.
My 70D was revolutionary in its dual pixel technology and the 90D has taken that one step further. The face and eye detection auto focusing with the Canon 90D in live view mode is top notch.
7. Canon 90D LCD Touch Screen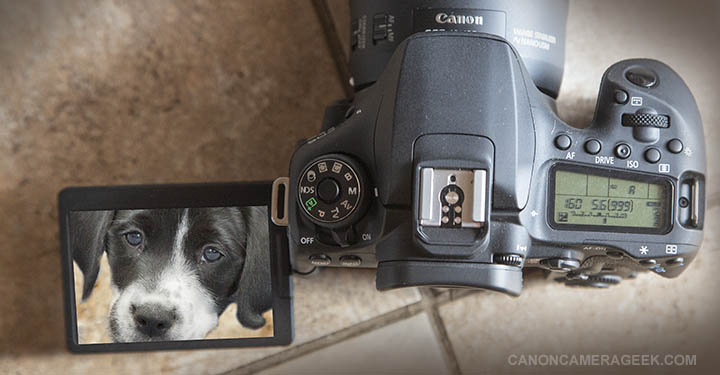 90D Vari-angle LCD Screen


The 90D has a 3 inch high resolution Vari-angle Touch Screen LCD. That's pretty much the standard size for a Canon DSLR, but the vari-angle feature is very handy for shooting both photos and video with unique perspectives.
8. slow motion video
The Canon 90D can not only shoot slow motion video at 120 fps, it can also shoot  4k, and also shoot at 60 fps for a super smooth video effect. Once again, that's a lot of technology built into a "hobbyist" camera.
Here's an example of the Canon 90D slow motion. 
9. 4k video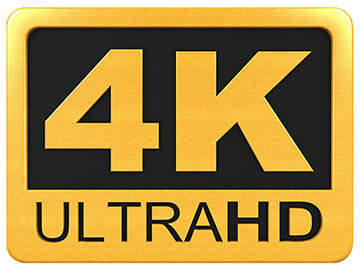 Full Sensor 4K


Full frame 4k video. One of the biggest complaints about Canon's super high resolution abilities was that 4k video had been only possible with a cropped part of the sensor. Not so with the 90D. You get 4k video using the full sensor.
One reminder:  when you're shooting 4k you need a fairly fast write speed with your 90D memory card.
---
10. focus peaking with the 90D
Focusing peaking is a great feature to have when you're using manual focus. It was initially only available on video cameras, but now is found on some recently released digital cameras like the 90D. It's a customizable visual aid that helps you with precise focusing. The focus points get highlighted and is useful when you can't use your 90D optical viewfinder. 
It's also big help when you're using live view for video and it's difficult to see the focusing point very well on your LCD screen. Watch the short video below to see focus peaking in action.
The first time I used focus peaking was with the 120 fps slow motion video (see feature #8 above), where there is no auto focus available. There's a little bit of a learning curve, but it's not difficult to learn how it works.
final thoughts on the Canon 90D features
Canon got it right when they designed the successor to the 80D. Having used the 70D for many years, I was disappointed with the lack of improved features that came along with the 80D. and not quite ready to plunge into the world of Canon mirrorless cameras and lenses. Keeping it somewhat smaller as an APS-C camera gives you many good option for Canon 90D Lenses.
The 90D technically isn't a pro camera, but it's a great camera, with a lot of value packed in, and quite capable of giving you both great photographs and great video. Certainly, the most important  aspect of great photography is the person who is standing behind the camera, but the technology available in the Canon EOS 90D is remarkable.
I hope you found this article worthwhile. Feel free to browse around my website or use the search box below to find a specific topic.
Have a blast.....shoot a Canon!
Search for articles on this Site: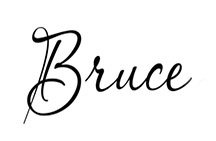 Bruce Lovelace is the publisher of Canon Camera Geek. Read more about him on the About Page. He also publishes how to articles and camera gear reviews at the Photography Tips website.
View some of Bruce's photos on Instagram  and Flickr.   Join the tribe of followers on YouTube. Bruce also runs photo workshops and provides 1 on 1 digital photography coaching.
---
---
---
---