Canon makes the smallest DSLR
The World's smallest DSLR? Is it just a marketing ploy by Canon or is the Canon SL1, proclaimed to be the World's smallest digital SLR a worthy consideration for you?  
As I mentioned in a previous article on the Canon Camera Reviews web site, one of the most important things to consider when looking for your next camera is overall size.
Are you one of those photographers who purchased a full-sized DSLR camera but haven't used it on several occasions because you simply did not want to lug "that heavy camera" along with you?
Now that cell phone camera sensors, lenses and software have improved dramatically over the last two years, it is tempting to leave your regular camera at home and just use your cell phone camera for that occasional snapshot or video clip.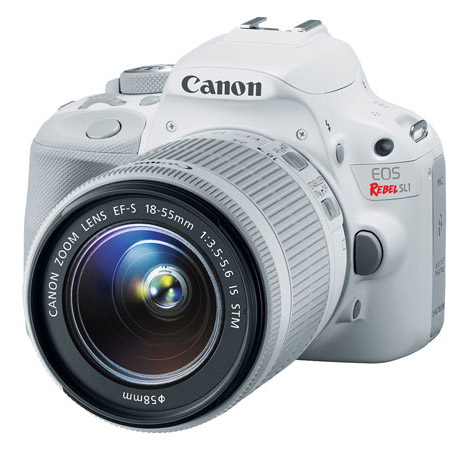 Ugly "White" version of the Canon Rebel SL1 Camera
Cell phone cameras still don't measure up in terms of features and quality and there are still many times when you want DSLR quality.
The Canon EOS M is a smaller alternative, but I am not a big fan of this as a good choice.
The Canon SL1  DSLR keeps all of the functions, quality and features of the Canon Rebel cameras and compacts them down into a smaller camera.   
The "SL" in the Canon SL1 stands for Super Lightweight.  It only weighs 14 ounces, but still takes all of the EOS lenses.  Some photographers might NOT want to use one of the standard zoom lenses and go with a smaller prime lens to keep the overall camera-lens combination small.
---
Specs for the Smallest DSLR
Here are the specs for this little DSLR:

| | | |
| --- | --- | --- |
| 18 Megapixel APS-C Sensor | 1 million Dot LCD Screen | 9-point Auto-Focusing |
| Digic 5 Processor | 1080P Video | ISO 100-25,600 |
---
Another consideration is a slightly different format known as compact cameras.  These are a good step over the point and shoot cameras.  
I purchased a Canon g11 a few years ago and it has served me well when I am not shooting professionally but when I still want more than what a cell phone camera or point and shoot camera can give me.
I often use my g11 combined with a 270EX-II Speedlite because I can literally fit them both in separate pants pockets.  The g12 was only a mild improvement on the g11, but the g1x and g15 are really nice cameras.
I like this format because these cameras have built in, non-changeable lenses  AND hot shoes for using an external flash.
For more information on the smallest DSLR, I added some amazon links on the right for the Canon SL1, the Canon g15 and the g1x.
Have a blast!
Canon Geek.
Back from Smallest DSLR to Canon Camera Reviews
Other larger Canon cameras to consider:  Canon EOS 60D  or the  Canon T3.