Top Canon DSLR Accessories

Essential Camera accessories for your canon
What are the right Canon DSLR accessories for you? That's what this web site is all about, the best camera and lens accessories for Canon DSLRs.
You've got your Canon ready to fire, but you want to add a little more weaponry to shoot more powerful images. This article will help you decide what to do first.
Essential Canon DSLR Accessory Categories
Where should you start? The topics on the Canon Camera Geek website are organized into three main categories; Canon lenses, Canon cameras, and Canon accessories. This simple guide on DSLR accessories will help you see the extra possibilities on what you can accomplish with your DSLR photography.
You can use the search box below, or ask me a question directly, or use one of the main links at the very top of this page.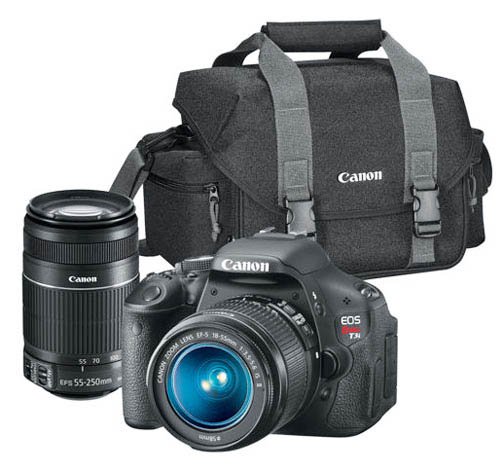 The search for just the right Canon DSLR accessories seems to draw the most interest and many of my recent posts have concentrated on them.  
Point and shoot cameras are generally used by beginning photographers who only need a few basic accessories like camera bags, batteries, and memory cards.
You're a DSLR photographers. You have more of a need for extra gadgets that make your photography more enjoyable and more successful.
You have several categories of DSLR accessories to consider as well as a few examples of accessories that I don't recommend too highly.
Main Categories on Canon DSLR Accessories
You can think of several categories of Canon DSLR accessories that will boost your photography success.  I divided the Canon DSLR accessories into five categories. They are Handling, Lighting, Power, Lens, and Memory.

1. Handling
Canon DSLR Protection Bag
These are the camera accessories that involve carrying, protecting, holding and using your camera. 
Tripods, Camera Bags, cases, and Straps come to mind first.  
It's a pain in the butt to constantly carry or wear your camera around your neck if you have a thin camera strap. No, actually it's a pain in the neck!
You won't have as much fun and perhaps even worse, you may likely leave your camera at home and shoot fewer photos if your gear is a hassle to carry around. Get yourself a nice wide, thickly padded camera strap and it's a pleasure to carry your camera around with you.
A good camera bag makes it convenient for to carry you camera, lenses, and accessories with comfort. Camera bags must also function to protect your camera and its accessories.  
I grew up using shoulder camera bags, but camera backpack bags are now as popular as ever. 
Accessories like tripods and monopod that hold your camera can help with the quality of photos and videos you shoot.
Tripods are particularly helpful for portraits, macro, and landscape photography.
They are a necessity when shooting nighttime photos, shooting fireworks and other situations where you are using a slow shutter speed.
Shutter cords and wireless triggers are great accessories for wildlife, night-time, and macro photography. Even though your camera is on a tripod, using the shutter button on top of the camera can easily cause small amount of blur and unsharpness in your photos. 
2. Lighting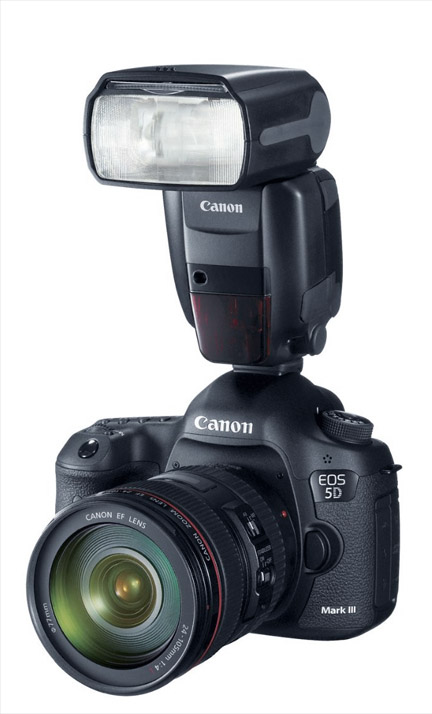 Lighting is where photography starts.
If you want to take you flash photography to a whole new level, you're going to want to use more than the standard pop-up flashes that most of the Canon DSLRs use for adding light to your photos.
Here's a typical photo with the flash on top of the camera. It's a cute photo but that's because it's a cute dog. The details are lost in the areas where her fur is black. This is a harsh, unflattering lighting that creates distracting shadows.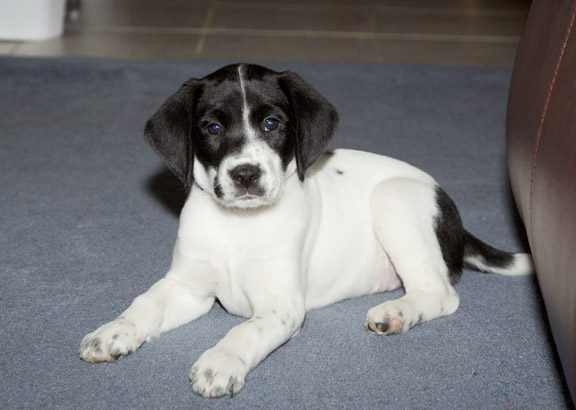 Photo of dog with direct on-camera flash.


Now look at the dog photo below with a separate Canon flash used and bounced. Separate flash units are a great accessory to use with DSLR cameras. They can be used remotely, swiveled or bounced. Look how much nicer the light is in this photo.  
There's a direct correlation between good lighting and good photography. Canon has a complete selection of Speedlites and there are cheaper priced alternatives for you if you aren't limiting yourself to stick with a Canon flash.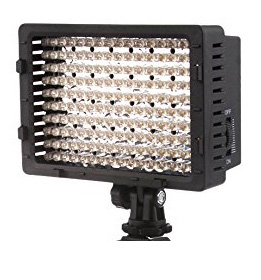 LED panels are a good alternative accessory for good lighting when shooting video and also for photographing up-close subjects. They attach directly to your hot-shoe on the top of your camera.
Prices have been coming down as more and more people use them as a substitute for flash. 
There are literally thousands of DSLR gadgets to modify, bounce, reflect, and diffuse light from both pop-up flashes and flashguns. Here is more on camera flash accessories. 
I can't possible cover them all in this article, but a great way to do some window shopping is to visit Amazon and browse through
Digital Camera Lighting Accessories
Their site has a search box where you can find anything you could possible need to read reviews on.
3. Power Accessories
You can't afford to be caught with a dead battery. You might miss that once in a lifetime shot.
DSLR camera batteries have improved a lot recently. They're cheaper and longer lasting due to the improved lithium ion technology.
You still should always have at least one spare battery ready in case your primary battery goes dead.
I don't buy genuine Canon branded batteries anymore. The substitutes are just as reliable and so much more affordable.
You can also double your battery capacity with one of the Canon Battery Grips or a cheaper Non-canon battery grip substitute. Another interesting accessory for your Canon DSLR is an A/C adapter.  You can power your camera without using your battery by connectin your camera to household current using the right device.
4. Canon Lens Accessories
Accessories for your DSLR lens include lens caps, lens hoods, filters, and extension tubes.
Caps and filters will both protect your front lens element from damage. Lens hoods can block direct light from hitting your lens and prevent lens flare and improve image quality.
Polarizing filters can enhance color saturation, reduce annoying reflections, and darken blue skies. Neutral density filters give you slower shutter speeds in bright conditions to produce creative motion blur effects.
Extension tubes are a real economical way to turn an ordinary lens into a great macro lens. These lens accessories reduce the minimum focusing distance so you can get closer to a subject with any given lens. 
If you have a moderate prime telephoto lens like the Canon 85mm lens, you've got yourself a great lens to use for macro with extension tubes.
You really don't need a second lens as an accessory if you are only doing generalized photography. However, if you see yourself having some fun with other types of photography, another lens might make a lot of sense for you.
Some people make the mistake of not considering a 2nd lens as a potential accessory to add to their equipment list. Specifically, sports and wildlife photographers need longer, more powerful lenses.  
If you will be photography large groups of people, small room interiors, or wide vistas and landscapes, then a super wide-angle lens is an accessory that you should consider getting. More on Lens Accessories for Canon cameras.
5. Memory and Storage Accessories
Memory cards for your DSLR cameras are dirt cheap.
There's no excuse to come up short. Memory cards can be purchased everywhere and they store a ton of photos.
At least one extra memory card is one of the most essential Canon DSLR accessories you can have with you at all times.
High speed cards are only slightly more money than slow cards and they are well worth it.
One of the biggest complaints I hear about digital photography is that people leave their images on the cameras memory card.  This can hurt you in several ways.

You may fill up your memory card and miss a photo opp because of a full card, or you might even lose those images sometime down the road from a memory card or camera failure. I recommend you use one of the 2-step back-up methods below.
Where to Buy Accessories for Your Canon DSLR
Online shopping has taken over as the most popular way to buy camera equipment. When you're looking specifically for Canon camera accessories, the web retailers give you a lot more variety to chose from than the big box stores.
General DSLR accessories can be found in too many places to list without making this article ridiculously long. Batteries, memory cards, camera bags, tripods and similar generic camera gadgets can be bought at your local Kmart, Walmart, office supply store or shopping center camera store.
My Top Place to Buy Canon DSLR Accessories
I confess. I am a member of AA. No, fortunately I don't mean Alcoholics Anonymous. I became a member of Amazon Anonymous. Turning into an Amazon Addict didn't happen overnight for me.
My first purchase was back in 2003. I was researching ways to finance one of my kids through college and I bought a book on that topic. I bought more books from Amazon from 2004 through 2009.
Although I still like going into bookstores, I was thrilled with the idea of avoiding the drive to the mall. I was amazed at the huge selection I had available to me with a few simple strokes on my computer keyboard. It wasn't until 2010 that I purchased my first camera and camera accessory from Amazon. Now, I buy lots of household goods in addition to most of my camera equipment there.
Call me lazy. Amazon has become a big search engine like Google and Youtube, except I'm searching for reviews on products all the time.
I dig the convenience and the time saving aspect of it, as well as the super fast delivery and price advantage of being an Amazon prime member.
Keep Your DSLR Photos Safe and Secure by Backing Them Up
You can make a copy of your precious photos by burning them to a DVD, copying them to a portable hard drive or backing them up on a internet "cloud" service.
Copy or move the photos from your camera right away to your computer's hard drive.
Back-up you files to a DVD, external memory drive, or a service on the internet "cloud."
Copy your precious images to your hard drive and a second location.
Then it's safe to delete or format your memory card for a fresh batch of photos.
I purchased a memory drive from Western Digital, but there are several good ones out there.
This post can't possible cover all of the Canon DSLR accessories that are available, but it should have given you an overall outlook. To search for a specific camera accessory, use the search box for this site or use Amazon to search out the buyer reviews on any of your photography gear.
Find a DSLR Accessory
Use this search box to search the entire Canon Camera Geek web site, including blog posts, archived articles, and comments from other contributors to the site.

Search for articles on this Site: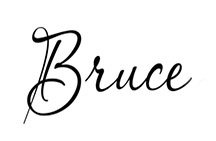 Bruce Lovelace is the publisher of Canon Camera Geek. Read more about him on the About Page. He also publishes how to articles and camera gear reviews at the Photography Tips website.
View some of Bruce's photos on Instagram  and Flickr.   Join the tribe of followers on YouTube. Bruce also runs photo workshops and provides 1 on 1 digital photography coaching.
Another source I use quite a bit is I read the reviews and opinions of other photographers. I am not the only guy with experience with Canon DSLR accessories and different reviews from a variety of photographers can round out your search.
I gather info from several geeky camera review sites as well as from one of the big Kahunas of on-line camera retailers:
Reviews of Canon DSLR Accessories on Amazon
Canon DSLR Accessories at Adorama
---
---