As an Amazon affiliate Canon Camera Geek receives a small commission from qualifying purchases, at NO added cost to you.
The 3 Best Selling Canon Camera Bags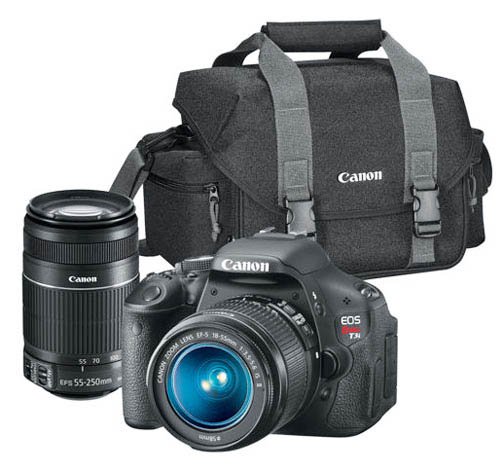 Are you curious about what the 3 best selling canon camera bags and how I found them? Read on, my friend,
I decided to take a different approach with writing this best selling Canon camera bags article. Many camera and accessory review sites give you their reviews based on their own preferences and equipment-toting needs.
I decided to take a different approach, the road less traveled so to speak.  After all, I have my own preferences too and this web site is about what you want.
You MUST pick the type of bag you want first.
Rather the limit the best selling results to one specific type of bag (like shoulder bags, backpacks, sling bags, cases or travel bags), I opened it up to all type of camera equipment carriers.  Here's How to Choose
I also chose not to bias you on what I look for in a good camera bag.  As it turns out, shoulder bags and various styles of backpacks are the two favorite ways to carry and protect your cameras and accessories.
The more reviews there are on any one product, then the more confidence you have that so many people own it for a good reason.
I traveled all over the place (from the comfort of my office chair) and looked for the 3 best selling Canon camera bags by seeing which ones got the most reviews on the major online retailers web sites.
If you've read much of the Canon Camera Geek web site, you know that I'm an Amazon junkie. I also buy from B+H PhotoVideo and Adorama and use all three sites to read a lot of average photographer's reviews. Want to know what the 3 best selling Canon camera bags are?
The top selling camera bag made by Canon is the Canon 200 EG.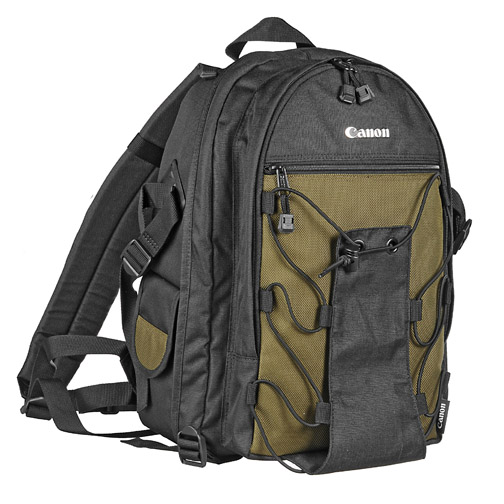 Best Selling Canon 200-EG Camera Bag
The clear winner, in terms of popularity for a Canon bag is the 200 EG.  At last look, 2,244 reviewers on Amazon alone gave it a average rating of 4.5 stars. So, this backpack style of camera bag outranked all of the shoulder style of camera bags. It also was clearly the most reviewed Canon bag at BHPhotovideo and is earning a 4.6 out of 5 average rating.
2nd Best Selling Canon Camera Bag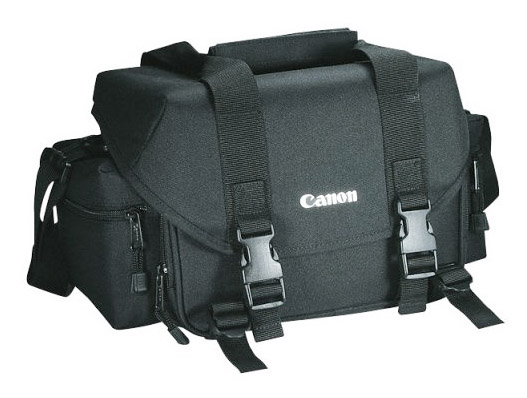 2nd Best Selling Canon Camera Bag
The 2nd place winner was a surprise to me, but after a bit more thought it makes complete sense to me.  The video below gives you a good idea of the size and storage compartments with the Canon 2400 SLR gadget bag.
The main compartment lid is secured by two buckles. That should be sufficient support for the amount of gear you can fit in this bag.  With larger/heavier bags, a zippered main compartment may be more desirable.
A good part of the 2400's popularity is its affordable price and simplicity for use. The majority of photographers out there in "Digital Photography Land" don't have the need to carry several bodies and lenses at the same time.
There Was a Tie for the 3rd Best Selling Camera Bag
I guess I should have titled this article as the Four Best Camera Bags by Canon. There were two choices that came in quite close, so I included them both, the Canon Gadget Bag 100 EG and the 200 DG.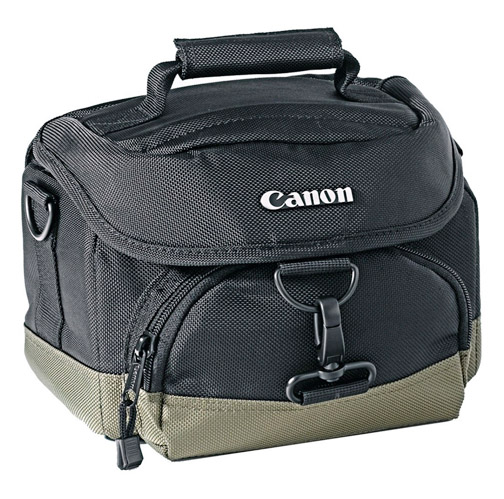 Canon Gadget Bag 100 EG


The most affordable of the popular bags. Simple design, not too big, and easy access to your camera and accessories.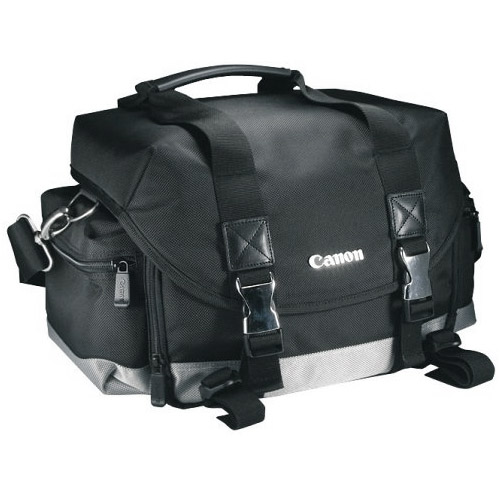 Canon Gadget Bag 200 DG


Very similar looking to the popular Canon 2400.  It has the extra protection on the bottom.
---
The Ultimate Camera Protector
How about the ultimate protection against water, dust and damage?  Pelican cases are for those photographers who need waterproof protection.  
These are actually hard polymer cases, not bags and will prevent water penetration and damage from impact better than the other styles of bags.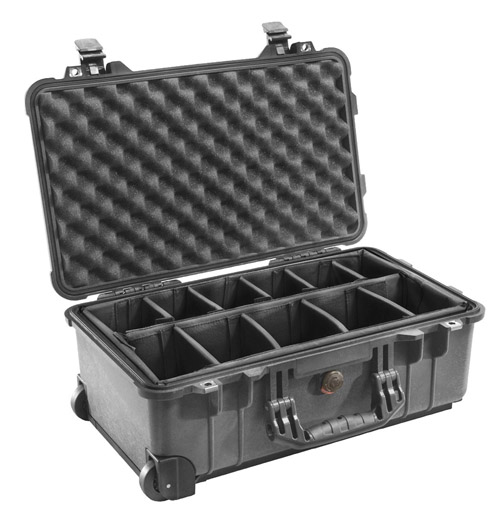 The Ultimate Travel Camera Protection
Pelican Waterproof Camera Case


This has 454 Reviews on Amazon with a 4.7 average is quite high. This type of case does not make the top 3 best selling camera cases. It's really a quality product, but because it is designed for such a special use, not as many are sold as the more general camera bags and backpacks.
This model will float in saltwater with over 60 lbs, of equipment loaded into it. Waterproof to a depth of 30 feet.


Product Links:
As an Amazon affiliate Canon Camera Geek receives a small commission from qualifying purchases, at NO added cost to you.
Reviews on Canon Bags - Amazon
Adorama Reviews on Canon Bags

How to Choose the Right Type of Best Selling Camera Bag
Here's a simplistic way to choose the right style for you:
SHOULDER BAGS.  Easy to put on and off and to access equipment.  Good to carry your camera and a few accessories for short distances.  These were the most popular for many years (this is all I had when I was a budding young teenage photographer).
Good for carrying your camera accessories to the family get together
BACKPACKS.  You can distribute your gear evenly, on your shoulders and your hips (if it has a padded belt strap too). Many Sizes and features to choose on.  Lots of storage capabilities. You must set it down on the ground to access equipment.
Great for longer distances, hiking photographers who shoot landscapes, sports and wildlife photographers with long lenses.
SLING BAGS.  Have gained in popularity with the perceived need to have super quick access. These are a modified version of shoulder bags, but specifically designed to allow you access to at least one camera/lens combination without having to remove the bag from your shoulder.
Great for street photographers and wildlife photographers who need instant access.
HARD CAMERA CASES.  For the traveling photographer with serious equipment and serious need for the ultimate in protection.  They come with wheels and a handle and are not meant for transporting off hard surfaces.
They are often waterproof and crushproof.
TRAVEL CAMERA BAGS.  Often preferred because they can be disguised as regular suitcases and are usually desired to be carry-on compliant with the airlines. Often they have wheels, a handle, and some have a shoulder strap too.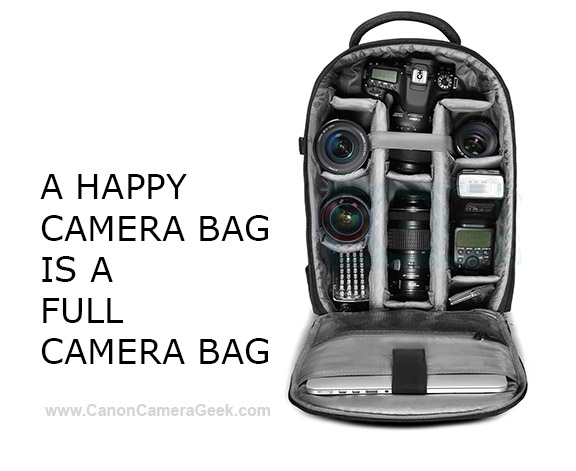 There are other Canon bags that are popular too, such as the Canon 1-EG, 10-EG, and 200-EG. It's usually a good bet though, to stick with one of the camera bags that have received so many popular reviews from so many consumers.
These best selling camera bags are for photographers who use DSLRs and interchangeable lenses.  If you are looking for the best selling compact camera bags, try the Amazon search box on the right to read reviews on small camera bags for your Canon camera.
Keep shooting your Canon!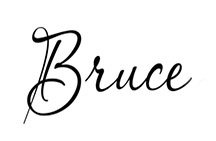 Bruce Lovelace is the publisher of Canon Camera Geek. Read more about him on the About Page. He also publishes how to articles and camera gear reviews at the Photography Tips website.
View some of Bruce's photos on Instagram  and Flickr.   Join the tribe of followers on YouTube. Bruce also runs photo workshops and provides 1 on 1 digital photography coaching.
---
Return from Best Selling Camera Bags to Other Canon Accessories
---