Canon Off-Camera Shoe Cord
You're looking for a cool accessory to improve your lighting? How about a Canon off-camera hot shoe cord? Well, why would you want to use a cord to attach when you could just mount your flash to the hot shoe directly. Let's answer that question first!
The Canon Off-camera Shoe Cord is a great accessory to use to improve your flash photography. It will eliminate harsh shadows, enable you to avoid red-eye reflections, and get rid of bright hot spots that come from using your flash directly mounted to the camera's hot shoe. 

BENEFITS:

A hot shoe cord provides that necessary communication  link between the camera's hot shoe and the flash unit.
Using a cord also eliminates any potential misfires that can occasionally happen with radio or infrared remote flash triggers.
The direction and location of your flash is restricted when it's hard-mounted on top of your camera. Attaching your flash to a coiled cord gives you the freedom to position and aim your flash in ANY direction.
I find that a cord like this is also very useful for shooting macro photography with a speedlite. You get a lot more flexibility in attaining the perfect angle to light up your subject in the most flattering way. See the photo below.
My Off-Camera Flash Macro Set-up
White reflector, Canon Speedlite 580EX, Off-camera hot shoe cord.


The photo above shows just one way you can add versatility to your flash photography. I've used the off-camera flash cord when shooting weddings and for product photos, as well as when I shoot environment portraits in small spaces and can't fit my studio strobes.
A off-camera flash cord allows you to use a long macro lens without getting any shadow, like you would if the flash were mounted on the hot shoe.

Here's another example below of how you can use your off-camera hot shoe cord for creative photography. You can take some interesting shadow photos.
It is also beneficial to be able to control the direction of your lighting by holding the flash above, below, behind , or to the side of your subject.

---
As an Amazon affiliate Canon Camera Geek receives a small commission from qualifying purchases, at NO added cost to you.
---
How To Use An Off-camera Shoe Cord
5 Pins
OD-E3 Terminal


Hot shoes are universal. The five pins on the base correspond to the 5 contacts on your speedlite for full flash functionality. Through the-lens (TTL) exposure metering still functions perfectly.
Just attach your Speedlite to the female end of the cord.
Then attach the mail end of the cord to the camera hot shoe and lock it in place.
Turn your flash on.
You're ready to go.
I have used the Off-Camera Shoe Cord 2 on Stroboframe and JustRite brackets without any problems.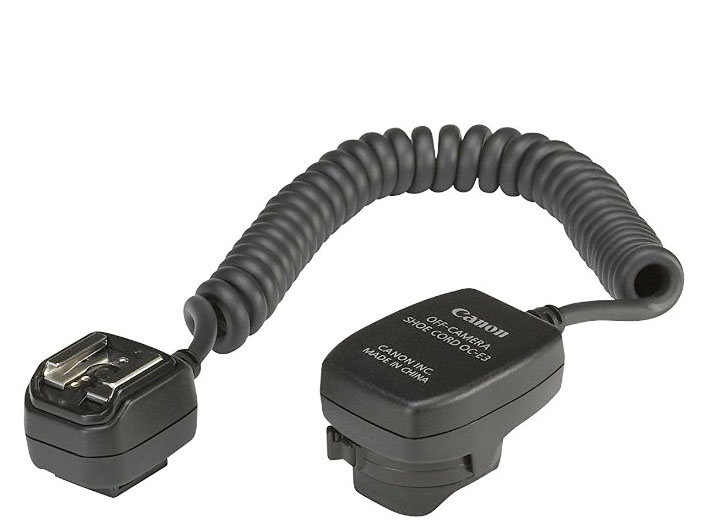 Canon OC-E3 Off Camera Flash Cord


If the ends are made of plastic, so like all things made with materials like this, care should be taken in not overloading it or being to rough when you handle it.
If you are just playing around with your lighting, just try hand held to experiment with different directions and positions of your flash. You can alter the direction of the light very easily and quickly to get a wide variety of lighting effects.
Caution of using a Canon Off-camera Shoe Cord Alternative
Be careful if you buy a 3rd party brand. There may be issues of compatibility with some models.
All EOS-compatible flashes and EOS cameras have full functionality when used with either one of the Canon shoe cords.
Canon upgraded the Off-Camera Shoe Cord 2 to the OC-E3. The OC-E3 weighs a little more because the base is slightly larger than the base on the Shoe Cord 2.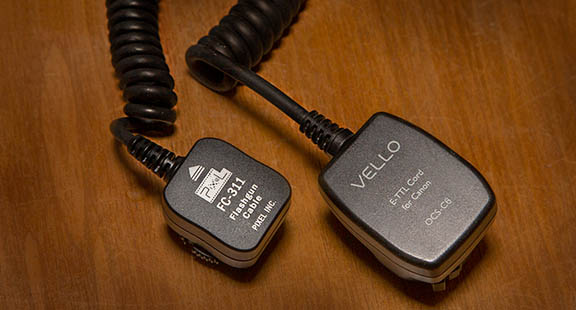 Notice the difference in the size of the connecting terminal and the cord thickness in the comparison of a cheaper and a higher quality off-camera shoe cord. Here, the cheaper Pixel cord is narrower and shorter than the Vello cord brand.


The Neewer version OC-E3 has the same lever-locking design as the Canon Speedlite 580EX II. The OC-E3 has a metal plate on the bottom of the base instead of the plastic surface on the Shoe Cord 2.

The coiled cord on both of these accessories is 2 ft. long and has just the right amount of spring built in.
Other options to consider for using flash units off-camera would be the Canon Speedlite Transmitter ST-E2 and the SpeedliteTransmitter ST-E3-RT. Both of these accessories are wireless and have the ability to fire more than one flash at a time.
The Canon off-camera hot shoe flash cord only allows you to attach one flash. That's fine for me personally, as I like to keep my lighting simple and often use just one light and a large reflector panel for fill light.
Recommended Off-Camera Shoe Cords.
I've used several different brands of hot shoe flash cords, sold both by Canon and by 3rd party sellers. I've never had an issue with compatibility, just with durability.
I recommend you either spend the extra and purchase the genuine Canon OC-E3 or you purchase a high quality 3rd party seller with two conditions.
Must be a heavy duty cord.

The reviews must be rated at an average of 4.5 stars or above.
Check out the reviews on the cords listed below.
As an Amazon affiliate Canon Camera Geek receives a small commission from qualifying purchases, at NO added cost to you.
Stay inspired. Keep shooting your Canon.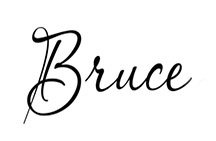 Bruce Lovelace is the publisher of Canon Camera Geek. Read more about him on the About Page. He also publishes how to articles and camera gear reviews at the Photography Tips website.
View some of Bruce's photos on Instagram  and Flickr.   Join the tribe of followers on YouTube. Bruce also runs photo workshops and provides 1 on 1 digital photography coaching.
Back from Canon Off-camera Shoe Cord to Home Page
Off Camera Flash and Street Photography
---