Canon Travel Camera Bag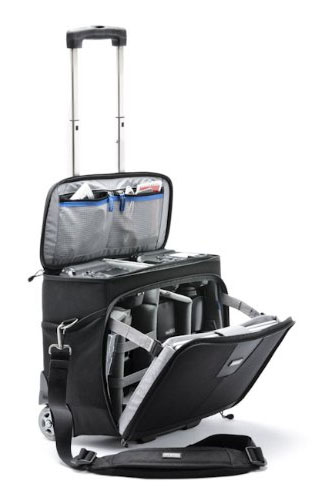 Typical travel
camera bag


What constitutes a good Canon travel camera bag in your eyes? This post will guide you in the right direction.
Technically speaking, you're not going to get a travel camera bag made by Canon. But, since this is the Canon Camera Geek website, you're getting good advice on the best travel bag for your Canon equipment.
The bags that are marketed as and labeled "Canon" makes are mostly shoulder bags and not so great for travel. There's a link for information on those type of bags here.
The photo below shows you my preferred travel bag, loaded with my Canon equipment that I used for flying. Included were my Canon 5D and 5D mark III camera bodies, Canon 24-105 f/4, Canon 270EX II Speedlite, Canon G1X Mark II Camera, 400mm f/5.6 and 70-200mm f/2.8 L lenses.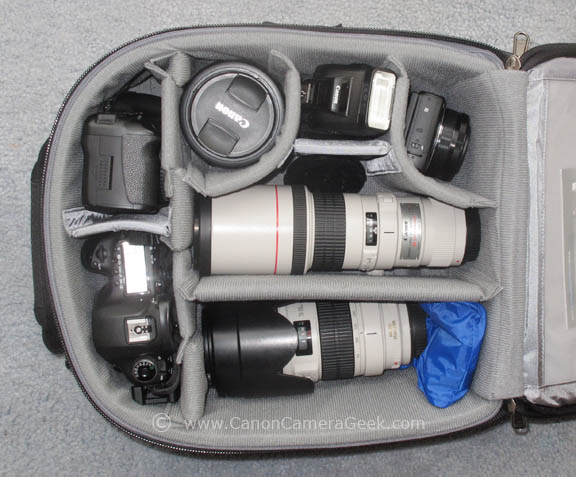 My Canon Travel Camera Bag
Made by Think Tank Photo


Now my travel bag has been updated with Canon 90D and EOS R camera bodies, and a EF 16-35mm wide angle zoom lens.
This travel case is the Think Tank Airport Airstream, stuffed with the equipment mentioned above. Although you can use a shoulder strap this bag is not for carrying your camera equipment during a photo shoot.
I put a lot of thought and research into buying this bag, using YouTube reviews, Amazon.com Reviews, B+HPhoto-Video, as well as several company websites such as Lowepro and Think Tank Photo.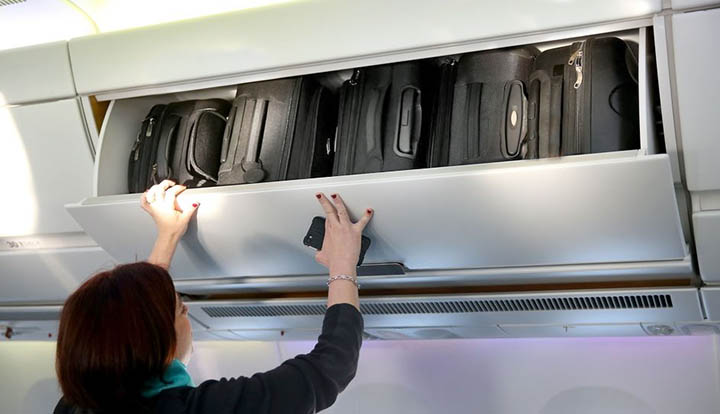 A full overhead compartment could mean you have to
check any bags that don't fit under the airplane seat.


I absolutely had to have a bag that would carry all of my cameras and accessories and still fit under my airplane seat I wanted to avoid having to check my camera bag, in the case of an overloaded flight with full overhead storage.

I insisted on a travel bag that would carry all of my cameras and accessories and still fit under the airplane seat, if needed, in the event of an overcrowded flight and full overhead carry-on storage bins.
No doubt, this is a very specialized bag for airline travel.  If you were looking for something else, use the search box at the top of this Canon Camera Geek  post, on the right.  There is a lot of other useful information here on this site, on other types of camera bags and backpacks.  I hope it helps!
travel bag locks
The travel bag comes with locks for the main compartment, the overall case itself, as well as a lock for a laptop computer.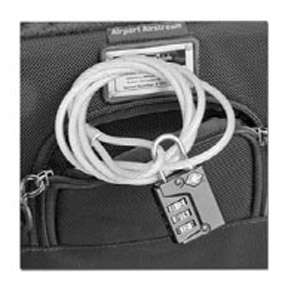 Lock #1
Overall Lock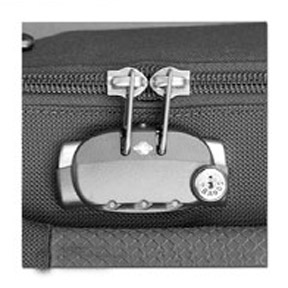 Lock #2
Main Compartment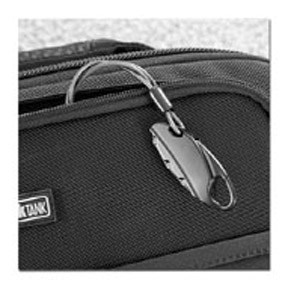 Lock #3
Laptop Lock


It's good to have a travel camera bag that has locks, just incase your bag leaves your line of sight for just a minute or two.
Camera Bags for Hiking
There is another camera bag design I really like for traveling on the trail or for an event where you want to move fast and access your camera gear quickly. Backpacks that swing off your shoulder without setting anything down. There are several variations of this design called "flipside" by Lowepro.
They are great for sports and wildlife photography where you have situations that change rapidly, you need mobility and quick access to a variety of lenses and camera bodies.
There are some great videos to watch on the Lowepro-Flipside web site, giving you a good idea on what gear can fit inside, showing you how they work out in the field, and their portability and comfort.
You can buy them from Lowepro's site or get them a whole lot cheaper though on Amazon.
Reviews of the Lowepro Flipside Travel Bags on Amazon
Canon Travel Camera Bag Advice
Before you get wrapped up with all of the choices, make a written list.  Most photographers are visual learners and thinkers so having a written list in front of you helps you organize your thoughts.
Write down what equipment you want camera bag to be able safely carry as a minimum and the have a second list of extra gadgets you'd like to include if you had room.
Then determine if your travel bag is going to be a carry-on for airline travel, something that you can use during a shoot, or just for transporting locally from your home to a photo shoot.
That will help you decide if you want a Canon travel camera bag for 1) airline travel, 2) quick-access shooting, or just 3) local transportation of your equipment.
Photography is supposed to be fun and I want to share that attitude with other people just like yourself. Can you share this page (or another of the Canon Camera Geek site) with someone?  
You can just click on one of the like buttons, like Pinterest or FaceBook, or Twitter. It helps Google and other search engines know find this page.
I appreciate your help.  
Have a blast. Shoot your Canon!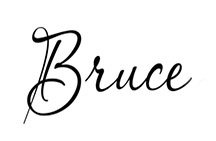 Bruce Lovelace is the publisher of Canon Camera Geek. Read more about him on the About Page. He also publishes how to articles and camera gear reviews at the Photography Tips website.
View some of Bruce's photos on Instagram  and Flickr.   Join the tribe of followers on YouTube. Bruce also runs photo workshops and provides 1 on 1 digital photography coaching.
---
---
As an Amazon affiliate Canon Camera Geek receives a small commission from qualifying purchases, at NO added cost to you.
Think Tank is the name of the company that makes the travel bag I purchased.  As a special treat for the readers of this page, you can get a free gift if you order from them using the link below.

---