Canon Shoulder Bags

Gadget and Accessory Storage
Canon shoulder bags. The most widely known gadget bags for Canon DSLR cameras and camcorders. They're easy to pick up, sling onto your shoulder and have easy, quick top entry to all of your gear and accessories.
There are some any to choose from that you are sure to find one that fits all of your gear. They usually have small, changeable compartments within the main bag compartment and the nicer ones have side pockets for extra gadget storage.
I don't have sales figures comparing these gadgets with sling bags, belt bags and backpack-style camera bags, but they seem to be the most popular format to carry and protect your valuable camera and accessories.
Advantages of Using one of the Canon Shoulder Bags
Here are the4 biggest advantages of using a shoulder type of camera bag.
1. GEAR PROTECTION
The shoulder bag style has padded walls as well as padded dividers to prevent damage to your cameras and accessories from outside the bag as well as from banging around the inside.
Some of the backpacks camera bags don't have adequate padding on the outside. Because of their more vertical main compartment design, there is more possibility of items jostling about if the compartments are adjusted appropriately.
---
Reviews and opinions on Canon bags and alternative choices by consumers on Amazon
---


2. LARGE SIZE
Most of the Canon Shoulder Bags will hold two camera bodies if they are not attached to the lenses.  This type of bag holds significantly more than a holster or belt bag.  The shoulder bags that have outside packets add extra capacity and convenience.
3. Easy to Carry
You can use the handle for short distances or the shoulder straps for longer and heavier loads. The wider the strap then the more the load is spread out and more comfortable.  Also important is if there is any padding on the straps to soften the load.
4. FAST ACCESS TO YOUR EQUIPMENT 
The top-loading design is the simplest and quickest way to access you cameras and accessories.  If you set the shoulder straps right, you can even access things while the bag is hanging from your shoulder.
Traditional backpack camera bags require you to take them off your back, set them down and open before getting to your gadgets.
UNIQUE CAMERA BAGS
A less well know direction to go is a non-tradition, unique camera bag.  You may want to add a little style or perhaps you'd like to disguise your camera gadget bag to reduce the possibility of theft.
Unique and designer camera bags is a topic for a whole new article.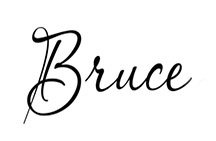 Bruce Lovelace is the publisher of Canon Camera Geek. Read more about him on the About Page. He also publishes how to articles and camera gear reviews at the Photography Tips website.
View some of Bruce's photos on Instagram  and Flickr.   Join the tribe of followers on YouTube. Visit the Canon Geek FaceBook Page. Bruce also runs photo workshops and provides 1 on 1 digital photography coaching.
As an Amazon affiliate Canon Camera Geek receives a small commission from qualifying purchases, at NO added cost to you.
---
Back from Canon Shoulder Bags to Canon Camera Reviews

Go to Canon Camera Accessories
---