Canon EOS Rebel t3i Battery
The LP-E8 is the official Canon EOS Rebel t3i Battery. 
It works with the Canon T2i, T3i, T4i, or T5i cameras.
It is a lithium-ion battery and has no memory effect, so partial discharges and charges do not affect it's memory capacity.

LP-E6 Specifications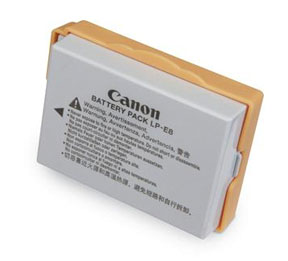 1.  The LP-E is rated at 7.2 volts.
2.  Storage capacity of 1120mAh (milli-amp-hours).
3.  It produces 8.1 Wh (Watt-hours)
4.  It weighs .8 ounce.
5.  Dimensions are 2 inch by 1.45 inch by .58 inch
Canon EOS Rebel t3i Battery Alternatives

You have three options other than the LP-E8 batteries to power your Canon T3i camera. You can use alternative batteries, a battery grip, or an AC power cord connected directly to the AC current in your home.
Alternative Batteries
The alternatives to the Canon batteries are much more affordable.  You can purchase them with higher capacities than the standard 1120 mAh so they will last much longer than the originals.
I won't recommend a specific alternative right now, because there are so many good ones for the very popular T3i camera.  I buy all of my spare batteries from Amazon because of their liberal return policy, good prices, and their un-matched customer service reputation. 
Canon T3i Battery Grip
The Canon T3i battery grips and their alternatives can be loaded with two batteries to double your shooting capacity.
They also give you comfortable access to vertical shooting camera settings and will give you a better balanced feel when shooting with a long lens attached to your T3i.
Here is more about the BG-E813 Battery Grip for the Canon T3i.
Alternative Power
The ACK-E8 is a power adapter the plugs directly from your AC electric outlet to your camera. These are great for studio work and inside photography where you have electrical outlets available.
Once again, going with a third party is the smart thing to do here.  You can save quite a bit of money by going with a non-Canon power source.  
Just make sure the accessory specifications match the camera's power needs, buy from a reputable seller, and read the reviews of other buyers first.
Canon Rebel t3i Battery Accessories
The most important accessory for the LP-E8 or equivalent battery is a working charger. Canon's version is the LC-E8E. Lithium batteries are so easy to use because of their ability to be charged at any stage.
It was not too many years ago when re-chargeable batteries were ni-cds(nickel cadmium) and had memory issues. If not fully discharge and then fully re-charged, they would "remember" to stop charging before they were at full capacity, thus diminishing their shooting capacity.
| | | |
| --- | --- | --- |
| Dual chargers are available | The official Canon charger | Cheaper alternative chargers |
You can find all of these alternatives, adapters, and other Canon t3i accessories and more importantly reviews of these products here:
Canon t3i Batteries and Accessories
The Canon t3i is really a great camera for many reasons, including the number of accessories available.  It is a great time to be interested in photography.  Technology has brought so many useful and powerful tools to our disposal.
Have a blast!
Canon Geek
Leave Canon EOS Rebel t3i Battery  Go to Canon Camera Geek Home Page