Canon g11 photo sample fall foliage


(or a Canon 5d Mark iii)



Here is a Canon g11 photo sample of fall foliage taken in October of 2012. This was part of a test I did to find out if the Canon G11 is any good. Here is my opinion on the value of the Canon Powershot G11.
The Canon G11 is a good camera with built-in features similar to a DSLR in a compact form. It includes a hot shoe for professional flash, a 10 megapixel sensor for better high ISO performance, a 5x zoom, RAW mode image quality, and an articulating LCD screen.
How To Use The G11 For Landscape Photos
APERTURE CONTOL. Use a small lens opening like f/8 to make sure everything is sharply focused. If you include objects that are both close to and far from your viewpoint in your composition, it creates depth in your photo.  This gives the viewer's eye a path to follow when looking at the photo.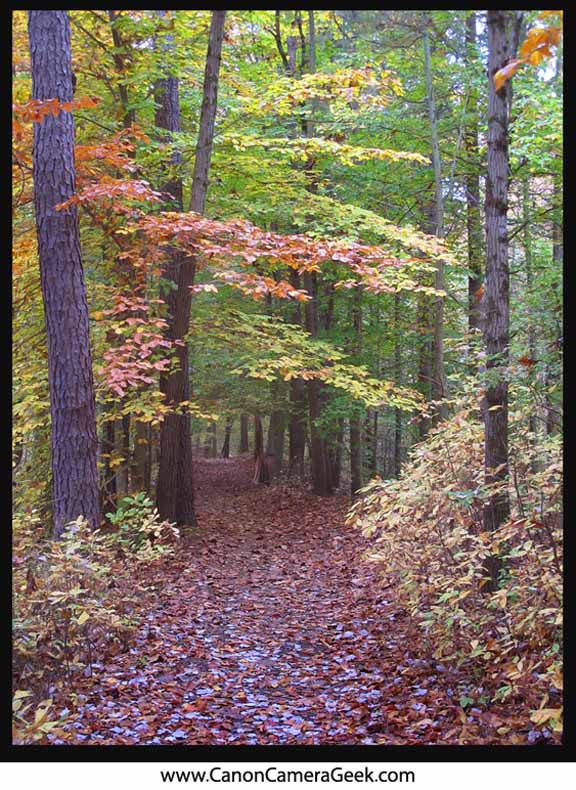 One of my favorite places to go to get away from the computer and the cell phone is only two miles away from my home. It's Ceres Park in Mantua, New Jersey.


The Canon G11 As Good As a DSLR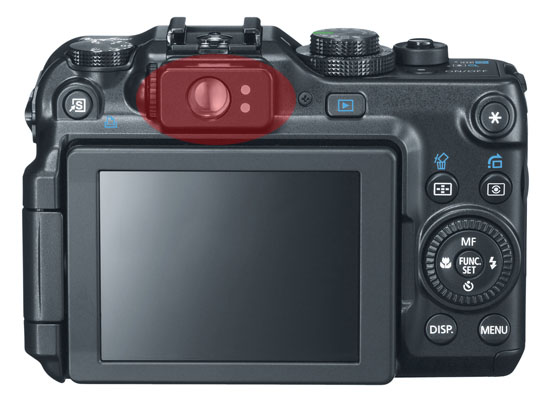 Canon G11 Optical Viewfinder


Although it has similar features, the Canon G11 is not a DSLR. It is classified as a point-and-shoot digital camera. It does not have a reflex mirror that flips up to expose the sensor. The viewfinder is an optical viewfinder located directly above the lens.
Is the Canon G11
Sometimes even the subtle fall colors make for an interesting study in color patterns. This photo below was taken with the Canon 5D Mark iii and the 24-105 f/4.0 lens.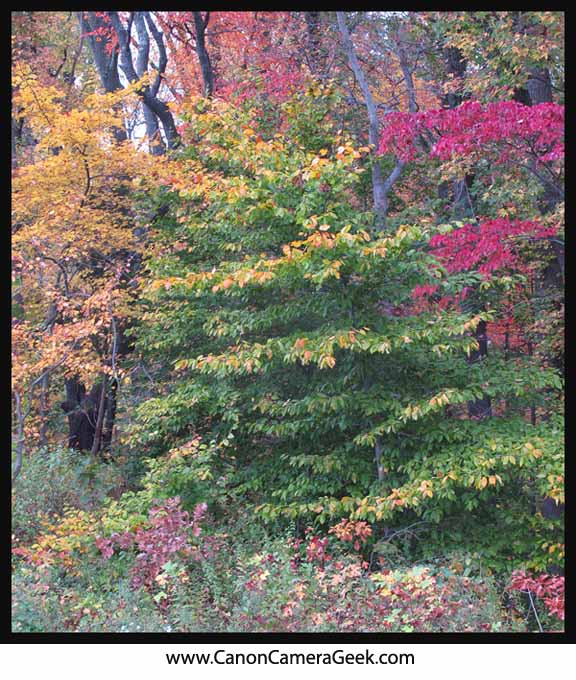 The 28-140mm 5x zoom lens on the G11 gives you the opportunity to shoot both traditional wide angle landscapes as well as photographing "flatter" compositions using the telephoto setting.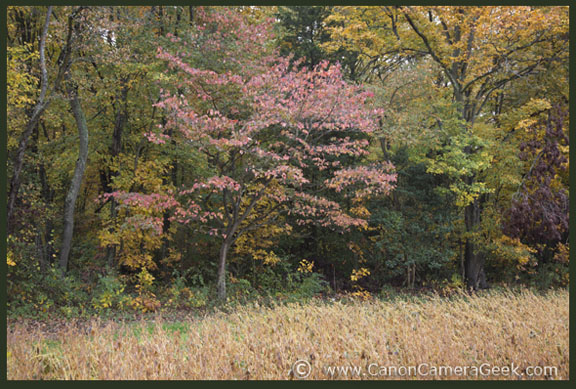 The rule of thirds is a good guideline-There are no rules in photography that can't be broken-to use when shooting fall landscapes. In the photo composition above the grass provided a visual base and an element in the photo to contrast with the colors of the trees.
In the photo below, I intentionally shot the table a little off center to give the photo an overall balance and also to create 3 fairly equal areas of green to contrast with the red foliage in the background.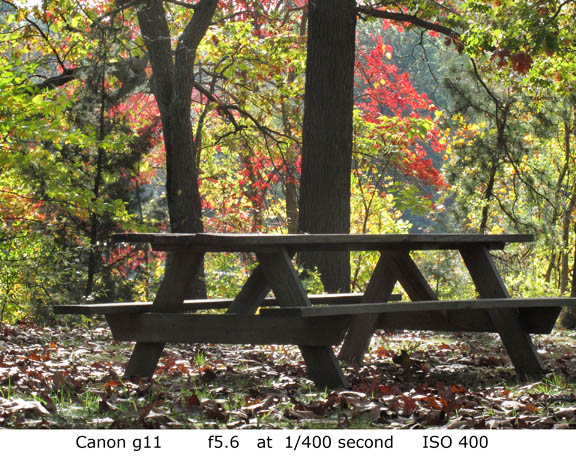 I titled this page Canon g11 photo sample fall foliage because that's really all this simple post is about, a few nice sample images for you to enjoy, plus a few general tips on shooting fall foliage with a point and shoot camera like the G11. It was a nice warm day early in the fall, overcast but still a pleasant day to be outside and photograph the Fall foliage.

I try to have a camera with me wherever I go.
In this case it wasn't my Canon 5d Mark III or my Samsung cell phone camera. The G11 is classified as a premium compact camera by Canon.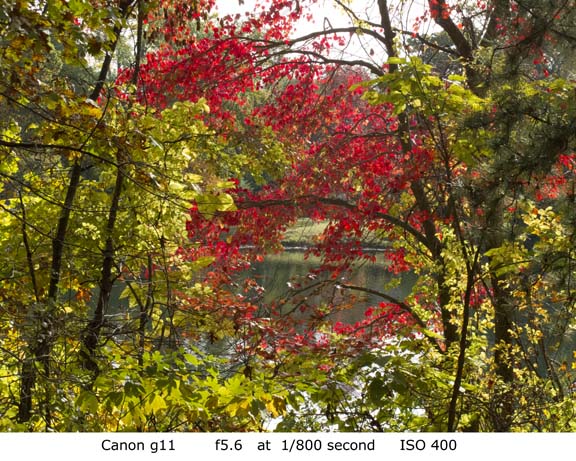 The G11 is still capable of taking quality photographs (I can shoot in "raw" mode too) and this Canon compact fits snugly in my pocket. I consider these two photographs flat images. Normally I like to show more depth with landscape photography but I focused on the colors and patterns.
Canon G11 Release Date
You may be wondering when the Canon Powershot G11 was first available in the marketplace. Here are the release dates of the later "g"  series of Powershots, the Canon G9 through G12 cameras
The Canon G11 came out in October of 2009 and had a suggested retail price of $440. The G11 was released one year after the G10 and two years after the G9 in 2007. The G12 was released the year after the G11 in September of 2010.

The G11, its predecessor the G10 in 2008, and its successors the G12 in 2010 and G15 in 2012 only had minor differences in design. The G1X and G1X Mark II with the much larger sensor were bigger upgrades to the  Canon "G" series. Here's a table of the release dates. 
| | | |
| --- | --- | --- |
| CAMERA | RELEASE DATE | FEATURES |
| G9 | 2007 | 12 Megapixel. Digic 3 Processor. 35-210mm Lens. |
| G10 | 2008 | 14.7 Megapixel. Digic 4 Processor. 24-120mm Lens |
| G11 | 2009 | 10.0 Megapixel. Digic 4 Processor 24-120mm Lens |
| G12 | 2010 | 10.0 Megapixel. Digic 4 Processor 24-120mm Lens |
The G11 and its siblings are now outdated in terms of the technology you can get in point and shoot cameras. It's a good idea at this point to see what alternatives are available.
My Powershot G11 Replacement
I enjoyed taking photos with the Powershot G11. I love it's fit-in-your-pocket size and using it in RAW mode more than anything else of all its features. Times have changed and I upgraded to the far superior G1X Mark II since this article was originally written  The 1.5 inch sensor gives superior quality for a compact camera. If you're considering upgrading to a Canon DSLR camera, I highly recommend the Canon 90D. I love mine!
As an Amazon affiliate Canon Camera Geek receives a small commission from qualifying purchases, at NO added cost to you.
Stay inspired. Shoot a Canon.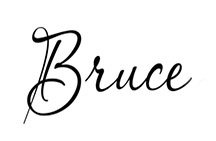 Bruce Lovelace is the publisher of Canon Camera Geek. Read more about him on the About Page. He also publishes how to articles and camera gear reviews at the Photography Tips website.
View some of Bruce's photos on Instagram  and Flickr.   Join the tribe of followers on YouTube. Visit the Canon Geek FaceBook Page. Bruce also runs photo workshops and provides 1 on 1 digital photography coaching.
---