This page may contain affiliate links that pay me a small commission. There is no cost to you. Review the affiliate statement at the very bottom of this page if you want more information.

Canon Waterproof Camera
Canon Waterproof Digital Camera D20 and D30
What's the Canon waterproof camera list look like? When this post was first written the Canon Powershot D20 was the main topic, but now you're searching to find out what Canon cameras are waterproof. This post will give you first the old, then the new, then the unique options for a Canon underwater digital camera.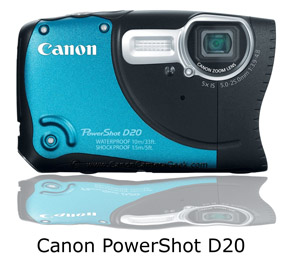 This Canon waterproof digital camera surely takes care of all photographers who want to use this camera while swimming on vacation, frolicking in the pool, snorkeling, or even in the bathtub.
Canon Camera Geek highlights of the D20 include:
It also boasts GPS, shockproof, underwater macro and an optical image stabilizer. The Canon D20 has many available accessories.
This Canon waterproof camera also lets you focus continuously from macro to infinity while shooting video. And surprisingly for such a camera, It can focus on subjects at a distance of only 1 cm. For current price and updated reviews on the D20 click here.
The New Kid on the Block- the D30 Canon Waterproof Camera
Unlike the competition, Canon waited two years for the release of the upgrade. The newer version of Canon's waterproof camera is the Powershot D30.
The big difference is its waterproof depth rating increase from 33 to 82 feet.
Other improvements include improved LCD viewing underwater and in sunlight.

Top view of Canon Powershot D30 Waterproof Camera
Here are the specs on the Canon D30.
12MP 1/2.3" BSI-CMOS sensor

28-140mm F3.9-4.8 equivalent lens with optical image stabilization (5x optical zoom)

ISO 100-3200

3" fixed LCD with 461,000 dots

1080/24p HD video plus super slow motion video at 640x480 (H.264)

Waterproof to 25m / 82'

Shockproof to 2m / 6.5'

Temperature resistant from 14° to 104°F

SD/SDHC/SDXC memory

Built-in GPS
The D30 has very short shutter travel and pressing the shutter button halfway activates the auto focus quickly. This is not a big deal at all, but takes a little getting used to. Click here for current price and updated reviews.
the NEWEST canon waterproof CAMERA
The IVY REC Outdoor Camera was announced in August of 2019. Canon's super compact picture and video recreation camera attaches to your backpack, belt loop or any other convenient place so that's it's always where you need it.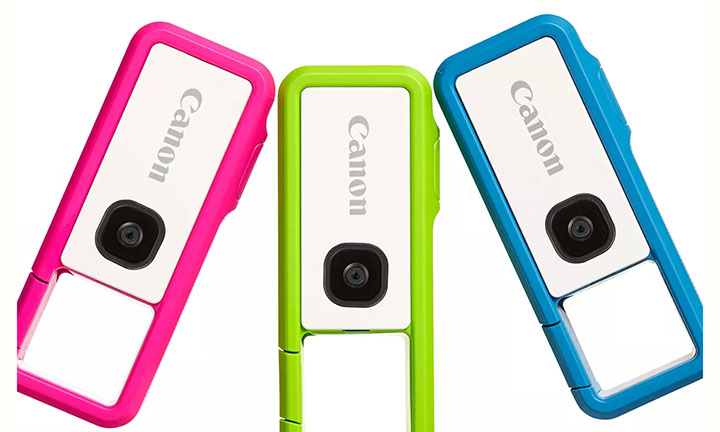 It's waterproof and shockproof and is designed by Canon to use instead of putting your expensive smartphone in peril. It also has Bluetooth® and built-in Wi-Fi® to make sharing easy. For current price and updated reviews of the Canon Ivy Rec waterproof camera click here.
 Comparison of Consumer Ratings
Not surprising, the two versions of Canon "D" cameras are priced similarly.
Click the links to read what consumers have reported on these three products on Amazon.
---
Alternatives to a Waterproof Camera
Another option to consider instead of a waterproof camera is for you to get waterproof housing for your Canon camera.
Here is the DiCaPac Waterproof case for DSLRs below. This type of underwater housing is very affordable, but you must be very conscientious when you seal it.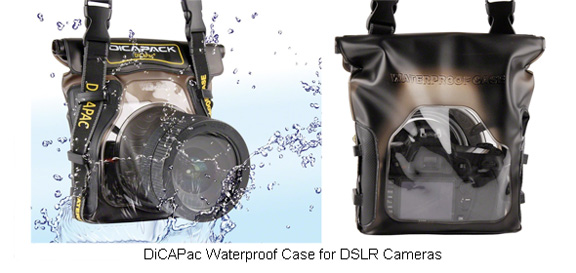 First thing to do is to test it first in a sink or bathtub and check for even the smallest evidence of water inside.

Another tip for using such a waterproof case is to squeeze most of the air out. It's easier to handle underwater, unless you want it to float like a buoy.

Also make sure you have fully-charged batteries and plenty of available memory in the camera before you seal it up in your bag.
Two challenges when using a camera accessory like this.
It can be a little difficult to load your lens and camera into the bag at the same time, depending on the DSLR and lens combination you are using.
It is a challenge to see through your viewfinder to get an exact composition of your subject.
The quality of your underwater photos are usually most dependent on the clarity of the water and the quality of the light.
Understand that there is always at least some risk when taking camera equipment underwater. If you have the money to spend you can get professional waterproof housing like the Ikelite 6146.01 shown in the photo below.
Canon Waterproof Digital Camera Housing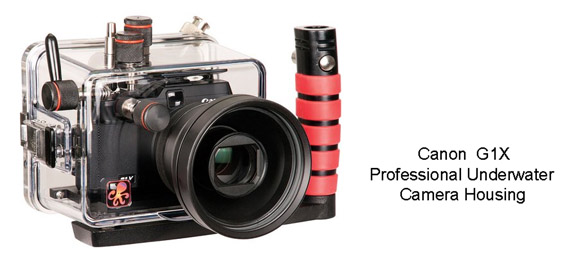 These type of professional waterproofing accessories can cost more than the cameras you use them with.
You get what you pay for though. With this type of waterproof camera accessory, you get a high easy-of-use for the camera adjustments as well as a much better ability to compose your photograph.
Keep shooting your Canon!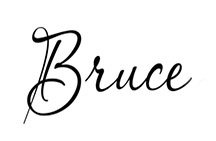 Bruce Lovelace is the publisher of Canon Camera Geek. Read more about him on the About Page. He also publishes how to articles and camera gear reviews at the Photography Tips website.
View some of Bruce's photos on Instagram  and Flickr.   Join the tribe of followers on YouTube. Bruce also runs photo workshops and provides 1 on 1 digital photography coaching.
---
Back from the Canon Waterproof Camera to Best Canon Camera
---