Is it safe to buy a used Canon Camera
You're wondering if it's safe to buy a used Canon and you don't want to get burned on a bad purchase. This post will give you a few simple rules to follow. Stick to them and you'll save money and minimize your risk at getting an unhappy outcome from buying a pre-owned camera.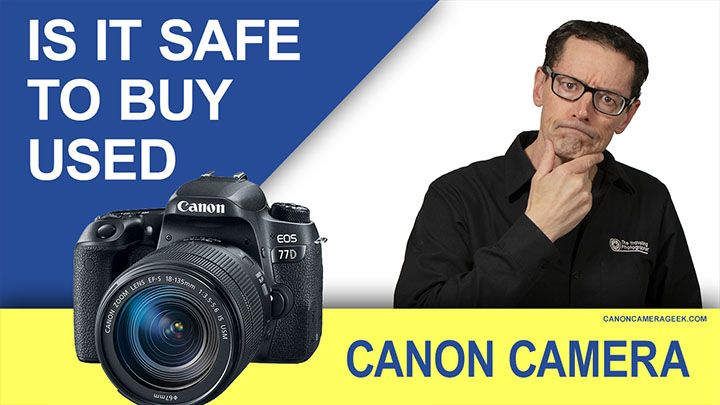 You want to try your hand at photography using a "real" camera, but you don't want to go broke buying a shiny new Canon. There's a great selection of preowned camera candidates because there are so many used cameras on the market, but you want to know if it's safe.
Buying a used Canon camera is very safe provided you follow these 3 simple rules.
Only buy from a reputable dealer or individual with a positive track record.
Purchase a camera that is between 2 and 5 years old.
Make sure you get a test period to try out your camera with a no penalty return option.
There are always risks when you buy anything, but with a little due diligence the risks of buying pre-owned camera equipment will be small.  Okay, let's take a closer look at the 3 rules of buying a used Canon camera that will make it a satisfactory purchase for you.
1. seller reputation
Whether you're buying a used camera from an individual, an auction site, a large photography equipment dealer or a dedicated used camera specialist, it's safer to stay away from any sellers who don't have a great reputation.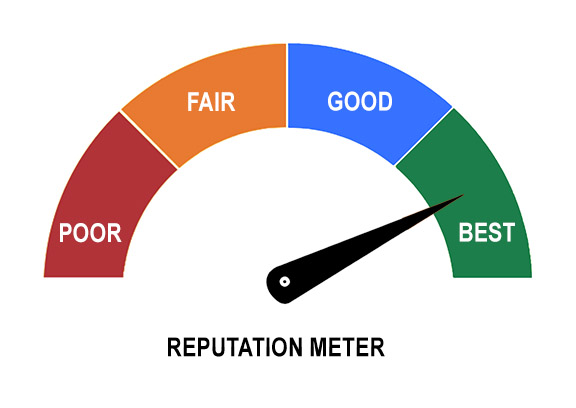 Only buy from someone with the best reputation


Finding out about a camera sellers reputation is a lot easier than it used to be. Bad news travels real fast in today's socially connected world.
There are plenty of options and places where you can buy a used camera with confidence--and not worry about the risk of your purchase.  More on that later in this post.                                                                                                                 
2. age of camera
You should only consider a used camera that is a few years old. As a general rule, consider buying a camera 2 to 5 years after it first is offered in the market. If the camera is only a year old, you won't save much money because there is still a strong demand that will keep the prices up high.
You can save money by buying a camera that's a couple of years old and even the slightly outdated cameras are quite capable of great photos of a variety of subjects.
Alternatively, you can save even more by getting a camera that is more than 5 years old, but there's a good chance that you won't be happy with the outdated technology and lesser image quality.
Buying a really old camera increases the risk of having your camera breakdown. Canon cameras are made to last a long time, but heavily used old cameras inherently have endured more wear and tear.
To find out when a specific camera model was introduced, you can do a Google search for "Canon 'XYZ' release date" or check out the list I made of Canon camera release dates here.  
3. return policy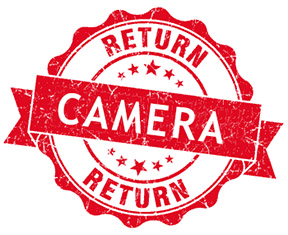 Risk-Free
RETURN


Just as important as the reputation of the seller in importance is the return policy. Your risk is very small if you can return your camera for a full refund if you're not happy. You've only wasted time, not money.
Cameras are sophisticated devices with lots of capabilities that should be tested. It's going to take you a little while to see how the camera operates in your hands and if all the functions are working properly.
All of the major online used camera stores have good buyer protection practices, but they will vary from one business to the next. A visit to their website or a call to customer service is all you need to check to find out the specifics. Nowadays most of the online sellers of both new and used camera gear will have a friendly return policy. One of the stores I use, KEH, has a 180 Day warrantee. 
The most important test you want to do is test for the image quality of the photos that come out of your used Canon camera.
how to test your used canon camera
Once it arrives it makes sense for you to take the same kind of pictures you'll be doing once you decide to keep the camera or not. If you want to go all out when evaluating a used camera here is a suggested checklist of what you can test for as soon as you get your "new" used camera in your hands.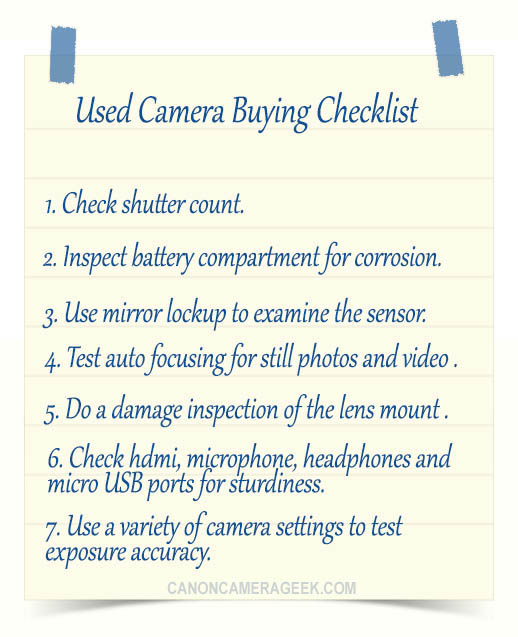 Things you can do to test and evaluate your camera


Where i bought used Canon gear
Over the years I've purchased a ton of both new and used cameras, lenses, and related gear. The retail business has changed dramatically over the last 45 years and so has the way I buy and sell my equipment. Here's a list of vendors and platforms I've used in the distant past.
| | |
| --- | --- |
| CAMERA VENDOR | COMMENT |
| TRADE SHOWS | Back in the film days all my gear, but maybe one new 35mm Minolta SLR camera, was purchased used. You'd get to inspect the gear in person, but all sales were final. |
| CAMERA STORES | Another extinct dinosaur, dedicated camera stores were the place to go to look at new cameras and take your film for processing and printing. |
Where i buy used Canon gear
More recently, when I'm buying used camera gear, it's usually for the purpose of writing a review for the Canon Geek website. There are 2 vendors I still use for buying used Canons that I believe are more than safe enough for my comfort zone.
---
This post contains affiliate links and the publisher may be compensated if you make a purchase after clicking on my links, at no cost to you.

KEH: WHERE I BUY CANON GEAR
"I've found that the condition of the used equipment from KEH is excellent and a whole lot cheaper than buying new" - Bruce, the Canon Camera Geek
| | |
| --- | --- |
| CAMERA VENDOR | COMMENT |
| KEH | KEH, MBP, and similar used camera sellers specialize in just that, used camera gear. They have a somewhat limited, but still decent inventory of used Canon cameras. These used camera sellers are very safe to use and have great reputations. Most of the used camera equipment that I do buy is bought from KEH. |
There are risks with any transaction you make, whether you're buying a new or used camera. Take a few smart precautions and you don't have to worry if buying used cameras is safe or not. It will be safe.
Thanks for visiting my website. I hope this article gave you what you needed. For more information, use one of the links below my signature. For a new Canon gear topic, use the search box below.
Search for articles on this Site: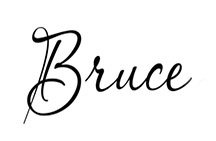 Bruce Lovelace is the publisher of Canon Camera Geek. Read more about him on the About Page. He also publishes how to articles and camera gear reviews at the Photography Tips website.
View some of Bruce's photos on Instagram  and Flickr.   Join the tribe of followers on YouTube. Bruce also runs photo workshops and provides 1 on 1 digital photography coaching.
---
---