Canon RF 100mm specs And Best Features
Let's face it, the Canon RF 100mm specs are something to look at, but it's really just a few of the features of this remarkable lens that should matter to  you. At first glance, that statement may seem confusing, but let me explain.
The Canon RF 100mm macro lens has some impressive specs, but you need to know which ones really matter and have an impact on how good your photos come out. This post is a list of the most important features and specs that you should know about.
If you want the not-so-important specs of the Canon RF 10mm macro f/2.8 L lens there listed at the end of this article. Here's the top 10 features of the Canon RF 100mm macro f/2.8 L lens in alphabetical order.
1. ConTrol Ring
The control ring makes is super easy for you to change a camera setting while actively shooting. The real beauty of it is that you can customize it exactly as you want to use it and it's literally at your finger tips to and effortless to use.
Control ring on RF 100mm macro lens


I've settled in on using the RF 100's control ring for exposure compensation mostly, but have used in to adjust shutter speed when shooting in shutter priority mode with sports and action photos.
When I'm shooting portraits, I like to control depth of field and I set it for controlling the f/stop in aperture priority mode. For me, along with the extra magnification, this is the best feature of the Canon RF 100mm Macro Lens.
2. DUAL NANO USM FOCUSING MOTORS
The focusing on the Canon RF 100mm macro lens is both fast and smooth. That's because of the two Nano USM (Ultra Sonic Motors) configuration. That means you won't miss the sot from slow focusing.
Nano USM uses the principles of regular USM focusing technology and combines that with the mechanical structure of STM (Stepping Motors) to get the fast, quiet, and accurate focusing from two nano USM motors. That makes it great for fast focus tracking, perfect for quiet still photos and video shooting.
3. FOCAL LENGTH
The RF 100mm macro lens has a focal length of 100mm. That's perfect for shooting macro photography at a non-threatening distance to skittish insects. Macro lenses that are shorter than 100mm are cheaper, but they're harder to us.
Short telephotos focal length lenses, like the RF 100mm macro, are great for shooting family portraits and headshots too because they give you a flattering perspective while working at a comfortable distance from your subject.
Additionally, the 100mm focal length of the RF macro lens enables you to shoot detail shots of landscapes and nature photos. See the full post on what the RF 100mm lens is good for photographing.
4. IS - IMAGE STABILIZATION.
 Is the Canon RF 100mm good for handheld use? This lens comes equipped with an estimated 5 stops of IS capability and works great when shooting without the support of a tripod or monopod.
That means you can get really sharp, hand held photos at very slow shutter speeds without any motion blur. Controlling the focus then becomes the single issue you need to address for image sharpness.
With a 100mm focal length, the common guideline suggests that the average photographer should expect to get a blur-free image at a 1/100 second shutter speed or faster. With 5 stops of IS, that same photographer should get a sharp image at 1/3 second or faster. That's amazing. See my own test results with the RF 100mm image stabilization.

5. "L" LENSES FROM CANON
When you see the "L" in the description of the lens, you know you are getting the ultimate performance with your lens choice. Canon L lenses are the cream of the crop. See my post on the optical test results with the RF 100mm macro.
The new RF lenses come with a 12-pin connection to the RF camera bodies. That's like having a 12 lane highway to allow more vehicles to travel at faster speeds. That enables more data to transfer between camera and lens, at faster speeds, enabling faster auto-focusing and better image stabilization.
6. MAGNIFICATION
The ratio between the size of the subject when projected onto the camera sensor compared to the actual size of the subject in the real world is called magnification ratio.
The RF 100mm lens achieves a image to subject ratio of 1.4 : 1. That means you can record a rendering of your subject that is literally larger than life. In other words, the size of the image from the light striking your camera sensor is larger than the physical dimensions of your subject.
That gives you a 40% larger image size than the typical macro photography lens that has a 1:1 image to subject magnification ratio. Here are some more sample images with this lens.
7. MINIMUM FOCUSING DISTANCE
You're probably wondering how close can you get with the Canon RF 100mm macro lens. The minimum focusing distance is 10.2 inches. That's the distance from the sensor plane to the subject, not the front of the lens. That's only about 2 inches from the front of the lens.
Of course you don't always want to be that close. It really depends on the subject you're photographing. The minimum focusing distance is short, so you have the super close-up ability when you want to use it.
8. NINE BLADES
The Canon RF 100mm f/2.8 macro lens has a 9-bladed aperture. You're likely wondering why does that matter. The number of blades determines how choppy or how smooth the out of focus parts of your photo look. 
Lenses with 9 aperture blades, like the RF 100mm give you a smoother effect 9 better bokeh). That makes your photo nicer to look at and makes you look better as a photographer.
9. SA SHIFT RING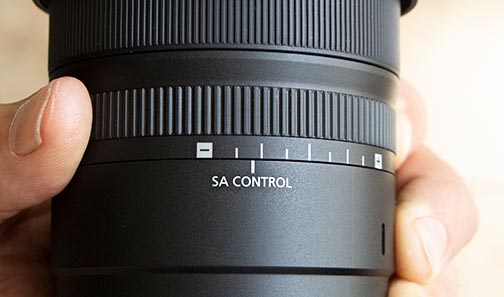 SA - Spherical Aberration Control


What is the SA (Spherical Aberration) shift ring and is it any good? Some photographers thinks its a gimmick and others like it. What I say is that's in another optional creative tool that you can easily ignore, or just as easily, experiment with to make your macro images stand out.
You can think of it as a way to control the look of the blurriness of the background in your macro shots. Another way to refer to it then would be the "bokeh control ring."
Compare the two different effects of using and not using the SA shift by holding your mouse on and off the image below.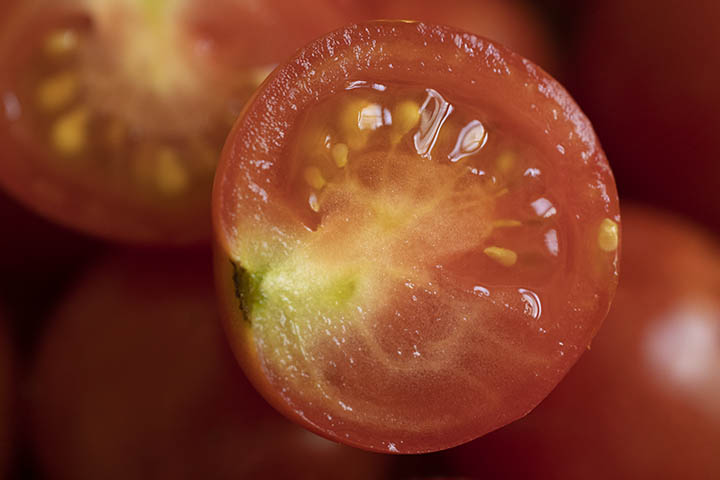 With And Without Spherical Aberration
Only a subtle distance in this situation with these settings.
You can see the increase amount of blur in the background when the SA control ring was shifted to the positive side. The amount of blur and the quality of the bokeh depends on subject distance, background distance, focus point, and f/stop used, so you can see it's one of those things that you need to pay around with until you get the desired effect you're looking to achieve.
Check out my new article where I dive deeply into the SA-spherical aberration feature of the Canon RF 100mm macro lens. Fortunately, Canon included a locking switch on the SA ring, so you won't accidentally use it. It's another feature of the Canon RF 100mm macro lens that is optional to use.
10. WEATHER SEALING 
The Canon RF 100mm f/2.8 L macro lens was made for outdoor shooting where the weather can occasionally be less than ideal. You don't want to be limited from getting that great shot because of inclement weather. Changing weather patterns offer produce the most amazing photographs.
The weather sealing on this lens makes it more versatile for you to use.
As an Amazon affiliate Canon Camera Geek receives a small commission from qualifying purchases, at NO added cost to you.
---
CANON RF 100MM MACRO SPECS
Here are the standard specs of the Canon RF f/2.8 100mm macro lens.
| | |
| --- | --- |
| FOCAL LENGTH | 100mm |
| FILTER SIZE | 67MM |
| LENS SIZE | 3.2 inches W x 5.8 inches L |
| WEIGHT | 1.6 Pounds |
| APERTURE RANGE | f/2.8 to f/32 |
| OPTICAL DESIGN | 17 Elements in 13 Groups |
| ANGLE OF VIEW | 24 Degrees |
| MINIMUM FOCUSING DISTANCE | 10.2 inches from the sensor |
| FORMAT | Full Frame |
| DIAPHRAM BLADES | 9 |
The best features of the Canon RF 100mm f/2.8L Macro IS Lens go along with the specs of this impressive mirrorless camera lens to intrigue even the thriftiest of photographers. If you already own the EF 100mm f/2.8 you may not be able to justify buying the new RF version with the SA control because of how good the original EF version is.
This RF version of the 100mm macro lens makes a great choice if your transitioning slowly to mirrorless like I am. Also, remember that there are a few worthwhile accessories for the RF 100mm lens you should know about. 
Have a blast. Shoot a Canon!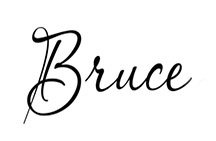 Bruce Lovelace is the publisher of Canon Camera Geek. Read more about him on the About Page. He also publishes how to articles and camera gear reviews at the Photography Tips website.
View some of Bruce's photos on Instagram  and Flickr.   Join the tribe of followers on YouTube. Bruce also runs photo workshops and provides 1 on 1 digital photography coaching.
---
---