As an Amazon affiliate Canon Camera Geek receives a small commission from qualifying purchases, at NO added cost to you.
RF 100mm Macro Lens Accessories
You've got your Canon RF 100mm macro lens ready to go, but what about accessories? This post will give you a list of both necessary and just nice-to-have add-ons for your RF 100mm f/2.8 L lens.
Protection Accessories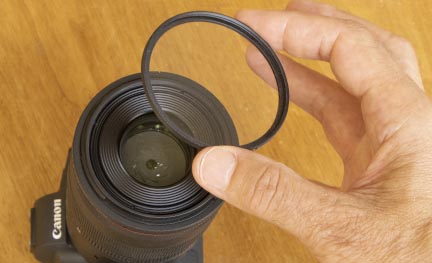 Canon RF 100mm macro 67mm lens filter


SCREW ON FILTER
The number one must have accessory for your RF 100 lens is a screw-on filter. The front element of your lens is by far the most vulnerable to being damaged. Keeping a standard UV filter is the easiest way to protect the front of your lens from scratches.
It also serves to keep your 100mm macro lens clean as well. Some would argue that you can just use a lens cap. It's a matter of personal preferences. More on that in a minute. I find lens caps are a solid secondary level of protection.
ADVANTAGES: Super affordable way to protect your lens. Can be left strewed on always with no need to continuously screw on and off. 
DISADVANTAGES: Filters aren't free. Super cheap filters without multi-coating can degrade image quality. Need to be cleaned occasionally for the best image quality. 
I highly recommend getting a decent UV filter immediately as soon as you get your lens in order to protect it.
LENS HOOD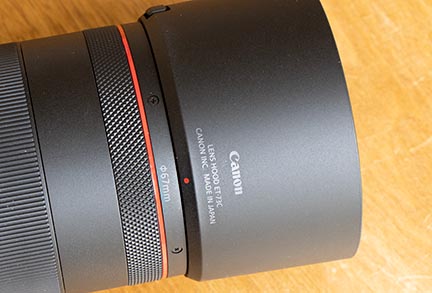 Canon RF 100mm macro lens hood


The lens hood protects the entire end of your lens barrel from bumps and impact damage when it's mounted on the end in its reversed position for storage. It also protects image quality from being affected by unwanted stray light from striking the lens. That minimizes ghosting and flare when shooting in adverse lighting conditions
Likely an unintended benefit too of using a lens hood is the use of the lens hood to steady an ultra close-up photo. You can rest the lens hood on your hand or other support for added steadiness.
The RF 100mm f/2.8L Macro IS USM Lens automatically comes with and takes the the ET-73C Lens Hood from Canon. 
ADVANTAGES: It's very light in weight and very easy to "store" in its reverse position on the end of the lens barrel. It improves image quality particularly by preventing lens flare from direct sunlight striking the front of the lens.
DISADVANTAGES: Attaching the lens hood to the end of your RF lens is just one more step you must take in order to use it properly. Perhaps not a big deal for some shooter and perhpas a pain point for others. It really depends on your need for speed.
LENS CAP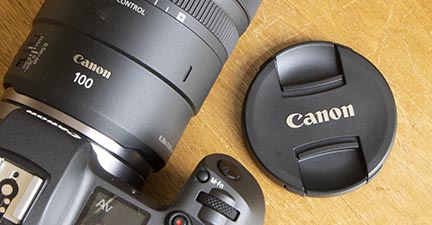 Canon RF 100mm macro lens cap


Having a lens cap is another way to protect your lens. The best ones are the lens caps with the center pinch mount. They are super easy to attach and detach which means you are more likely to use one if it's convenient to do so.
ADVANTAGES: Cheap way to protect the front element of your lens. Easy to attach or remove.
DISADVANTAGES: Easy to lose if you're an absent minded professor like me. Must be removed in order to take a photo. That adds a step which could cause to to miss a shot if a photo opp surprises you.
I recommend you use a lens cap with your RF 100mm macro lens.
Accessories To Improve Your Photography
TRIPOD MOUNT RING
Better balance


Tripod mount rings are designed to more evenly distribute the weight and achieve better balance when attaching a camera and longer lens to a tripod. I use a tripod ring mount 100% of the time when shooting with my EF 100-400 II as well as my EF 70-200mm f/2.8.
The size and weight of this lens make the use of a collar not as important as it would be with longer heavier lenses.
ADVANTAGES: Tripod mount rings make it very east to rotate between horizontal and vertical compositions while maintaining the centered positioning of your lens about the tripod legs. The better balance gives you superior stability and easier adjustments when using a tripod.
DISADVANTAGES: Pricey. Not really needed with the RF 100mm lens which is less than 6 inches long and only weighs about 1 1/2 lbs. There have been some issue with the lens collar and an accompanying adapter making a precise fit on the lens barrel of the RF 100mm macro lens.
I don't recommend a tripod collar as a needed accessory for your RF macro lens.
Polarizing Filter
Using a polarizing filter can enhance colors, improve contrast, and diminish annoying reflections off of parts of your photograph.
ADVANTAGES: Fortunately, having a 67mm filter size for this lens means the price of a decent filter is not too high. Second to UV filters, polarizers are very popular and there is a large selection to choose from so that you can match one to your budget.
DISADVANTAGES:  Whenever you add more surfaces that can both attract dust or smudges you have the potential of more optical surfaces to maintain. Additionally, you can have a loss of image quality if you buy a cheap polarizing lens that has little or no coating.
I highly recommend you get a polarizing filter for you macro lens.
ND Filter
Using a Neutral Density (ND) filter makes it possible to take creative long exposure photographs during daylight hours. If you want more details on these type of filters, see the article on my other website: The complete guide to ND filters.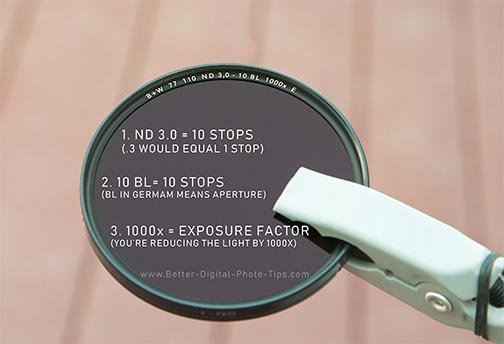 Use an ND filter for long exposures of clouds and waterfalls


ADVANTAGES: Neutral Density filters add a lot of creative possibilities to your photography. ND filters come in a variety of strengths and qualities, including variable and graduated.
DISADVANTAGES:  ND filters can be very expensive, depending on how they're made and how strong they are. Your camera's autofocus abilities may be compromised while they're screwed on. You may have to pre-focus using manual focus before screwing on your filter to make your exposure. 
ND filters may cause a color shift in your scene. I recommend you shoot in RAW mode when using an ND filter to allow easy exposure and color adjustment afterwards with software.
Canon Tele Extender 2X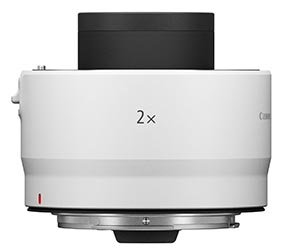 Canon RF Tele Extender 2X


ADVANTAGES: Canon Tele Extenders multiply the magnification of your lens. One of the 1.4X tele extenders would turn your Canon RF 100mm macro lens into a 140mm focal length lens. The 2x tele extender transforms your 100mm lens into a 200mm focal length lens.
DISADVANTAGES:  Pricey. At the time of this post, the 2x tele extender is priced around $600 (and the 1.4x tele extender is about $500).  Another negative aspect of using tele extenders is the light loss. You lose 2 full f/stops of light, so essential the 100mm f/2.6 becomes a f/5.6 lens.
If you need more powerful focal length, I'd suggest one of the other RF Prime Lenses, rather than invest such a large amount of money to alter your 100mm lens.
Extension Tubes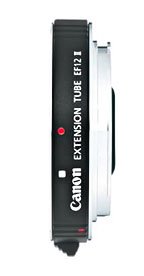 Generally, I'm a big fan of extension tubes as a way to shoot macro photos without a macro lens. Before I bought my Canon RF 100 macro lens, they're what I used exclusively to shoot macro photos, usually paired up with an 85mm f/1.8 prime lens.
In this case, with the RF 100mm macro lens, extension tubes aren't needed at all. The RF 100mm macro lens is already capable of extreme close-up distances. It's worth the money by itself!
ADVANTAGES:  Extension tubes don't have any optical elements so there is no degradation in image quality at all. They're very affordable and they turn any ordinary lens into a macro lens by reducing the minimum focusing distance.
DISADVANTAGES: There can be compatibility issues with the cheaper extension tubes where you lose communication between your lens and your camera. You will lose the ability to focus long distances (to infinity) when you have an extension tube mounted between your regular lens and your camera.
I do not recommend extension tubes as an accessory to use with the RF 100mm macro lens.
Where To Buy Accessories For Your RF 100mm macro
There's plenty of sources where you can get competitive prices on accessories for your lens. I bought a bundle/kit on Amazon-sorry that one's gone now, but there could be a new one. You can check here.
My bundle included the following accessories:
Lens Caps
Lens Hood
Mini Tripod
Lens Pouch
67mm 3 Piece Filter Kit
Lens Cap Keeper
Cleaning Kit
---
Normally, I'm not one to buy bundles or starter kits, but this one was cheaper than buying just the lens and it included a polarizing filter, a UV filter, and a complete cleaning kit, all of which I'll use.
This is what I bought
Canon RF 100mm Macro Lens Bundle


Of course, I'll use the lens caps and lens hood quite a bit. The cleaning kit is great, and the polarizing filter and UV filter are perfect. The lens pouch is good for added protection if I'm not using my camera backpack or camera shoulder bag.
The mini tripod is a joke and I'll never use the lens cap keeper, but that's just my own preferences coming into play.
As an Amazon affiliate Canon Camera Geek receives a small commission from qualifying purchases, at NO added cost to you.
---
---
Summary for RF 100mm macro lens accessories
We live in an extraordinary time in terms of the tools available for high quality and creative photography. Some lens accessories are a complete waste of time. Other add-ons are must have and essential.
Thirdly, some of the accessories for your macro lens will improve your overall  experience and enhance the results you get with the Canon RF 100mm f/2.8 L macro lens. It's great that you get to pick and choose what works for you.
I hope this post was helpful. Have a blast. Shoot a Canon.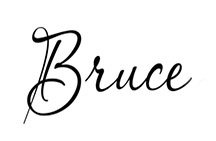 Bruce Lovelace is the publisher of Canon Camera Geek. Read more about him on the About Page. He also publishes how to articles and camera gear reviews at the Photography Tips website.
View some of Bruce's photos on Instagram  and Flickr.   Join the tribe of followers on YouTube. Bruce also runs photo workshops and provides 1 on 1 digital photography coaching.
---
---