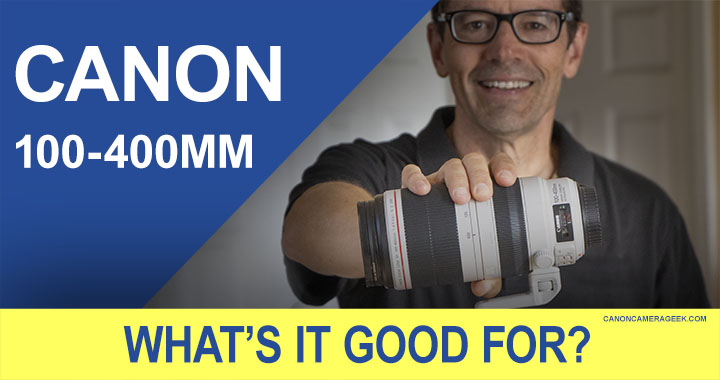 What is the Canon 100-400 Lens Good For
Certainly, it's one of Canon's very popular lenses, but what kind of photography is the Canon 100-400 lens good for? This post will give you the most common ways Canon shooters want to use the Canon EF 100-400m lens (Versions I and II)
The Canon 100-400mm lens is best used for wildlife and sports, although it's also very good for photographing portraits, landscapes, and airshows. It's designed for full frame Canon cameras, but functions perfectly with "crop" cameras too.
Whether it's the first version, the Canon EF IS USM 100-400mm f/4.5-5.6 lens or the second version, the Canon EF IS II USM 100-400m f/4.0-5.6, the 100-400mm focal length lens can be used for many types of photography.
Here is the list of top 5 ways of how to use a Canon 100-400 lens.
1. wildlife photography
The biggest question about this lens is whether the 100-400mm focal length is enough for wildlife. Yes, many photographers use a Canon 100-400mm  to shoot wildlife and get great photos.
That includes critters in the sea, on land, and in the air. The 400mm focal length works to get you close to the timid subjects, such as these two Barred Owls pictured below.
I had the Canon 100-400mm lens mounted on a full frame Canon 5D Mark III and used the lens image stabilization to compensate for any camera movement that would have been magnified at this zoom setting.
Another consideration for choosing a lens for wildlife, sports, and other outdoor activities is how good the weather protection of a lens. Here's a complete post on the Canon 100-400mm IS II weather sealing.
2. sports and fast action
The Canon EF 100-400m lens has a fast USM focusing motor and a lot of zooming reach. That makes it good for sports photography.
A fast focusing lens is needed when you're going to be photographing sports, moving targets, and action shots where the focusing distance can change rapidly. That was true when I photographed the US Navy flyover in support for essential workers during the Covid-19 pandemic..
True sports lenses are usually faster, meaning that they'll have a wider maximum aperture. Wider aperture lenses allow more light to enter giving you the ability to use faster shutter speeds to freeze the action. The Canon 100-400mm lens is not that fast.
It only has a maximum aperture of f/4.5 at 100mm and only f/5.6 at its 400mm focal length. With that said, fast lenses are becoming less necessary because newer digital cameras perform so much better with higher ISO settings. You can substitute using a higher ISO setting for a larger aperture setting to get those needed fast shutter speeds for action photography.
3. using the Canon 100-400 lens for portraits
The Canon 100-400 lens gives a very flat, distant perspective which is generally a good perspective to use for taking flattering portraits. It also gives you a nice working distance to allow your subject to be comfortable.
In this photo of this almost 1 year old boy, the Canon 100-400 lens was mounted onto a smaller Canon APS-C "crop" camera. 
That gives you a very narrow angle of view and good for keeping the background for your portrait free of clutter. Although you rarely NEED to shoot portraits at 400mm, the powerful telephoto settings can come in handy when your subject is not very close to the camera.
4. canon landscape lens
Typically, we think that landscape lenses are primarily wide and super wide angle lenses. While it's true that most photographers grab their wide angle lens when they head out the door to shoot landscapes, don't forget that longer lenses like the Canon 100-400 can be used too. You can use it to photograph detail shots and abstracts like the water reflection below.
For such a powerful telephoto, this lens is fairly light and can be carried without too much trouble in your camera bag on your next landscape photography adventure. Telephoto zooms, like the Canon 100-400, are great for minimalist landscape photography where you want to simplify your composition technique to include only a few elements in the photograph.
5. use the 100-400mm lens for macro photography
The 100-400 lens focuses to less than 3 feet, making it surprisingly good for shooting close-ups. Its maximum magnification is .31x which is pretty darn good for a NON-macro lens.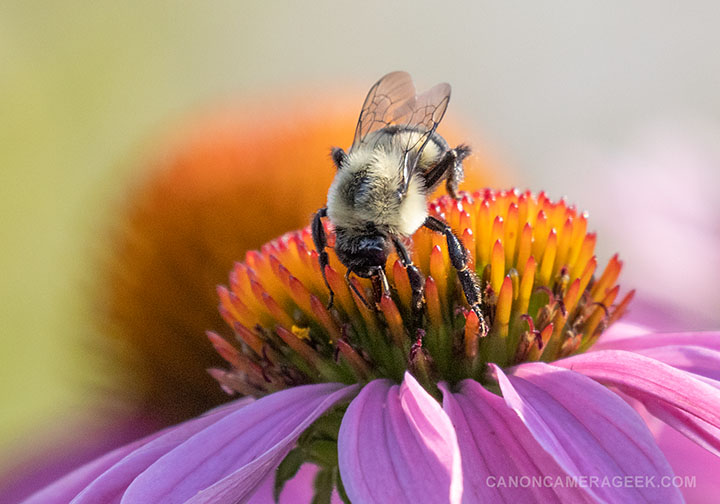 Photo of bee taken from a very safe distance with a Canon EF 100-400mm lens at 400mm, f/9.0 at 1/800 second, ISO 800, and cropped post capture in Photoshop.
I photographed this bee from a very safe distance with the lens zoomed in to 400mm and then cropped the original composition in Photoshop.
versatility of the Canon ef 100-400mm IS II Lens
Both the zoom range and the 4-stop image stabilization make the Canon EF 100-400mm II lens versatile for many types of photography. The 4x zoom is very sharp throughout the range of its magnification as well as its range of apertures. I did the sharpness test myself and you can see my 100-400 sharpness test results here.
The 3 different image stabilization settings are an example of remarkable technology, making it a lens that can frequently be used hand held to photograph a wide range of subjects without using a tripod.
Canon 100-400 lens shortcomings
The Canon 100-400mm not good for all types of photography. There are some instances when you'd be better off using one of the other Canon lenses.
THE STARS AT NIGHT.  Although it's great for photographing the moon, I would not recommend this lens for photography of the stars. Astrophotography requires a fast, wide angle lens with an aperture of f/2.8 or faster for the best results with taking night time photography.
"Full Harvest Moon And Clouds"
Canon EF 100-400mm IS II. 1/125 Second at f/5.6 ISO 1000 Using Image Stabilization.


The moon is plenty bright enough and can be photographed well using a smaller aperture and zoomed in focal length using the 100-400 lens.

ARCHITECTURE. The Canon 100-400 would also be a bad choice of a lens for doing architectural photography. You need much wider view angles for both interior and exterior photographs of buildings and houses.
Despite that, the Canon EF 100-400mm IS L II lens is great for photographing the moon.
WEDDING PHOTOGRAPHY. There could be a few unique situations where you'd want the extra reach for some creative long distance photos, but very few wedding photographers would want to be bogged down with carrying around a lens as big as the 100-400 for 10 to 12 hours of wedding photography.
Depending on the location of the wedding photographer, there could be some situations where you would need the extra magnification of the 400mm focal length.
Size and Weight of the Canon 100-400 Lens
Two more questions that are on the mind of potential buyers of this lens is on how much does a Canon 100-400 weigh and how big is this lens.
WEIGHT
The Canon 100-400mm lens weighs about 3 lbs. With the tripod collar and lens hood attached it's about 31/2 lbs., or a total of 55 ounces.
That's about the same weight as the 100-400 version 1 lens.
SIZE
The Canon 100-400mm lens has a 3 5/8 inch diameter and is almost 7 1/2 inches tall, almost 11 inches when the lens is fully extended.
Move your cursor on and off the photo to see the lens dimension s when it's fully zoomed in and out.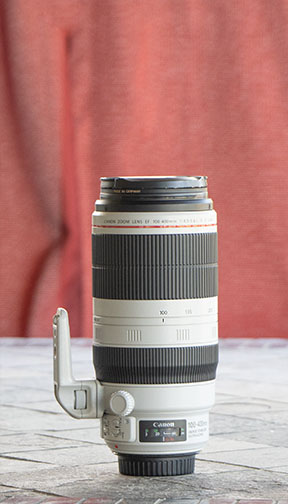 MOVE YOUR CURSOR
Release Date
When did the Canon 100-400mm lenses come out?
The first version of the Canon 100-400 was introduced in 1998, the same year as the Canon EF 28-135mm lens. The updated version, the Canon EF 100-400mm IS II was introduced 16 years later in 2014, the same year as the first version of the Canon EF 16-35mm lens.
Version II of the lens is far superior in several ways. The 100-400 II has a completely different design, giving it faster focusing, much shorter minimum focusing distance, and much improved image stabilization.
There are some alternatives to the Canon EF 100-400mm lenses to consider.

alternatives to the Canon 100-400 II lens
Nothing is going to be as good as the Canon EF 100-400mm IS L II lens, but there are alternatives if the price is beyond your means,
CANON 400MM f/5.6. Remarkably sharp, even wide open at f/5.6, this was the first lens I started with when I was starting to photograph birds and other wildlife. I loved my Canon 400mm f/5.6 lens and I loved the price, but I wanted to gain the versatility of having a zoom lens like the 100-400 with it's remarkable image stabilization.
CANON 70-200MM + 2X TELE CONVERTER. If you already have the ever so popular 70-200, you have the option of getting your hands on a 2x teleconverter and transforming it into a 140-400mm lens.
You'll lose 2 f/stops of light when using a tele converter, but this isn't a terrible shortcut if you already have a 70-200mm lens in your camera bag,
NON-CANON ZOOM LENS. Both Sigma and Tamron make 150-600mm lenses that could be substituted for a Canon 100-400. They are very popular with photo enthusiasts, but not so much with professional wildlife and sports photographers.
They are more affordable, but don't have the same high level of image quality that a Canon L lens has. Some people swear by them-partly due to price-but I wasn't thrilled with the sharpness of the copy of the Tamron 150-600mm f/5.6-6.3 that I had.
closing thoughts
How good is the Canon 100-400 lens. The first version is still a very good lens. The 2nd version is a great lens, particularly for photographing birds and other wildlife, and for photographing action photos and sports.
I hope you found my review of the Canon 100-400 helpful. Please browse around the website for more articles to help you with your Canon gear.
If you have a specific question you can use the search box below to find other posts on this site, or see the related articles below my signature.
Search for articles on this Site:
Stay inspired. Shoot a Canon!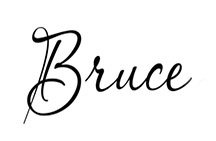 Bruce Lovelace is the publisher of Canon Camera Geek. Read more about him on the About Page. He also publishes how to articles and camera gear reviews at the Photography Tips website.
View some of Bruce's photos on Instagram  and Flickr.   Join the tribe of followers on YouTube. Bruce also runs photo workshops and provides 1 on 1 digital photography coaching.
---
As an Amazon affiliate Canon Camera Geek receives a small commission from qualifying purchases, at NO added cost to you.
---