Best Canon Rebel Camera

Which Canon Rebel should you buy?
The best Canon rebel cameras are usually the most recently introduced.  
You should blindly buy the newest Rebel without considering a few things first.
All of Canon's Rebel Cameras have been very popular for photographers just like you. They give you a nice compromise in terms of price, features and quality.
Rebels fit in between the professional Canon cameras and the basic point and shoot line of Canon cameras.
The second newest new Canon EOS Rebel T5i pictured above costs several hundred dollars more than the Canon T4i and only has incremental changes built into it's design.
Canon Rebel t6i
The Canon Rebel t6i demands you attention as a good candidate to buy. Unlike the t4i vs t5i marginal improvement, you get significant differences between the t5i and t6i.

The Canon Rebel t6i is definitely your best Canon Rebel yet.
The pixel count is up by about 33% from 18 to 24 MP.
The focus speed and accuracy are big upgrades using the new Hybrid CMOS AF II.

Like most camera manufactures Canon improves features and functions of each new addition it comes out within each line of digital cameras.  One would assume then that the best choice should always be the most recent addition.

While I am just as guilty as the next camera geek to watch for the newest releases and read the digital camera reviews and blogs, it is important to take a step back and get a more distant view of what you really need and want in a camera.
The Canon Rebel S shown in the photo below was sold in 1991 and since then Canon has introduced dozens of Canon Rebel variations.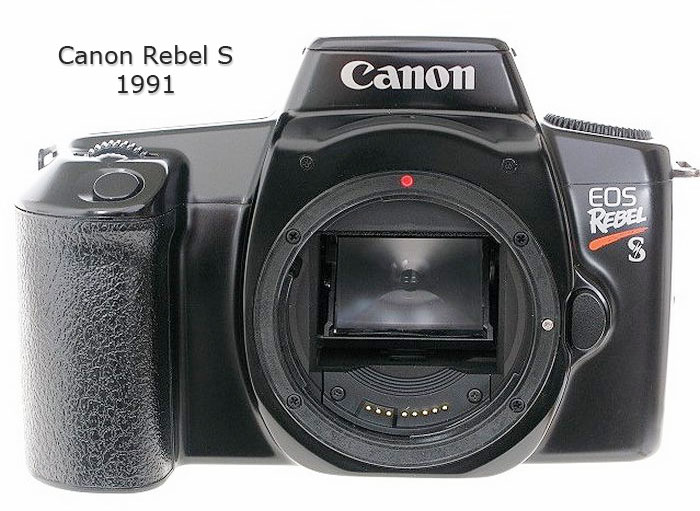 My suggestion, my friend, is to set aside some quiet time, completely away from your computer.  
Get away from this web site and the internet, and email.
Leave your cell phone attached to its charger and find a quiet place to reflect without a television or any other distractions.
Our current society and the often invasive marketplace bombard us with messages and offers from manufacturers and advertisers without our best interests in mind.  
As great as we think ourminds can multi-task and consider many things at once, we actually can think more accurately by eliminating distractions and clearing the mind of mental clutter
I can't tell you how valuable this little exercise can be. The only thing you'll need is pen and paper. Unless you have never used a camera, you already have some personal preferences based on at least some experience with digital photography.
By now, you may be thinking what the heck this has to do with choosing the best Canon Rebel Camera, but stay with me just for a minute longer.
This technique of separating yourself from distractions and interruptions will help you focus and concentrate on what actually matters in your search for the best Rebel camera.
Take a minute to be very factual and accurate about the type of photography you have done in the past and want to do in the future.
Write down on a blank sheet of paper what shortcomings your cameras have had in the past and currently.  Then list the features and functions that are important for you to have in your next camera.
My specific needs and wants will be a little different than yours.  I earn a good part of my living from photography, so I primarily use cameras in Canon's 5D line.
Best Canon Rebel - Comparisons
My simplified advice:
The Canon 12 megapixel
Canon T3
including the 18-55mm lens is absurdly affordable as a complete system ready to go for video and stills.
I slightly prefer the 18 megapixel
Canon T3i
at the higher price tag because of 50% higher pixel count, better LCD screen and superior video.
If you have the money to invest and you want a touch-screen LCD, faster frames-per-second shooting for sports photography and an improved focusing system, then the
Canon T4i
is a good buy.
For me personally the Canon T5i is not significantly superior enough over the T4i to justify it's price. It is a good thing for Canon Rebel buyers because it's release will cause the other Rebels to drop in price.
All of these take a wide variety of canon rebel accessories including Canon Speedlite options and many Canon Camera lenses
I encourage you to take the plunge and get the best Canon Rebel camera you can afford  based on what functions and features you absolutely need and what additions you really want.
If you think this article might be of some value to a friend, please feel free to share it:
Shoot more photos.
Watch less TV.
Back from Best Canon Rebel to Canon Camera Geek Home Page