Canon t3i vs t4i


Rebel Camera Comparison
Have you made the same mistake?
The Canon t3i vs t4i analysis, like other camera comparisons, often erroneously comes down to only looking at numbers like megapixels and price tag. You're probably wondering if the Canon t4i is better than the t3i. Read on!  
Don't get me wrong.  Numbers are important and objective specs on cameras are useful.  It's just too easy to put so much emphasis on numerical data and forget the subjective data.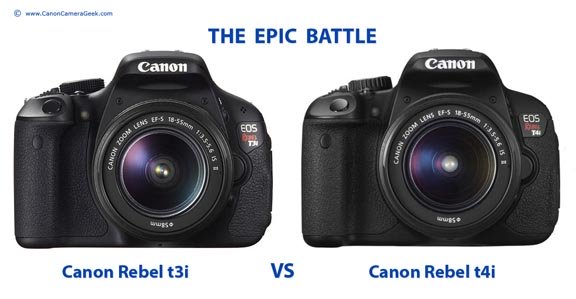 Rather than focus on the specifications of the cameras, I thought it might be fun to compare the Rebel t3i and 4ti cameras by analyzing their popularity in terms of sales and customer reviews.
I've included the specs on the t4i and t3i later in this post for those photographers who are numbers-oriented but I wanted to start the comparison differently for a change.
Subjective views, especially if there are many of them give us a perspective that is based on real live experiences with camera equipment rather than a view that is based on scientific tests done in a lab by a professional reviewer.
There is another great source to tap into for research on the Canon t3i vs t4i debate.There is not enough time in the day to evaluate all of the cameras and accessories myself as a one man operation.  
I also gather and evaluate the reviews and opinions by the common everyday snap photographers and photo enthusiasts who have a large combined amount of time using their photography cameras, lenses, lighting gadgets, and related camera accessories.
The King of On-line Retailers
If you've read more than a few of my posts on the Canon Camera Geek site, you know I am an Amazon addict, not only has a frequent buyer but also as a committed reader.
What have I purchased?  Nutritional products, a ton of books, gifts for friends and relatives, computer accessories, a waterproof safe, camping gear, household products and of course lots of photography accessories.  
I am now a Amazon Prime member, but enough of all that.  What about the Rebel t3i vs t4i comparison?  Here is what I found.
I did my normal in-depth reading of many reviews on both cameras and looked at the review numbers.  I calculated my own Canon Geek 4-5 rating index and here are the results:
The Canon 3ti scored a 94%. The Canon 4ti scored a 90%. That's a slight edge to the t3i.
These are both outstanding cameras with a lot of raving fans. The Canon t3i also has twice as many reviews, indicating that is substantially more popular in terms of total number of actual buyers.
The Rebel t3i has been an extremally successful camera for Canon, having sold many many of them over the years, far outselling the t4i. Perhaps, it's because they simply did it right when they designed and built it. Edge to t3i.
The Practical t3i vs t4i Differences
Is the t4i better than the t3i?
The t4i produces slightly sharper images because of the Digic 5 processor.  If you do any post-capture image sharpening on your own, than this difference simply does not matter.
If you don't want to adjust any sharpness on the images that come straight out of the camera, then this comparison is valid and it matters a lot.
The t4i has a faster frame rate of 5.0 frames per second vs 3.7 frames per second.  That's 35 % faster. If you are shooting any action sequence photos this is an advantage in favor of the Rebel t4i.
The t4i release date was  a short 15 months after the release of the t3i. That means you get more advanced technology with the t4i over the t3i.
Comparison of the Canon t3i vs t4i specs
They both have an 18 megapixel sensor, the LCD screen size is the same, they are the same size and weight, they have the same number of auto-focus points, and the video resolutions are the same.

| | |
| --- | --- |
| The Canon t3i | The Canon t4i |
| Digic 4 Processor | Digic 5 Processor |
| Mono audio video recording | Stereo audio for video recording |
| 3.7 Frames Per Second | 5.0 Frames Per Second |
| No Touch Articulating LCD Screen | Articulating Touch LCD Screen |
| Maximum ISO 128,000 | Maximum ISO 256,000 |
| Uses manual focus during video shooting | Auto-focus works during video shooting |
| Cheaper Price | Costs about $200 more |
| Only 1 cross-type focus point | 9 Cross-type focus points |
Summary of T4i vs t3i Comparison
Closing remarks on the Canon t3i vs t4i discussion. Are the t3i and t4i still any good and worth it? Yes, both the t3i and t4i are cameras that are capable of taking great photos, with the edge in performance going to the Rebel t4i.
You can't go wrong with either of these Canon cameras.  For opinions other than mine, pour yourself a beverage, prop up your feet, get comfy in your computer chair, and read a few of the many reviews posted on Amazon:
---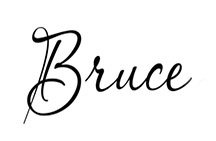 Bruce Lovelace is the publisher of Canon Camera Geek. Read more about him on the About Page. He also publishes how to articles and camera gear reviews at the Photography Tips website.
View some of Bruce's photos on Instagram  and Flickr.   Join the tribe of followers on YouTube. Bruce also runs photo workshops and provides 1 on 1 digital photography coaching.
---
Leave Canon t3i vs t4i and go to Canon Camera Geek Home page
---