Canon T4i Review
The Canon T4i followed the Canon T3 and Canon Rebel T3i.  The T4i, also known as the 650D  was introduced only about a year and a half after the T3i in June of 2012. That means if you're happy with the level of technology, you can get a great price on a t4i now.
Canon Camera Geek's Top  T4i Features:
Here are the Canon t4i specs that matter most.
Cool Stuff
Touchscreen Interface
Hybrid AutoFocus
Handheld Night Scene
HD Video
Scene Intelligent Mode
Great Numbers
5 Frames Per Second
18 MegaPixel Sensor
14 Exposure Modes
3.0 Inch LCD Screen
Digic 5 Processor
Features
Stereo Microphone
Manual and Raw Capabilities
Multi-Shot Noise Reduction
Chromatic Aberration (CA) Setting
---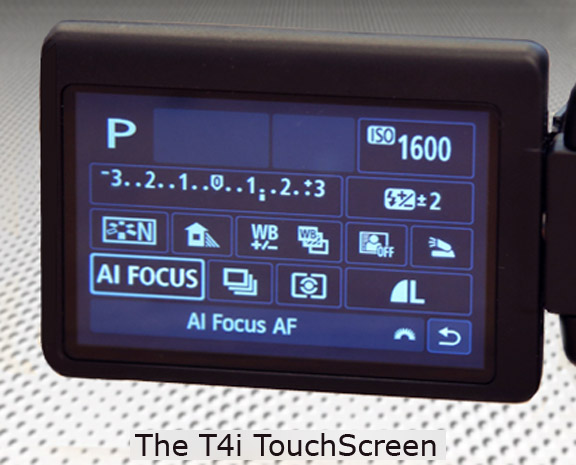 TOUCHSCREEN makes the camera fun to operate and that's a real important feature in my mind.  It's easy to set functions and go into video mode.  You can disable it if you prefer to use the dials instead.  Heck, the camera even has an eye sensor so that prevents accidental touchscreen activation.
HYBRID AUTOFOCUS combines the standard contrast detection focusing with a phase detection system to get auto focus in video mode.  It is not supre-fast, but I like this as a desriable, evolving technology.
HAND-HELD NIGHT SCENE lets you take photos when it's dark without a tripod.  The camera takes 4 quick photos, combines them together, reduces noise and sharpens.  You just point and shoot.
HD VIDEO is really now a must have for middle-of-the-road and high end cameras.  I still include in the Cool category because it is really a lot of fun.  Standard video is so "yesterday" that its now disappointing to watch.
SCENE INTELLIGENT MODE is the one feature I always ignored and boy that was stupid. My photography habit started in the early 1970s when everything was manual. Getting away from the Don't-Let-The-Camera-Make-Any-Decisions attitude has been a slow process for me personally.
This mode really does a great job in a lot of situations and let's the photographer focus on subject matter, composition, and perspective instead of exposure settings.  I recently did a Canon 5D Mark iii Scene Intelligent Mode test and was very pleased with the results.
Canon introduced two new lenses with SMT - Stepper Motor Technology.  SMT gives you faster and quieter auto-focusing for shooting video.  The 18-135mm comes as part of the kit with the  T4i and the 40mm prime lens is available as an accessory.
Canon t4i battery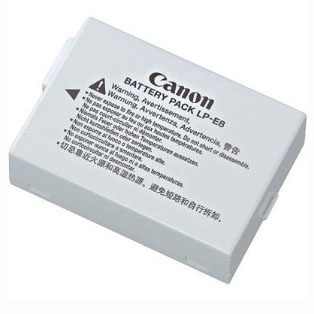 Canon LP-E8


The Rebel t4i takes the Canon LP-E8 battery or its equivalent from a 3rd party manufacturer. Canon T4i is rated to be able to take 440 images on a single charge. The t4i battery capacity is based on a new battery under normal temperatures.
Actual capacity depends on several factors, including cold weather, how much LCD screen you give it, how many minutes of video you shoot and view, as well as the age of the battery. 
Here are the specs on the T4i battery.
CANON LP-E6 (T4i) BATTERY
| | |
| --- | --- |
| BATTERY TYPE | Lithium-Ion |
| Compatibility | Canon T2i T3i T4i T5i T6i T7i |
| Voltage | 7.2V DC |
| Capacity | 1120 mAmpHours |
| Dimensions | (W x H x D): 37 x 15 x 55mm |
| Weight | 52 grams |
what about the price for a Canon Rebel 4ti
Now that Canon has introduced several models since the t4i was introduced in 2012, you can get brand new models for cheap. As an example, check out the prices on Amazon right now:
Keep shooting your Canon!


Bruce Lovelace is the publisher of Canon Camera Geek. Read more about him on the About Page. He also publishes how to articles and camera gear reviews at the Photography Tips website.
View some of Bruce's photos on Instagram  and Flickr.   Watch him on YouTube. Visit the Canon Geek FaceBook Group. Bruce runs photo workshops and provides 1 on 1 digital photography coaching.
Related to Canon t4i Review
T4i Accessories - Many Canon Rebel accessories to consider for the T4i including  the popular Canon BG-E8 Battery Grip
T4i Lenses - All of the full-sized Canon Camera Lenses will fit   
Best Canon Speedlite for the T4i   
Back from Canon T4i  to Best Canon Camera