The Canon Speedlite 90ex Flash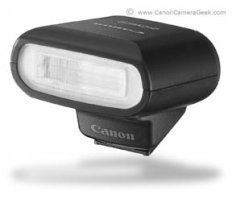 The Canon Speedlite 90ex Flash.  Designed with the Canon mirrorless EOS M camera in mind, this flash has the standard shoe mount  and is compatible with all EOS SLRs.
Its features are accessible through the EOS M camera's menu system.  The Auto-focus assist beam is one of them and is great for low-light focusing.
FE lock and flash exposure compensation.   Color temperature information can be transmitted back to the camera.
The 90EX can control multiple flash units from its lightweight perch upon your Canon camera.
It's maximum guide number is 30ft./9meters at ISO 100.
It weighs less than 2 ounces as is about 2 x 2 inches total.
It takes 2 AA batteries and has an auto-off time of 5 minutes.
It covers as wide as a 24 mm (full-sized sensor) lens.
The  90EX can control up to three groups of slave-enabled flashes, controlling power from an 8:1 ration down to a 1:8 ratio in 1/2-stop increments.
It can transmit up to approximately 16.4 ft. indoors, up to 23 ft. outdoors.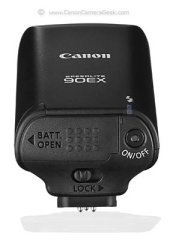 You can see the simplicity of this flash by looking at the back of the 90EX.  
The power lamp is on top and can be seen from up above or behind.
The back of the has the mounting foot lock lever, the on-off switch and the sideways sliding battery compartment cover.
The manual that comes with this speedlite has about 12 pages of easy to understand instructions for wireless settings for single and multiple flash use.
The 90Ex comes with a soft case the manual and a one year waranty. 
Canon has a full range of speedlites.
The speedlite 90EX Siblings:


---
---
Some photographers buy this Canon flash unit simply to use as a remote trigger instead of the Canon ST-E2.  They use the menu within the Canon EOS M to control the settings/ratios.  The fact that it is a flash also then becomes a bonus.
Speedlite Diffuser
Also worth considering, if you don't feel that you must have a flash made by Canon, are other flash guns.  Here are some thoughts on Canon Speedlite alternatives.
Back from  Speedlite 90ex  to Canon Speedlite
Back to Canon Camera Reviews Home Page