Best Canon Speedlites for beginners
(Which canon flash is right FOR YOU)
How to choose the best Canon Speedlites. You're a beginner photographer or an enthusiast looking to using better flash than the built-in, pop-up on your Canon camera.
The choice on which to choose just got a little tougher. Gone are the days when you only had three choices, the Good, the Better, and the Best. Now there are 7 Canon Speedlites to choose from.
Here is a good look at each of the Canon Speedlites.  You can get more detailed Canon Speedlite reviews by clicking the desired link to go tp posts about each flash separately. Here is the current lineup as of January 2020.
---
The Canon Speedlite 90EX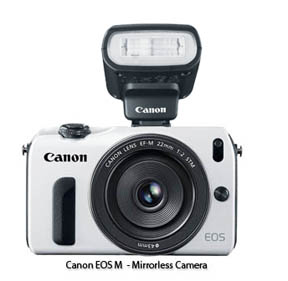 With the surgeon in interest in mirrorless cameras came Canon's response to several offerings of mirrorless cameras. The created the need to market a Speedlite to use with mirrorless cameras.
Enter a new Speedlite to the mix, The Canon 90EX

Canon designed the 90EX specifically for the EOS M.  It's made specifically to be a good size to feel balanced on top of a Canon mirrorless camera for a camera of this size.  

It is compatible with the other Canon shoe mount cameras.Power is is simple too, just two AA batteries.
It's biggest drawbacks are its power and the limited range to use it as a transmitter to fire other flash. It's range for controlling other flash units is 16 ft. indoors and up to 23 ft. outdoors.
---
the canon speedlite EL-100
EL-100


One of the newest Canon Speedlites to be born into the world of photography is the Speedlite EL-100.
Unlike the 270EX II, the EL-100 can pivot and swivel. You can aim the head to bounce light off ceilings and walls to give you that softer flattering light of a larger light source. That's a big advantage over the 270EX II.
The EL-100 is only marginally bigger and heavier than the well known 270EX II. I already have two 270EX II flash units, otherwise this would easily be my choice as the compact Speedlite to own.
---
The Canon Speedlite 270EX II
270EX II


This would be a good flash choice for you if you have one of the smaller Canon cameras, like the G-series of cameras, the G7X Mark II, the G5X, or the G1X Mark III. 
The 270EX II is actually my favorite "everyday" flash for my Canon 5D Mark III and my Canon G1X Mark II for shooting snapshots and my own family events."
It's so convenient, easy to carry and has plenty enough firepower for snapshots. It has a 3-position vertical bounce and a two position zoom which adds a bit to its appeal.
It has two drawbacks. The lack of a tilting head means the 270EX II will be oriented on the side of your camera if you shoot vertically and that may give you some side shadows behind your subject.
Secondly, there is no focus-assisting beam to help you attain focus if you're shooting in dark scenes. I still recommend the 270EX II as a good Speedlite for you if you have a small camera an you want to keep things real simple.
---
The Canon Speedlite 320EX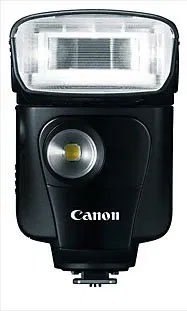 320EX


Perhaps a little gimmicky to some, the 320EX is Canon's first Speedlite that has both a white LED light for video and flash for shooting regular photos.
This Speedlite is not great for either digital stills or video, but can do both. That makes it versatile, but also limited to a certain extent. It does have a manual zoom so you can set it to match with the zoom setting your lens is set to.
Fortunately, it also earn s few points because it has vertical and horizontal bounce capacity. If you want to only use it for closer video subjects and not too distant photography subjects, this flash might appeal to you.

---
The Canon Speedlite 430EX II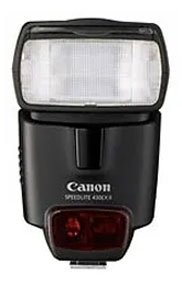 430EX II


I call this the "Middle of the Road" Canon Flash and it's the one I generally recommend the most for beginners in the world of external flashes for their Canon DSLR cameras.
It's a nice compromise in price, size, power and features.
More affordable than the 580EX II or 600EX-RT and more powerful and versatile than the 270EX II.
Can rotate vertically or horizontally.
---
The Canon Speedlite 580EX II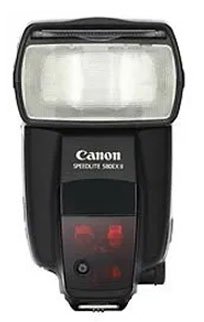 580EX II


This is overkill for you unless you are serious about using multiple speedlite setups.
It's very popular with photo enthusiasts who want to experiment with flash photography.
Definitely considered by professional photographers as one of the premium Canon Speedlites to have.
Lot's of power.
Unlimited ways to create multi-flash set-ups.
Also consider what is the Best Canon Speedlite Accessory for the 580EX II
---
The Canon Speedlite 600EX-RT
600EX-RT


The Speedlite 600EX-RT was the first Canon flash to switch to a RT (Radio Transmitter) system from an optical transmitter. Since this post was first published, Canon upgraded their original 430EX II and now has the 430EX III-RT.
The most expensive, biggest, and powerful Speedlite, I only recommend the Canon 600EX-RT to you if you're a pro photographers or you need to have the absolute most powerful flash that Canon makes.
It can still be used with IR. One of the nice features is that the 600EX-RT hash builtin overheating protection when working it hard. Cheaper flash guns like this can have overheating issues when shooting rapid sequences of flashes at higher power settings.
---
The canon speedlite collection
Click on any of the links below to get a more detailed review and my personal opinion on your search for the best flash to use.
---
What ever Speedlite you decide on, it is one of the most valuable Canon Rebel accessories you can buy.  Good lighting is paramount for good photography.  Those wimpy built in flashes do a lousy job in almost all situations.


Bruce Lovelace is the publisher of Canon Camera Geek. Read more about him on the About Page. He also publishes how to articles and camera gear reviews at the Photography Tips website.
View some of Bruce's photos on Instagram  and Flickr.   Join the Tribe: YouTube. Visit the Canon Geek FaceBook Group. Bruce runs photo workshops and provides 1 on 1 digital photography coaching.