2013 Canon Camera Talk

One 2013 Canon Camera trend that is sure to continue is the use of full-sized sensors in smaller digital cameras.  
There are two key driving forces.
They are demand and cost.
As the cost goes down to produce a full-sized sensor Canon and other manufactures are going to find ways to fit them is smaller cameras.
Consumers are always looking for the latest and greatest and will provide plenty of demand for innovation.
Secondly, much to my own dismay, mirrorless cameras will become more and more popular.  Canon introduced its first mirrorless EOS, the "M" in July of 2012.  Talk is abundant that 2013 will bring more variations of the morrorless camera to market.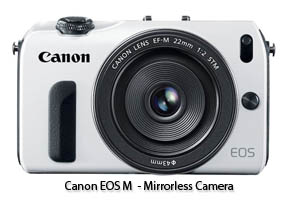 One of the ways to make a smaller and more affordable camera is to eliminate the mirror.  
I personally hate composing a photo by using an LCD screen, but I am definitely "old school" on this one.
Thirdly, it is only a matter of time when the puny sensors on cell phones get bigger and lens design improves.  
This will eliminate the need to buy a separate digital cameras for some.
Especially for the younger generation who only share photos digitally and don't have a big desire to print their images.
As a side note it has been a full year (January 2012) since Canon released the Canon G1X.  
If I didn't already own a Canon G11, I would buy the G1X in a second.  With the exception of the much-improved video, the Canon G12 was only an incremental improvement over the G11.
The Canon G15 was two steps above that and the G1X is a really a great camera in that High-end Compact genre.  The G1X's sensor is a 1.5 inch 14.3 megapixel which is almost as big as the APS-C sensor found in many DSLRs.
I love the "G" series format because they are small enough to fit in your pocket.
Canon will reveal their latest developments and visions at the  CES (Consumer Electronics Show) in just a few days in Las Vegas. 
Hard to conceive at this time, but don't be shocked in a year or two that someone announces a full-sized sensor in a cell phone camera.  You know that will make it into the Canon Camera Blog.
Back From 2013 Canon Camera Talk to Home Page