Canon 400 f/5.6 Lens
The Canon 400 f/5.6 Lens is often overlooked as a choice lens for wildlife and bird photography. It costs less than half the price of the Canon EF 100-400mm f/4.5-5.6 IS II, but is it still worth it?


Built-in Hood for Canon 400 f/5.6 Lens is always available


After all, It has no zoom capabilities, it's maximum aperture is only f5.6, and it has no image stabilization.  Well, what does it have going for it? Probably the three most important features that a lens should have:
1. SHARPNESS. It's a really sharp lens, even when you shoot it with the aperture set wide open.
2. AFFORDABILITY. It's also relatively very affordable. To get this much magnification at this price make it a favorite for beginners in wildlife and bird photography.
3. USABILITY. It's light and easy to carry. The faster 400mm lenses are downright bulky and heavy to lug around. This lens is longer but weighs less than the 70-200mm f/2.8 lens.
The sharpness of an "L" lens.
Generally speaking,  most lenses are sharpest when they are stopped down about two stops from their maximum aperture.  With a lens that has a maximum aperture of f2.8, that would be f5.6.
The technical lens testers out there in the world of scientific lens testing have determined that the Canon 5.6 has excellent sharpness, wide-open at f 5.6, even in the corners of your image.  
At 400mm you still get great bokeh at f5.6 with the 8-bladed aperture.  This has been verified by many of the everyday photographers like me, the Canon Geek.
The Canon 400 f5.6 lens is very light.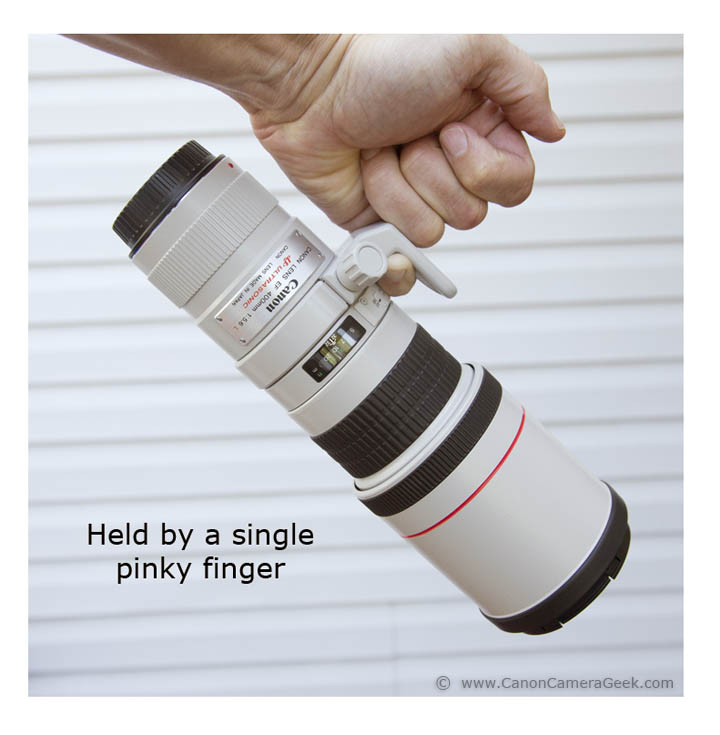 I don't recommend you carry it this way, but it is light enough to carry with your pinky finger.
This lens weighs about 2.75 pounds, a few ounces less than the Canon 70-200 f 2.8, one of the all-time best rated lenses Canon has ever produced.
Compare that to the Canon 400mm f4 DO IS that weighs close to double that at 4.28 pounds. The Canon 400mm f2.8 L IS II comes in at a romping 8.5 pounds.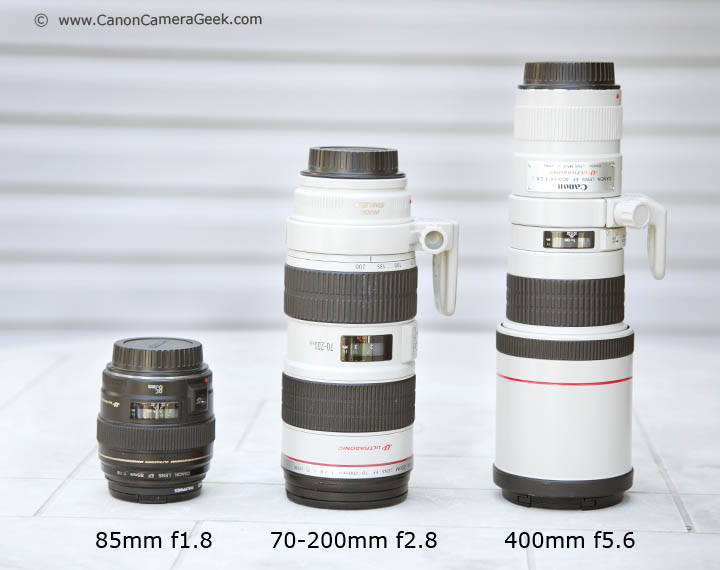 Compared to the 85mm f1.8, the 400mm f5.6 is a monster.  Relative to the 70-200mm f2.8, the Canon 400 f5.6 lens is only slighter longer, but slightly lighter than the 70-200 f2.8 lens.
This 400mm lens is a bargain.

| | | |
| --- | --- | --- |
| The 400mm f2.8 | The 300mm f2.8 | The 400mm f5.6 |
---
The Canon 400mm f2.8 costs over $10,000.00.  The 300mm f/2.8 lens costs over $7,000.  The 400mm f 5.6 is a little over $1,000.00.

Disadvantages of the 400 f5.6 Lens
Here are the disadvantages of using the Canon EF 400mm f/5.6 Lens.
No Image Stabilization. That's quite a bit different than the pricier Canon 100-400 IS II with three I.S. modes.  With moving targets in sports and wildlife photography, you're likely using a fast shutter speed anyway, so that's not a big for many Canon shooters.
Maximum aperture.  The maximum f/stop is 5.6. That's not considered a very fast lens at all. Low light situations become challenging because of a need to use a slower shutter speed.  Hand-held shooting requires a fairly high shutter speed, depending on your skill level.
You can overcome this drawback by using higher ISO settings. Modern, full-sized sensors have low noise and good sharpness at high ISO settings.  
No zoom.  Not as versatile as the 100-400. It's why I sold my Canon 400mm and bought a Tamron 150-600mm f/5.0-6.3
Forces you to be in a good position for good composition and cropping.
Despite the disadvantages, 83% of Amazon reviewers gave this lens a 5-star rating and 94% rate it at 4 or 5 star.
Here is the ubiquitous un-boxing of the lens:
Unboxing of Canon 400mm f5.6 USM L Lens and size comparison with the Canon 70-200 f 2.8
The Canon 400 f5.6 lens is certainly an interesting consideration, limited to specific uses for sports photographers, wildlife photographers and bird geeks like me.

The maximum aperture and no image stabilization mechanism are not issues in any way at all for me personally.  My Canon 5D Mark III is remarkably sharp with low noise at high ISO settings.
I love the weight and sharp, USM ring-type, quick focusing that this lens gives me. Chromatic aberration is minimal. This lens produces good saturation and contrast.
Sample photo with Canon 400mm at 5.6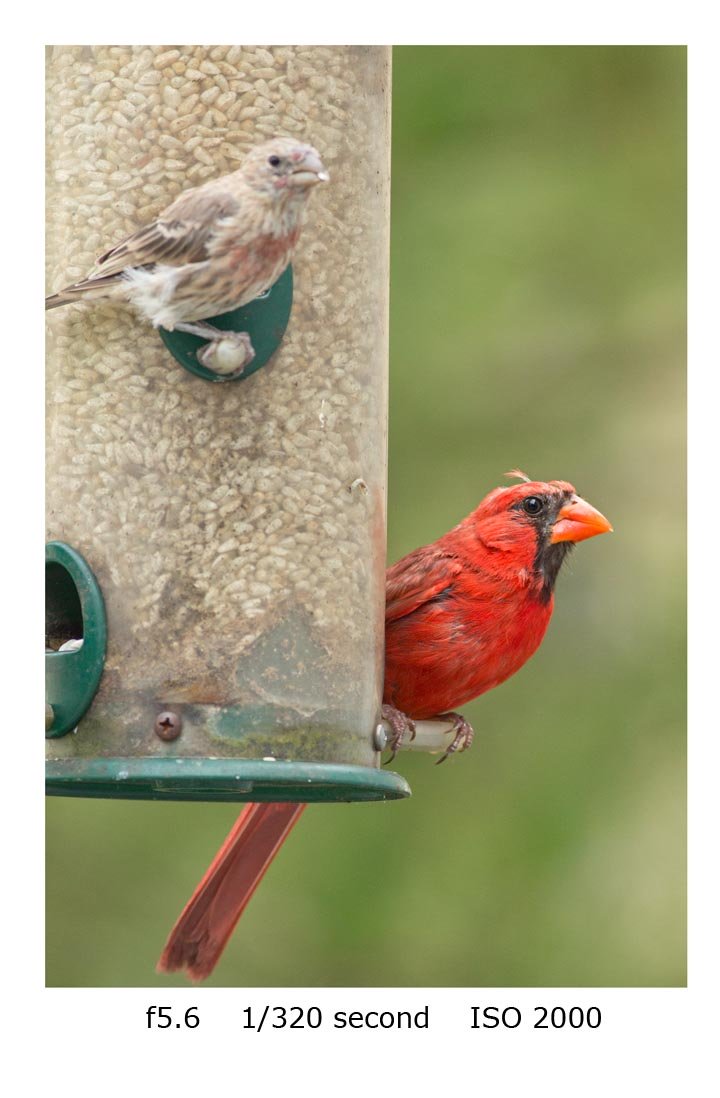 Canon 400mm f5.6 wide open produced good sharpness on the cardinal.  
At such a close distance and wide open, depth of field is limited.
You can see that because of the extreme shallow depth of field that the sparrow was out of the plane of good focus.
You get great bokeh with the lens. Here are some more sample photos with the Canon f5.6 lens. You can also learn a lot about camera accessories by reading up on the reviews by photographers who have purchased them on Amazon.
The Canon 400 takes 77mm filters. This is convenient if you also have the Canon 70-200mm f2.8 or the Canon 24-105mm f4.0 lens because they take the same sized filters.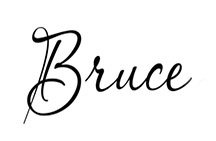 Bruce Lovelace is the publisher of Canon Camera Geek. Read more about him on the About Page. He also publishes how to articles and camera gear reviews at the Photography Tips website.
View some of Bruce's photos on Instagram  and Flickr.   Join the tribe of followers on YouTube. Bruce also runs photo workshops and provides 1 on 1 digital photography coaching.
---
As an Amazon affiliate Canon Camera Geek receives a small commission from qualifying purchases, at NO added cost to you.
You can get some good ideas on what people like and dislike about any product by going to on-line retailers and reading reviews from consumers. Please visit one of my preferred vendors below. Good places to buy Canon equipment and it helps keep this web site going. Thanks. Keep shooting your Canon!

---