New Canon 400mm Lens




(A Canon Prime Lens worth considering)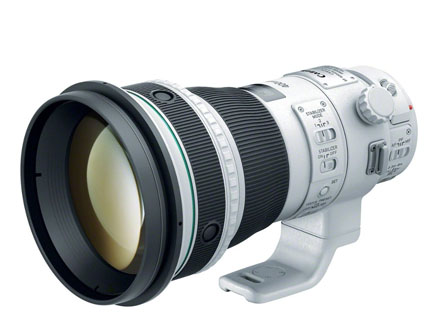 The announcement of a new canon 400mm lens back at Photokina 2014 was not a huge surprise to Canon camera fans. But the real question is whether the new 400mm lenses are worth the money.  
Rumors had been circulating for quite some time. The new lens was the EF 400mm DO IS II USM which is the upgrade from the original EF 400mm DO IS USM.
The DO stands for diffractive optical, which essentially means great quality combined with small and light.  Notice it has the green colored ring on the barrel and it is more affordable than the "L" Canon lenses.
The newest version of the 400mm f/2.8 lens is the RF 400mm lens for mirrorless Cano shooters. It's the exact same lens as the Canon EF 400mm f/2.8L IS III USM Lens.
Both the recent EF version and RF version are definitely beauties to look at, with their numerous switches and buttons, even if you can't afford one.
The close-up photo below show the 3-position stabilizer mode selector, the IS on-off switch, the focus preset set button, the focus preset on-off sound selector, the 3-position focus selector and minimum auto-focus distance selector.

The sophisticated features of the new Canon EF 400mm DO IS II USM require a bit of study to fully understand how and when to use its various features. Jump to the second video on the 400mm lens here.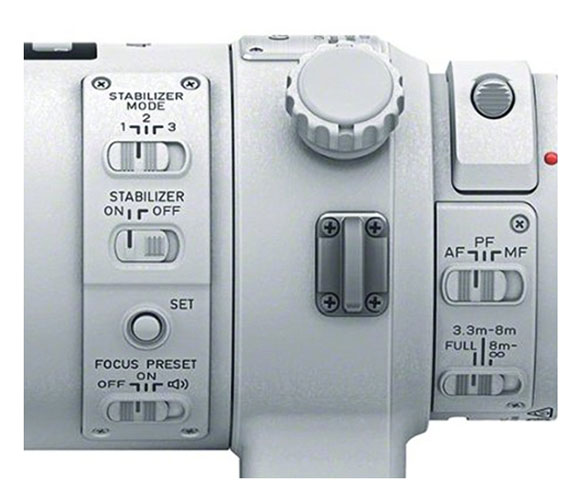 The EF 400mm f/4 DO IS II USM is being marketed as a "portable super telephoto lens," The chief design goal with this Canon lens was keeping it as light as possible.
Compared to the 400mm f/2.8L II, this second version of the 400mm f/4 feels really light in your hands as it weighs about only half as much. It claims up to four stops of image stabilization because of  Canon's OIS technology.
The lens features the newly engineered technology of gap-less dual-layered diffractive optical (DO) elements. That helps achieve optimal performance while keeping the same size and weight of the earlier version of this lens and have the optical improvements to set it apart from the older 400mm f/4.
Read consumer reviews of the Canon 400mm lens here.
The 5 Best Features of the 400mm DO IS II
Relatively lightweight for a 400mm super telephoto - good for sports and wildlife.
Three image stabilization modes:  panning, standard, and exposure only
AF-Stop buttons to stop auto focus at any time and focus pre-sets for quick changes.
Power Focus mode for smooth focus shift for video and full-time manual focus while in autofocus mode.
Relatively affordable compared to 400mm f/2.8 Lenses.
Here is the first video to give you some more information on the new Canon 400mm lens:

Price Comparison of Canon 400mm Lenses
Unlike the much more affordable Canon 400 f/5/6 lens that I use, this version is FULLY compatible with the 1.4x and 2.0X Lens extenders. 
These prices are rounded off and change over time, but you can make your own personal judgement based on the comparisons.
400mm f/4

$6,900

400mm f/5.6

$1,300

400mm f/2.8

$10,400

100-400mm f/4.5-5.6

$1700
I owned the 400mm f/5.6 for a few years It is the slowest at f5/6, but it was very light to carry, and it was the most affordable for me. It's really sharp wide open at f/5.6 and I never had any qualms about shooting wide open.
I eventually sold it and now own the 100-400mm F/4.5-5.6 II. I wanted the added versatility of the zoom. 
Canon's Own Description of the New 400mm Lens: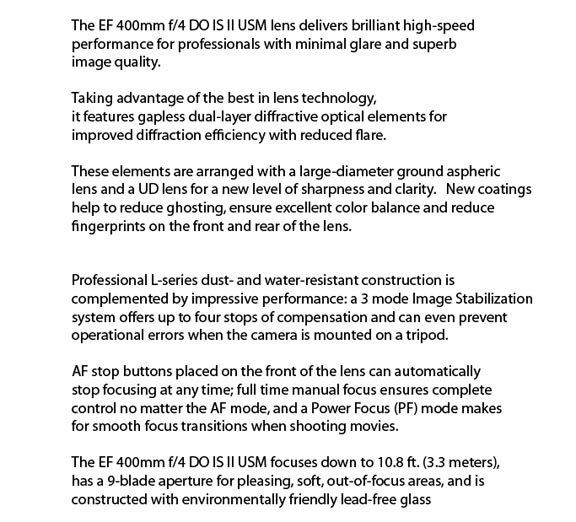 The New Canon 400mm Lens Quick Specs
Lens construction is 18 elements in 12 groups
Inner focusing system with a USM, ultrasonic motor.
Filter is 52mm, drop in type.
size is 5.04 inches x 9.10 inches
Weight is 4.6 pounds.
Minimum focus distance is 10.83 feet.
canon EF 400mm f/4 DO IS II USM video

Here is the second video on the new Canon 400mm lens, the 400mm f/4.0 DO IS II USM
My final comments on the new canon 400mm lens.   Some photographers rave about the importance of the extra f-stop for getting great bokeh.  
You still get great bokeh at f/4. I've said this before and it's true at the 200mm level, when comparing the Canon 20-200mm f/2/8 vs the Canon 70-200mm f/4.
At 400mm, you have very shallow depth of field and it falls off quickly with this much magnification. The only really advantage of the f/2.8 over the f/4 is in low light situations.
If you have a recently made Canon, you've got exceptionally good performance at higher ISO settings,making that need of one extra stop of "fastness" less important.
At the time of the original post, you couldn't yet get your hands on one, or read the reviews yet, but now you can. Get the thoughts of consumers who have used various Canon 400mm lenses here:
Reviews on Amazon by photographers who have purchased and used Canon 400mm lenses
The new EF 400mm lens is an advanced Canon camera accessory for those discerning digital photographers who want to use state of the art camera gear and who can afford serious photography equipment.
Most importantly, keep your passion alive for enjoying photography.  Don't get too bogged down with number comparisons (except price perhaps).
Keep shooting your Canon!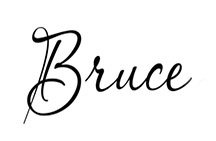 Bruce Lovelace is the publisher of Canon Camera Geek. Read more about him on the About Page. He also publishes how to articles and camera gear reviews at the Photography Tips website.
View some of Bruce's photos on Instagram  and Flickr.   Join the tribe of followers on YouTube. Bruce also runs photo workshops and provides 1 on 1 digital photography coaching.
---
---
---
---
---
---