Best Canon EOS Lenses For Beginners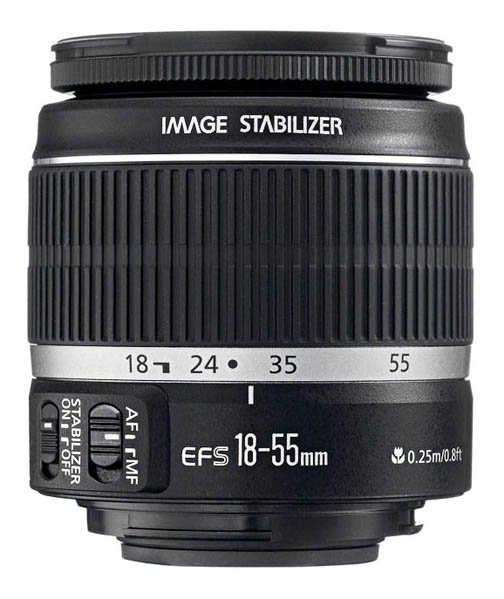 Canon 18-55mm
Kit Lens


For beginning Canon shooters, the search for the best Canon EOS lenses starts with determining what you're going to use them for.
This post will give you the best general purpose Canon lenses as well as the best specific purpose Canon lenses. Let's dive in to the best general purpose EOS lenses.
best Canon general purpose lenses for beginners
There are 2 Canon zoom lenses that are commonly considered as general purpose.  The most popular starter lens for new Canon photographers is the standard 18-55mm kit lens. It outsells the other Canons for two reasons.

The 18-55mm is the most affordable. You're just dipping your toe in the water right now, so you don't want to blow a lot of money right now. You can get used 18-55mm lenses in excellent condition for about $35 and brand new ones for less than $80.
The 18-55mm was made for your APS-C camera and gives you a 3x range of zooming from wide angle to telephoto.
Although the wide angle (18mm) setting on the 18-55 is adequate for wide shots, you may find its moderate telephoto setting a bit disappointing in its reach. It may not be strong enough-I find it too limiting for my shooting style.
At 18mm, you can shoot nice wide angle seascapes like this photo below.

If you're interested in shooting some more distant subjects, like a sporting event or wildlife, you'd be better of getting the more versatile Canon 18-135mm lens to begin with. It's just as wide angle as the 18-55, but gives you almost 3 times as much magnification. The 18-135 gives you about a 5x zoom ratio while the 18-55mm gives you about a 3x zoom ratio.
Like many other Canon EOS lenses, the general purpose 18-135mm lens comes in older and updated versions. The Canon 18-55mm and the 18-135mm give you all the versatility (and affordability) you'll ever need as a beginning Canon photographer.
Canon also has a really sharp new general purpose lens, a 15-85mm lens. It's a nice go-between between the other 2 but its steep price is why I don't recommend it for new photographers.
Here is a comparison of prices for 3 different Canon beginner lenses.
If you read a few of the buyer reviews for each lens, you'll get a good feel for the difference.
You can see why the 18-55 is the best lens for many beginners-it has the lowest price.
Both the 85mm and 135mm give you more telephoto power. It's great o find the perfect lens for your situation.
As an Amazon affiliate Canon Camera Geek receives a small commission from qualifying purchases, at NO added cost to you.
---
Best Canon Macro Lens for beginners
Canon has several different lenses to choose from if you're interested in starting some macro photography.
The two Canon macro lenses to be considered as the best are the Canon 60mm macro and the Canon 100mm macro.  Both of these lenses are good and fast with a maximum aperture of f2.8.
The 60mm f2.8 L lens is the clear winner for beginning macro photographers.  It currently is earning a 98% Canon Geek 4-5 rating.  This is an EF-S lens, meaning it only works on Canon cameras with an APS-C sensor like the t4i, t5i... 7D, 60D, 70D... and their predecessors. 
The 100mm f2.8 L lens is a good choice for the advanced macro photographer.  It currently is earning a 97% Canon Geek 4-5 rating.  This is an EF lens, meaning it will fit both the APS-C cameras and also all of the full-sized sensors like the 5D series and the 1D series.
The 100mm macro is larger, has a much higher price tag, and will give you less depth of field, and better bokeh. Here is more on these two Canon Macro Lenses.
Best Canon EOS Portrait Lens for beginners
Of the best lens categories covered in this article, the best Canon portrait lens is likely to be the most disagreed upon. I recommend the Canon 85mm f/1.8 as the best Canon EOS portrait lens for beginners for 3 reasons.
FOCAL LENGTH. At 85mm, you get the equivalent angle of view as a 135mm lens on a full frame sensor. That perspective is excellent for head shots, 3/4 length portraits, and very small family shots. If you're shooting larger groups, this would be a bad choice for the best portrait lens.
BOKEH. Bokeh is the quality of the out of focus blur that you want your background to have behind your subject. The 85mm f/1.8 lens has absolutely beautiful bokeh.
PRICE. This lens gives you pro quality at an affordable price. New 85mm f/1.8 lenses sell for around $300. Used ones are only about $200.
I've used 3 different Canon EOS lenses while shooting in my portrait photography business. The 85mm f/1.8 was the lens I used for shooting portraits when I started shooting portraits back in 1994. 
I now primarily use just two of them, the Canon 70-200mm f2.8 and the Canon 24-105 f4.0, but these are pro lenses, have pro prices, are intended for full frame Canon DSLR cameras, and are overkill for beginners. 
I use my 70-200 whenever I can because of the more pleasing perspective I get for posing from more of a distance to my subject.  When space is limited, for indoor portraits with less room, and when I am shooting large family and group poses I use the 24-105mm.
As an Amazon affiliate Canon Camera Geek receives a small commission from qualifying purchases. There is not added cost to you.
Best Canon beginner Lens for Video
There are too many good lenses to narrow down to a specific recommendation for the best Canon EOS Lenses for Video.  It really depends on what you are shooting for subject matter, but here is what you should know. There is one super important feature you need to have for shooting video. That is quiet auto-focusing
Although not completely necessary, there are two more important characteristics to look for when searching for the best Canon lenses for shooting video.
FAST. Having a "fast" lens with a large aperture ( called a fast lens) like f/2.0 or f/2.8 gives you the ability to get that cinema look, a shallow depth of field, and also lets you shoot with darker lighting conditions.
ZOOM. Most video shooters prefer zoom lenses over "prime" non-zooming lenses.  Part of the appeal of good video is zooming in and out to create more visual interest and action.
Although sharpness is important, sharpness is not as critical with video as it is with shooting still digital photos, so getting a good lens for video should not involve researching scientifically sharpness data to compare one lens to the next.
Canon lenses for beginning wildlife photography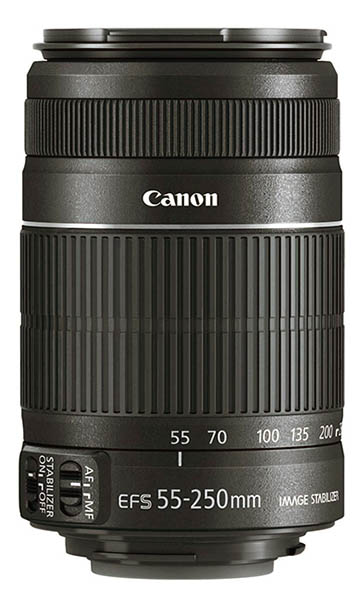 Canon 55-250
wildlife lens


Wildlife photography requires you have a lens that is powerful enough to capture long distant objects and magnify them to a respectable size on your camera sensor. In this category of Canon beginner lenses we have two that are worthwhile for you to consider.
Canon makes two affordable beginner EF-S lenses that will give you the magnification and narrow angle of view to bring those more distant subjects up close and personal.
CANON EF-S 55-250mm. That gives you the same magnification and angle of view as a 400mm lens does on a full frame camera.
CANON EF-S 75-300mm. The 300mm gives you serious magnification and works well to photograph birds, one of the natural subjects that requires a powerful zoom lens.
Both of these lenses would also work as a good (not great) lens for shooting sports. Great sports photography sometimes requires really fast shutter speeds and faster (large maximum apertures) lenses than these. That brings us to the best Canon sports lenses.
best starting sports lens

Canon 70-200 f/4


I recommend the Canon 70-200mm f/4.0 lens as a compromise for beginners wanting to try their hand at sports photography. Any powerful lens can be used for shooting sports, provided there is ample lighting to get a fast shutter speed when your lens is wide open.
Lenses with large maximum apertures let in more light so they're good for enabling those faster shutter speeds to freeze the action. They also allow more light to hit the sensor which makes them good for shooting in darker lighting conditions.
The larger apertures mean they use larger lens elements and they're more costly to make. Depending on your budget, these factors might officially disqualify them as being labeled beginner lenses.
The 70-200 f/4 is fairly fast and fairly powerful and fairly affordable.
best beginner Canon landscape lens
Canon 10-18
landscape lens


Landscape photography usually involves ultra wide lenses to be able capture the entire scene before you.
The Canon 10-18mm f/4.5-5.6 wins the first place recommendation. Affordable, relatively compact, and super wide, you can capture great landscapes. I use the 10-18 when I'm traveling light and carrying my Canon 70D.
The EF-S 10-18's liability is that this lens only gives you 16-29 (not quite 2x) zoom ratio. That's generally a limit of all super wide zoom lenses due to the nature of lens design and optics.
Best prime lens for beginners
Canon 50mm Lens


If you're a newbie photographer who wants to keep everything as simple as possible and as small as possible you could consider a non-zooming prime lens to start with.
To match the normal perspective of the human eye, you'd start with one of the Canon 50mm lenses.
I started my SLR photography experience with a 50mm prime lens, so it won't surprise you that I'm a little biased in that direction. Lightweight and affordable, prime lenses generally, give you the highest possible image quality. Here's a article completely devoted to several of the Canon 50mm lenses.
Keep shooting your Canon!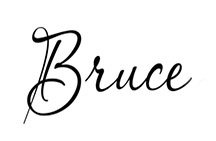 Bruce Lovelace is the publisher of Canon Camera Geek. Read more about him on the About Page. He also publishes how to articles and camera gear reviews at the Photography Tips website.
View some of Bruce's photos on Instagram  and Flickr.   Join the tribe of followers on YouTube. Bruce also runs photo workshops and provides 1 on 1 digital photography coaching.
---
---