Canon 70-200 polarizing filter
Instead of titling this article Canon 70-200 polarizing filter I could have called it Musings of a lighting geek.  Since I was a very young lad, I have always been fascinated by light.  I guess then it was only appropriate that I became a professional photographer.
Recently I purchased a polarizing filter to use on my Canon 70-200 f2.8 lens as well as my Canon 24-105 lens.  Both of theses canon lenses are sized to accept 77mm filters.
I began to experiment with the effects of the polarizer by walking around my home and looking for opportunities to explore the effects of this filter.
Dramatic Example of using a Canon 70-200 Polarizing Filter
A photo out my back door of my deck produced one of the most dramatic changes in a photo from using a polarizer that I have ever seen.  Yes, the photos below have not been artificially adjusted in any way.  They were both processed in Photoshop with the same color temperature settings.

Without the Canon 70-200 polarizing filter attached, the wet deck reflected the blue light from the sky above.  The filter all but eliminated the reflection and revealed the true color of the plastic decking. Please, share this with someone.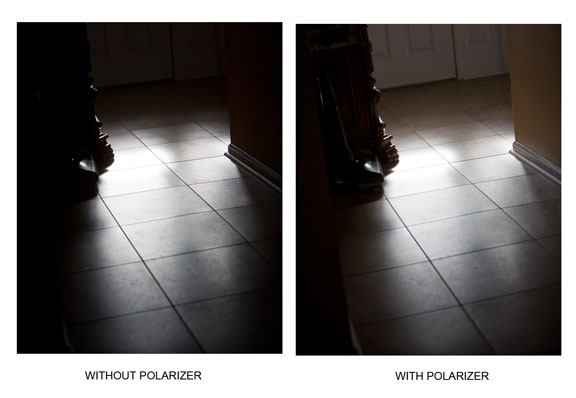 My Canon 5D was set on aperture priority mode and I let the camera decide on the shutter speed. With the polarizing filter added, the exposure changed from 1/000 second to 1/320 second.
This had little impact on the appearance of the floor tile but a real bigger impact on the shadow areas.  
Look how much more detail appears in the shadows with the increased exposure.
The reflected light on the tiles was reduced so much that there was much less overall contrast and the shadows got more exposure.
The other side effect from using the filter was that the warmer color of the reflected light from the walls made more of an impact on adding an overall warmer tint to the photograph.

Most Common Use of Polarizing Filter
These filters are most commonly used to darken the sky and increase contrast in clouds with landscape photography.  To get the maximum effect of using a polarizer, your camera should be aimed 90 degrees away from the sun.
Color saturation is often increased with nature photography when using these filters as well. Here is a subtle example.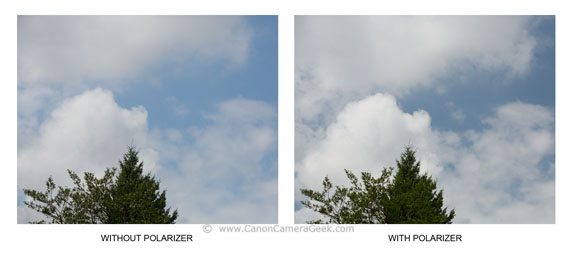 The Canon 70-200 f4 lens takes a 67mm filter.  The f4 version of the Canon 70-200 is more popular than the Canon f2.8 because of its smaller size and smaller price tag.  One of the best ways to evaluate any camera accessory is to read the reviews of actual buyers and users.

After all, the opinions of many are usually more extensive that the opinion of one.  Look for not only the camera accessories that have been purchased by many people, but also the ones with the most consistent high ratings.
As an Amazon associate I receive a small commission on qualifying purchases. There is no cost to you.
Almost everything purchased will receive some negative reviews.  
We human beings are more likely inclined to take the time to report on problems and complaints than give positive reviews when satisfied with a purchase.
The other benefit of reading several reviews is getting several different perspectives on what features of an accessory are most important.  As a professional photographer with over 40 years of picture taking experience, my perspective is quite different than the average hobbyist.
A Canon 70-200mm polarizing filter is no different than other accessories in that photographers may be looking to use them in different ways or different photography situations.
You can learn a lot about the performance of any camera accessory by reading the reviews of people who have already purchased the.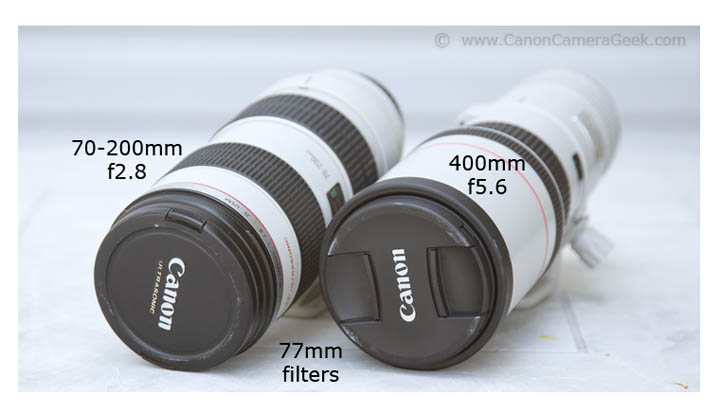 Both lenses take a 77mm polarizing filter


One of the biggest reasons I purchased the not so popular Canon 400mm f5.6 lens was it's light weight.  Another, smaller reason was for its 77mm filter size.  
That's the same size for both the 70-200 f2.8  as well as my 24-105 standard zoom lens (not shown in photo).  Perhaps that may seem trivial, but I can share my neutral density filter and my polarizing filter.  That saves money and space in my camera bag.
Shoot more photos. Watch less TV


Bruce Lovelace is the publisher of Canon Camera Geek. Read more about him on the About Page. He also publishes how to articles and camera gear reviews at the Photography Tips website.
View some of Bruce's photos on Instagram  and Flickr.   Watch him on YouTube. Visit the Canon Geek FaceBook Group. Bruce runs photo workshops and provides 1 on 1 digital photography coaching.
Back from Canon 70-200 polarizing filter to Canon Camera Reviews HOME Page
Other Canon 70-200 lens accessories

Go to All Accessories for Canon Cameras