Canon EF 24-105mm Photos
These Canon EF 24-105mm Photos have all been taken within the last 2 years by the author. This lens has a pretty versatile zoom range of wide-angle to medium telephoto with a constant maximum aperture of f4 throughout the zoom range.
It's my primary choice for beach photography where I am shooting family group poses as well as tighter cropped head and shoulder shots during sessions.
I've found f4 to give me a good amount of bokeh when I am looking for a pleasantly out of focus background.
This was the only lens I had on my camera the entire day for my hike through Rickets Glen State Park.  The trail takes the average hiker about 4 or 5 hours to do.
I took a few hundred photos and my hike went from  7 am to about  4 pm.  The only camera accessories I used were my tripod, Canon cable release and polarizing filter.
More Outdoor Canon EF 24-105mm Photos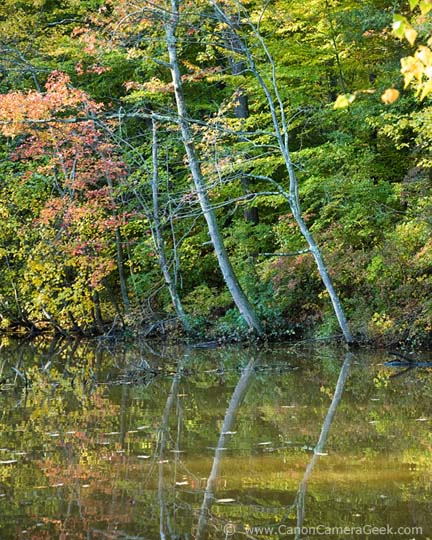 Simple Pond Reflections
(Canon 5D - Canon EF 24-205mm Lens at 70mm - 1/30 second - f6.3)
The portrait below was taken with the lens set at 70mm.  It could have been taken with the Canon 24-105mm or the 70-200mm lens.  If it would have been a large group, the 70-200 would not have been able to be used without backing up the camera.

Family Portrait With Dog in front of Wind Mill
(Canon 5D - Canon 70-200 f2.8 Lens - 1/160 second at  f6.3 -  ISO 320)
Shoot more photos.
Watch less TV.
Bruce
Please visit one of my preferred vendors below. Tt's a great place for you to read reviews written by consumers on a variety of cameras and accessories. It also helps keep this web site going. Thanks.
Shoot more photos
Watch less TV
Bruce
Back from Canon EF 24-105mm Photos to Canon Camera Reviews Home Page