This page may contain affiliate links that pay me a small commission. There is no cost to you. Review the affiliate statement at the very bottom of this page if you want more information.

Canon EOS M Camera
When I first heard about the Canon EOS M Mirrorless Camera I was excited. After all, I am a Canon geek and look forward to new products, especially a totally newly engineered camera.
It was Canon's first mirrorless camera with interchangeable lenses.
It has a Canon 18 megapixel sensor.
Image quality is excellent.
DIGIC 5 Image Processor, ISO 100-25600
This was outstanding specs for a camera that can fit in your pocket with the 22mm "prime lens" attached. The camera does look a bit strange with the 18-55mm lens attached, but with the smaller mirrorless bodies and larger mirrorless lenses, this is the norm. But, enough of the overview, what are you really curious about when it comes to the EOS M camera?
Like a lot of other potential Canon shooters, you want to know when it came out and if it's too old. Is the Canon ESO M still any good and still worth the money?
Canon EOS M Release date
The Canon EOS M camera and its EF-M lens mounting system was announced in July of 2021 came to market a few months later in 2012. Since then Canon has added several more updated cameras in the "M" series of mirrorless cameras, including the M, M2, M3, M6, M6 Mark II, M10, M50, M50 Mark II, M100, M200, all of which are APS-C sized sensor.
The EOS M system does not have any full frame mirrorless cameras. 
Canon EOS M Camera Any Good?
The EOS M is now a decade old. Does that make it obsolete? In some ways yes. In some ways no. Looking at a few key features will help you decide if the EOs M is still any good. Let's take a look at the pluses and minuses.
EOS M ADVANTAGES
Overall, this is a solid camera for you if you like the idea of image quality being excellent in a camera of this small size and affordable price.
SIZE.  It's light and very compact for a camera, making it serve you well as a great travel camera.
SENSOR. With an 18 megapixel APS-C sized sensor. That gives you the ability to get a shallow depth of field and enable you to render the background pleasantly out of focus if you want, thus isolating your subject from the background.
LENS CHOICE. You CAN use any of the EF and EF-S lenses, along with the EF-M lens adapter.

PRICE. There are plenty of used EOS M cameras and lenses in excellent condition available in the market place at great bargain prices. See the EOS M price at my favorite used gear dealer: KEH. New EOS M cameras are very affordable too. See eBay. 
EOS M DISADVANTAGES
Overall, this is not a good choice for you if you want a fast focusing camera with a built-in viewfinder, using recent technology.
LENS  CHOICE. The EOS M does not include an extensive list of EF-M lenses. You are somewhat limited in selection when choosing an EF-M lens to use with this camera.
FOCUS. The EOS M is not a fast focusing camera.
VIEWFINDER. It does not come with a built-in optical or electronic viewfinder. For many shooters, who are fully accustomed to composing images on the LCD screen (like we all do with our smartphones), that's no big deal at all. I'm old school and grew up with all my cameras having viewfinders.
One of the first places I go to read feedback from buyers is Amazon.  You can read the reviews here:
Canon EOS M Review on Amazon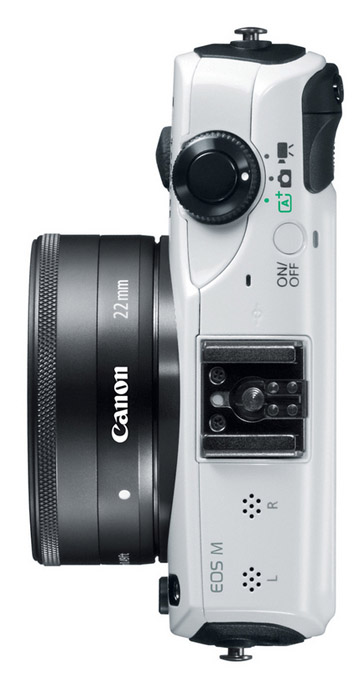 Top of EOS M


For me personally, cameras without a viewfinder means there's no shot of me liking the camera.  
That sounds a bit harsh, but it's a personal bias I have against holding a camera in front of you to compose.
I don't  feel like a photographer at all when using a camera without a viewfinder.  It's just too awkward and you can't see the image on your viewfinder worth a darn in bright sunlight.
There is no practical way to use this camera for action, sports or active wildlife photography. I have no problem with the size or sharpness of the 3 inch screen.
I also like cameras that focus fast.  The original version of this camera has focusing issues. For people like me, it reminds you of taking a picture with your cell phone camera- a big delay from when you press the shutter to when the image is actually taken.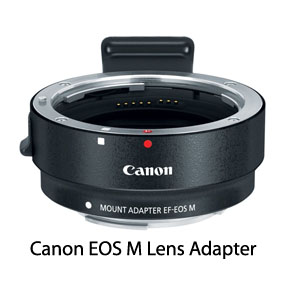 Canon EOS M SUMMARY
It's got a great sensor, an 18 megapixel APS-C sized, CMOS sensor combined with a Digi 5 processor.  Several good quality lenses are available at the time of the update to this article.
I just think there are much better alternatives to this format. The sensors are much smaller but I think the "G" series of Canon cameras are a better buy.
The Canon G1x has a comparably sized sensor and an optical viewfinder. The EOS M Lens Adapter allows Canon EF and EFS lenses to be mounted on the Canon EOS M.  I like the detachable tripod adapter.
The lens adapter opens up the ability to use your entire line of EF and EFS Canon Camera Lenses.
Mirrorless camera designs are a good design for shooting video and you may be interested in using this camera primarily that way.
If you like to play with HDR photography, this camera has that option as a built-in mode. The EOS M does have a hot shoe on top for any of the Canon Speedlite models you might already have.

The Canon Speedlite 90EX was designed specifically by Canon to be used with the EOS M Camera.  The Speedlite 270EX II would also be a good choice because of its size.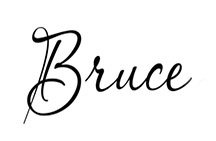 Bruce Lovelace is the publisher of Canon Camera Geek. Read more about him on the About Page. He also publishes how to articles and camera gear reviews at the Photography Tips website.
View some of Bruce's photos on Instagram  and Flickr.   Join the tribe of followers on YouTube. Bruce also runs photo workshops and provides 1 on 1 digital photography coaching.
---
---