Canon EOS M3 Rumors
Have you heard the Canon EOS M3 Rumors?
They're coming from the patent request from Canon, protecting a lens design that may be for a new mirrorless offer from Canon.  Rumors say they'll actually be 2 versions of the new EOS M3.
If it's true this camera was likely to be exhibited at Photokina in September of 2014. As it turned out, the M3 was released late in the Fall of 2015.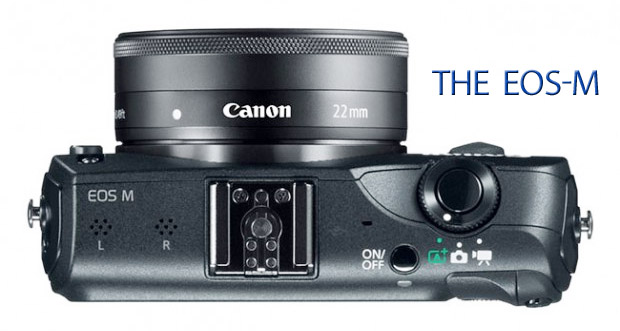 Canon M3 Type Of Camera
A commonly asked question about the Canon M3 is the type of camera it is. Specifically, is the Canon EOS M3 a mirrorless camera.?
The Canon EOS M3 camera is indeed a mirrorless camera. It's also an ILC, interchangeable lens camera. Interchangeable lenses make a camera more versatile. Rather than have a limited zoom lens that is not interchangeable.
The EOS M3 can take any one of the EF-M lenses, including the super wide EF-M 11-22mm zoom, the versatile EF-M 18-150mm, and the telephoto EF-M 55-200mm lens.
Due to Canons flurry of activity with the newer R mount system and its RF lenses, it is very unlikely that Canon will be developing any new lenses for the EOS M mirrorless cameras including the EOS M3.
Age of Canon M3 Camera
Canon shooters have been asking how old the Canon EOS M3 camera is. Canon made an announcement on August 27th, 2015 that the Canon EOS M3 would be available for purchase in the United States of America in October of 2015.
As of this post's most recent update in September of 2022, that makes the EOS M3 seven years old. That's only 2 years newer than the Canon EOS M2 which was amounted in December of 2013 (Not in the USA).
The EOS M3 is years older than the original EOS M (now called the M1) which was introduced in June 2012. The age of the M3 brings up the obvious question of its current value.
Is The Canon M3 Camera Still Any Good?
The Canon EOS M3 is now an outdated and underperforming camera and not worth the money. Newer options with far superior technology and better performance are available in the mirrorless ILC (interchangeable lens cameras) market at similar prices.
Although it has an excellent sensor and is bult solidly including a sturdy hand grip, the M3 is a sluggish camera and not worth the money unless you're buying a used one on eBay for less than $250. The EOS M3 is good for taking high quality photographs and video, but you have better choices.
Reasons  for Canon EOS M3 Rumors 
You might be curious as to why Canon would follow the original EOS M and the EOS M2 with another similar format mirrorless camera, the M3.
The "M" series was a disaster for Canon and they need to spark some excitement in this genre of camera.
Mirror-less cameras have been hot fairly recently and Canon will obviously want to participate in this arena.
The new patent is for a 22-46mm Canon lens designed for APS-C sensors, the size of the existing EOS "M" cameras.
The Two Versions of the EOS M3
The two versions of the rumored Canon EOS M3 would have closely targeted markets.
The consumer market Canon mirrorless will be offered at a lower price level will have a similar target of buyers as the
The prosumer model would be a somewhat higher priced version for advanced digital photographers.
The EOS M was such a disaster that Canon still doesn't even market the M2 in the United States.  The original was aimed and point and shooters who wanted to upgrade without going to the DSLR size of camera. The original EOS M had focusing issues.  
The M2 addressed the focusing issues as well as add Wifi capabilities.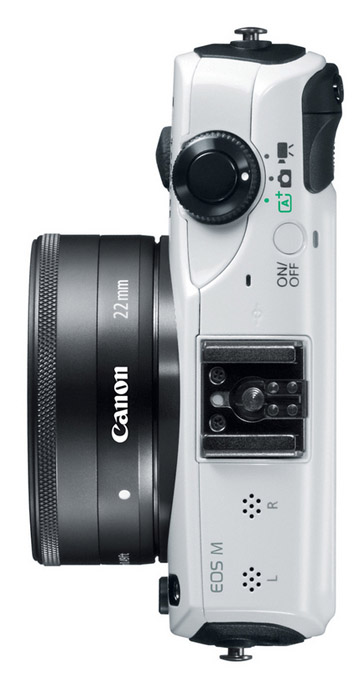 Canon EOS M with
standard 22mm lens


Canon EOS M with
18-55mm lens


My Own Bias Against Mirrorless Cameras like the EOS M
I consider myself a guy who is not overly uncomfortable with change.  I didn't mind the switch over from manual cameras to auto-focusing and auto-exposure cameras.
I welcomed the change from shooting film to digital photography. I can handle changes in operating systems. I started using computers that only had DOS-that's before "Windows" even existed.
Constant changes and upgrades in software, hardware, and even firmware updates are a recognized constant. BUT, I don't like taking photos by looking at an LCD screen.  For me, it doesn't feel right and it simply doesn't work as well.  I am an optical viewfinder guy or at least an electronic viewfinder guy.  
It's one of the many reasons I still like my Canon g11 and the "G" series of cameras, particularly the Canon g1x.  They have optical viewfinders.  Heck, I spent the extra $250 to get the electronic viewfinder on my favorite high-end point and shoot camera, the Canon G1X Mark II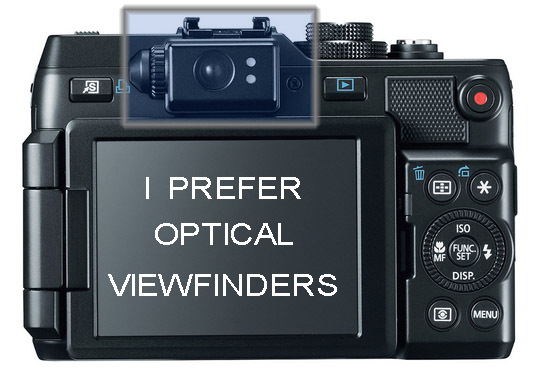 Holding the camera out away from your body is awkward.  Yes, you can get used to it, but it's not as good functionally as holding the camera securely up to your eye.
Optical viewfinders work well in bright sun and there is no such thing as delay. What you see is what you get.
EOS M3 Alternative
I think a much better alternative is the Canon G1x Mark II.  
It's a great all-in-one camera.
You don't need to buy any extra lenses. It comes with a 5x Zoom range.
It combines the compact size of the Canon "G" series with a much bigger and better 1.5 inch sensor. The G1x Mark II has a much faster and better lens over the original Canon G1x.
For those photographers (like me) who really like an optical viewfinder to look through, the G1x Mark II has a really cool accessory, an electronic, tilting viewfinder that attaches to the hot shoe. 
No camera is perfect, but I had been eagerly awaiting for someone to come up with a compact camera with a big sensor for quite some time and Canon finally did it with the original G1x.  The G1x had issues and Canon responded with big improvements in the lens for G1x Mark II.
If you enjoyed this article on Canon EOS M3 rumors please share it with a friend.
Keep shooting your Canon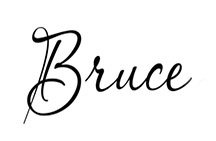 Bruce Lovelace is the publisher of Canon Camera Geek. Read more about him on the About Page. He also publishes how to articles and camera gear reviews at the Photography Tips website.
View some of Bruce's photos on Instagram  and Flickr.   Join the tribe of followers on YouTube. Bruce also runs photo workshops and provides 1 on 1 digital photography coaching.
---
---