Canon Speedlite Transmitter ST-E2

What Does it Do?
The Canon Speedlite Transmitter ST-E2 is a wireless infra-red transmitter that can be used to trigger up to two Speedlite flash slave groups with different power outputs. The ST-E2 transmitter can also be used for focus assisting in low light situations.
ST-E2 Control Panel


Using one or two Speedlites that are not directly located overtop of the camera lens can significantly enhance the light on your subject.

The Hold button on the back control pane of the ST-E2 is a very useful feature to prevent an accidental change in your settings. The transmitter has four different channels, which is more than enough for any situation you may encounter.
The ST-E2 is very light compared to some of the other Canon accessories. It weighs less than 1/4 of a pound (only 100g without the battery).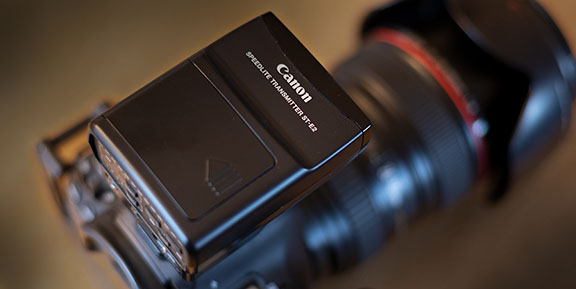 Top of ST-E2 Transmitter


You can control the lighting ratio between the different speedlites up to an 8:1 ratio and also down to 1:8 ratio.
How to Use The Speedlite Transmitter ST-E2
Rather than have your Speedlite flash unit mounted to the camera's hot shoe on top, connect the ST-E2 in its place on the hot shoe. Then, you'll set up your Speedlite(s) as slaves on their back control panels.
Your Speedlite flash units can now be place off the lens axis to give you better, more pleasing, flash illumination.
You'll find the following video on how to use the Canon ST-E2 transmitter very helpful. It's less than 3 minutes long, so watch it right now.
---
---
Transmitter ST-E2 On 5D Mark III


One of its more under-used benefits is that the ST-E2 can be used as a stand-alone focus assist in situations where your Canon camera is struggling to focus on it's own.

This is a great feature when you are shooting in low-light situations.
This accessory uses infra-red pulses to trigger the remote flashes rather than radio waves like the ST-E3-RT Transmitter which triggers the canon speedlite 430EX III-RT and Speedlite 600EX-RT.  
It has an outside shooting range rated at about 30 feet and indoor about 45 feet.
Transmitter ST-E2
TCR5 Battery


With indoor shooting you have the added advantage of the infrared pulses bouncing off walls to give you more flexibility in placement of your speedlite. Otherwise your speedlite must be in direct line-of-sight view from your transmitter.

Some ST-E2 units ship with the 2CR5 battery and some don't, so pay attention when you do your shopping.
If the ST-E2 sits idle for 90 seconds, the Save Energy kicks in and turns off the power to prolong battery life. A gentle touch to the camera shutter button wakes it up instantly.
---
---
As an Amazon affiliate Canon Camera Geek receives a small commission from qualifying purchases, at NO added cost to you.
---
Canon Speedlite Transmitter ST-E2 Manual
The St-E2 transmitter comes with an owner's manual. I recommend you check out the manual. Reading it will give you a much better understanding of how you can take advantage of its features.
I got a real kick out of the illustration on page 26 of the ST-E2 manual.  It's a good illustration on how to use the Canon  ST-E2 but the subject's pose might be difficult to achieve.
Here is the link to the Canon Speedlite ST-E2 Manual PDF
Stay inspired. Shoot a Canon!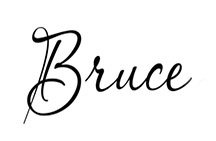 Bruce Lovelace is the publisher of Canon Camera Geek. Read more about him on the About Page. He also publishes how to articles and camera gear reviews at the Photography Tips website.
View some of Bruce's photos on Instagram  and Flickr.   Join the tribe of followers on YouTube. Bruce also runs photo workshops and provides 1 on 1 digital photography coaching.
---